UPDATE 11:48 a.m. ET Sunday: Two people died in an Amtrak train crash near Philadelphia on Sunday morning, Pennsylvania Emergency Management Agency spokeswoman Ruth Miller told CNN.
—
UPDATE 11:40 a.m. ET Sunday: The crash happened around 8 a.m. Mike Tolbert, spokesman for Amtrak, said approximately 31 passengers were transported to area hospitals. None of the injuries are considered life-threatening. Tolbert said there were about 333 passengers on board, clarifying the initial AP report that noted 341 passengers.
—
CHESTER, Pa. (TheBlaze/AP) — Authorities say an Amtrak train struck a piece of construction equipment just south of Philadelphia. At least two people, both construction workers, were killed in the crash, Delaware County officials told Fox News. Some injuries have also been reported.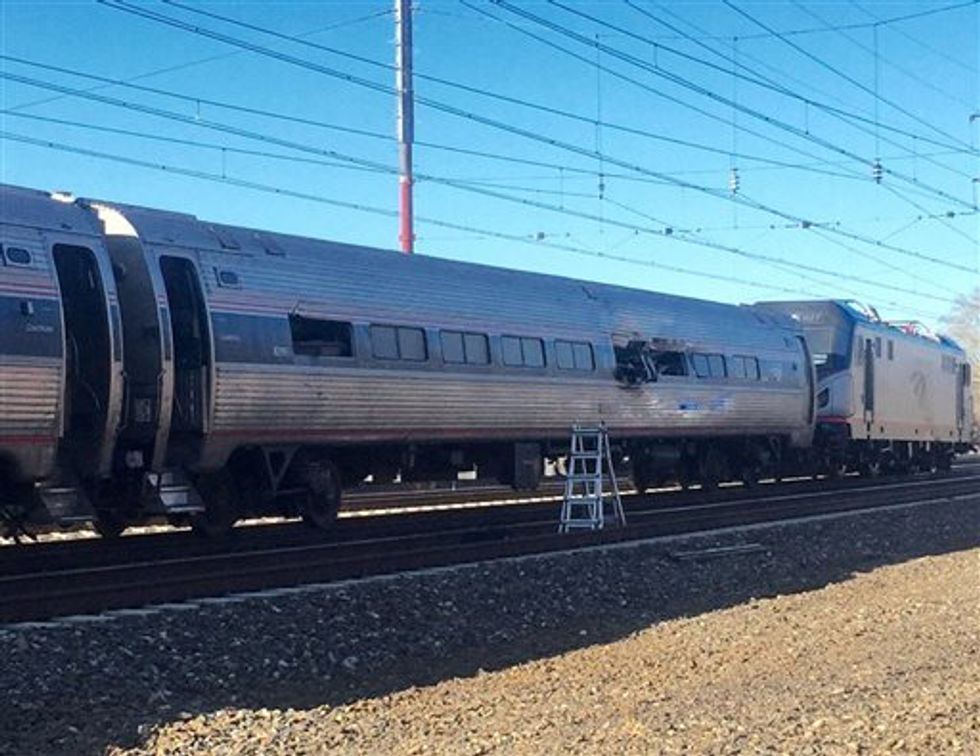 This photo shows an Amtrak train following a crash Sunday, April 3, 2016, in Chester, Pa. Amtrak said the train was heading from New York to Savannah, Ga., when it struck a backhoe outside of Philadelphia. (Glenn R. Hills Jr via AP)
Service on the Northeast Corridor between New York and Philadelphia has been suspended.
Service on the Northeast Corridor is currently suspended. We will provide updates as they become available.

— Amtrak (@Amtrak) 1459687758.0
Amtrak said Train 89 was heading from New York to Savannah, Georgia, when it struck a backhoe that was on the track in Chester, about 15 miles outside of Philadelphia.
The impact derailed the lead engine of the train. About 333 passengers and seven crew members were on board.
LIVE VIDEO coming in from scene of deadly @Amtrak crash that has halted service: https://t.co/U6dvHERuWW https://t.co/CuqzMfmyLm

— NBC10 Philadelphia (@NBC10 Philadelphia) 1459689871.0
Ari Ne'eman, a disability rights activist heading to Washington after speaking at an event in New York, said he was in the second car at the time of the crash.
"The car started shaking wildly, there was a smell of smoke, it looked like there was a small fire and then the window across from us blew out," said Ne'eman, 28, of Silver Spring, Maryland.
Some of the passengers started to get off after the train stopped, but the conductor quickly stopped them. Officials started evacuateing people to the rear of the train and then off and to a local church.
"It was a very frightening experience. I'm frankly very glad that I was not on the first car," where there were injuries, he said. "The moment that the car stopped, I said Shema, a Jewish prayer ... I was just so thankful that the train had come to a stop and we were OK."
Local emergency responders were on the scene and the crash is being investigated. Federal Railroad Administration officials had arrived at the scene, said Matthew Lehner, a spokesman for the agency.
Watch: