A super PAC supporting Texas Sen. Ted Cruz is focusing on only one GOP presidential candidate in Wisconsin ahead of Tuesday's primary — and it's not Donald Trump.
The Trusted Leadership PAC released two ads in the past week — with the first one costing more than $500,000 alone in broadcast, radio and digital advertising — which criticize Ohio Gov. John Kasich for "blocking out the grassroots" as well as his record on Medicaid expansion.
The second ad released over the weekend links Kasich to President Barack Obama as "BFFs."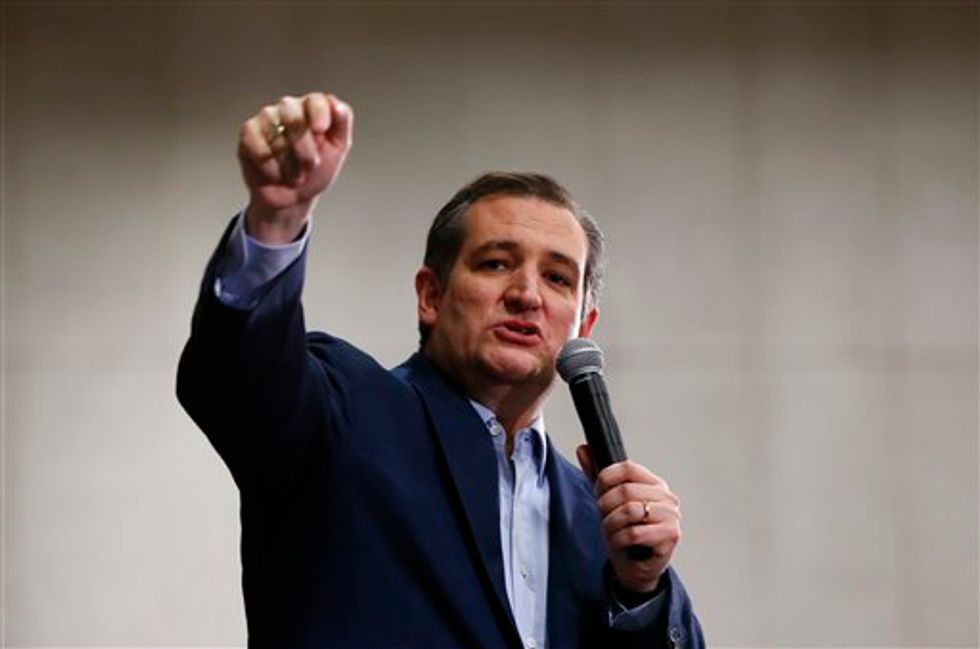 Republican presidential candidate Sen. Ted Cruz, R-Texas, speaks during a campaign event, Sunday, April 3, 2016, in Green Bay, Wisc. (AP Photo/Paul Sancya)
The outside group has set its focus on Kasich instead of Republican frontrunner Trump because he is in last place among the GOP candidates, according to a spokeswoman for the PAC.
"We would like him to get out of the race," spokeswoman Kristina Hernandez said during an interview with TheBlaze. "He has no path forward."
The PAC is running the ads in targeted markets in the hopes that they, along with the PAC's ground game, will help Cruz win Wisconsin — a winner-take-all state.
Trump's recent comments about women are doing enough to lose the support of Wisconsin voters without the PAC's help, Hernandez said.
"Trump has really done a number with women, with how women feel about him," she said, referencing the billionaire businessman's recent struggle with an abortion question. "I don't think we need to help him out on that; he's losing women all by  himself."
Hernandez added that her message to Trump is to "just keep talking."
Kasich didn't seem concerned about Trusted Leadership PAC's attack on him when asked about them during an interview Sunday with ABC's "This Week."
"I think it's funny," Kasich said. "It's what you put up with in a campaign, and of course that distorts virtually everything."
Cruz has a 6.5 point lead in Wisconsin ahead of Tuesday's primary, according to Real Clear Politics' aggregated polling data. Cruz has also received the endorsement of former GOP presidential candidate and Wisconsin Gov. Scott Walker.
—
Follow Kaitlyn Schallhorn (@K_Schallhorn) on Twitter