President Barack Obama scoffed that Republican presidential candidate Donald Trump's proposals to force Mexico to pay for a border wall by blocking money from Mexican immigrants to their families at home would likely cause more Mexicans to cross the southern border.
He also said proposals from Trump, and his chief GOP rival Texas Sen. Ted Cruz, have damaged America's standing with other countries.
"The implications with respect to ending remittances, many of which by the way are from legal immigrants, and from individuals who are sending money back from their families, are enormous," Obama said. "First of all, they are impractical. The notion that we are going to track every Western Union transaction of money being sent to Mexico – good luck with that."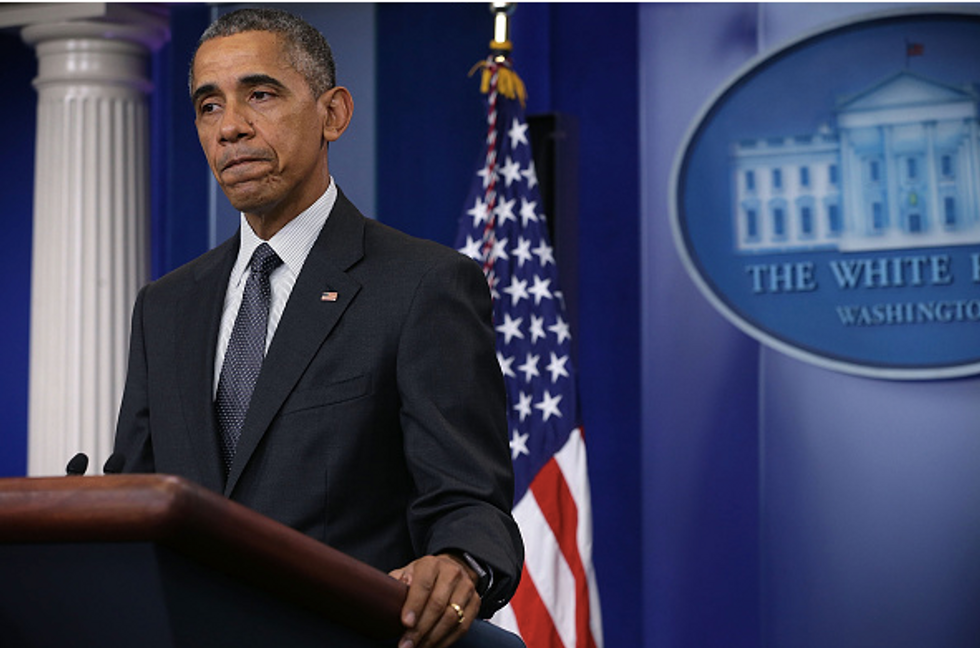 President Barack Obama pauses as he delivers a statement on the economy at the James Brady Press Briefing of the White House April 5, 2016 in Washington, DC. President Obama made a statement in response to the Treasury Department announcement on corporate tax inversions that would stop companies from avoiding U.S. taxes by moving their tax base overseas. (Alex Wong/Getty Images)
The Washington Post reported Tuesday the Trump plan to force Mexico to pay for the security wall that would prevent illegal immigrants from crossing the border. From the Post:
Donald Trump says he will force Mexico to pay for a border wall as president by threatening to cut off the flow of billions of dollars in payments that immigrants send home to the country, an idea that could decimate the Mexican economy and set up an unprecedented showdown between the United States and a key diplomatic ally.

In a two-page memo to The Washington Post, Trump outlined for the first time how he would seek to force Mexico to pay for his 1,000-mile border fence, which Trump has made a cornerstone of his presidential campaign and which has been repeatedly scoffed at by current and former Mexican leaders.
Obama said such a proposal might prompt more illegal immigration.
"Then we've got the issues with regard to implications for the Mexican economy, which in turn, if it's collapsing, will actually send more immigrants north because they can't find jobs back in Mexico," Obama said. "This is just one more example of something that is not thought through and is put forward for political consumption."
When a reporter first began to ask a question about "the Republican frontrunner," Obama said, "Oh no." The reporter asked about the Trump proposal to stop money from going to Mexico, but also if Trump's proposals are harming the U.S. standing in the world.
"The answer to the latter question is yes," Obama said. "I think that I've been very clear earlier that I am getting questioned constantly from foreign leaders about some of the suggestions being made. I do have to emphasize, it's not just Mr. Trump's proposals. You're also hearing concerns about Mr. Cruz's proposals, which in some ways are just as draconian when it comes to immigration, for example."
Obama said there are serious problems facing the world.
"People expect the president of the United States and the elected officials in this country to treat these problems seriously, to put forth policies that have been examined, analyzed for unintended consequences taken into account," Obama said. "They don't expect half-baked notions coming out of the White House. We can't afford that."