Police in the Norwegian county of Oppland have advised girls to be careful when they go out at night alone following reports of young girls having been sexually harassed, Norwegian media reported.
The warning came as the Norwegian Police Security Service expressed concern that Islamic radicals with "blood on their hands" were among those living at centers housing asylum seekers.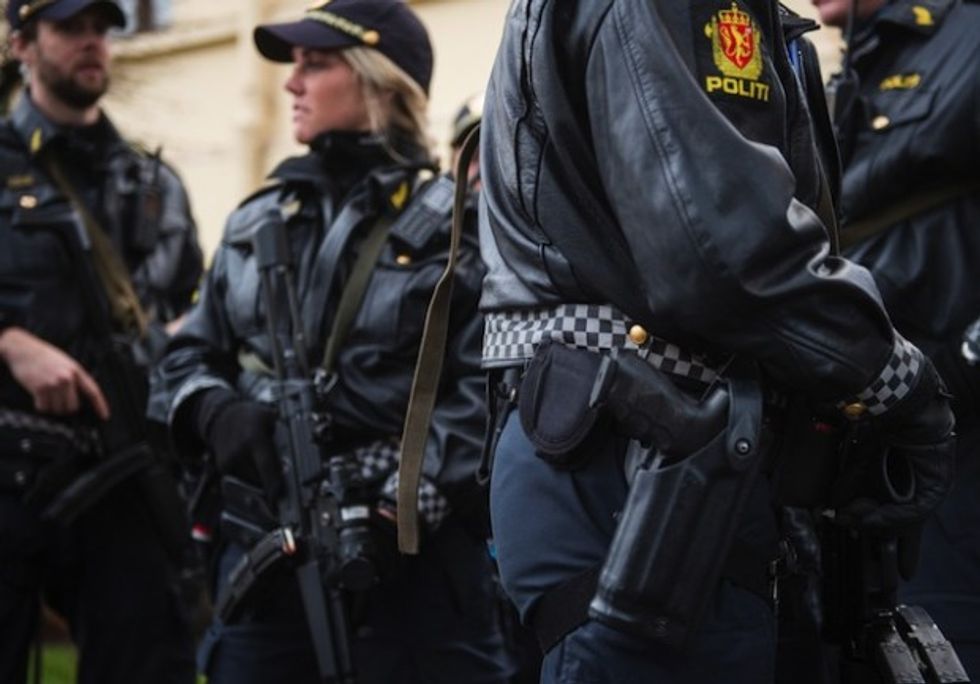 Police in a Norwegian county warned girls not to go out at night alone following reports of sexual harassment by foreigners. In this photo, police in Oslo guard the Nobel institute on December 9, 2015. (Odd Andersen/AFP/Getty Images)
According to reports in the Norwegian media, including TV 2, Oppland Arbeiderblad and Aftenposten, police said they had gotten reports of sexual harassment incidents in the district of Vestoppland.
Bjorn Slatsveen of the Vestoppland police told Oppland Arbeiderblad that in each of the six cases currently being investigated, two or more boys had allegedly been involved, with all of them described as young and foreigners.
In each of the cases, two or more boys were present, Slatsveen said.
The police official seemed to attribute the reported attacks to "cultural differences" between Norway and other countries, though the alleged assailants' countries of origin were not reported.
For this reason, he suggested girls go out at night with another person when possible.
"It would be good to walk with someone when you can, at least for girls in the evening," he said according to Britain's Daily Express.
A Conservative Party politician said it's the attackers, not the girls, who need to change their habits.
"It's not the girls who should be careful and change their habits. It's these men who need to learn common decency," said Norwegian lawmaker Mudassar Kapur.
Meanwhile, the English-language website The Local reported that the head of the Norwegian Police Security Service said police are closely watching asylum centers in the country following the Brussels terrorist attack last month over concerns some residents could be Islamic radicals.
"We have some reports that there is radicalization going on at the centers," Benedicte Bjornland said.
The security service chief suggested that some Syrian refugees who fought in the ongoing civil war there might have "blood on their hands."
She also expressed concern about screening of migrants due to the large influx last year.
"It goes without saying that when so many people came in such a short time last year, there was not the capacity to carry out high quality registration," she said.