Senate Minority Leader Harry Reid told reporters Tuesday that Democrats have a few tricks up their sleeves to force a vote on President Barack Obama's Supreme Court nominee.
"There are many procedural things we can do," the Nevada senator told reporters, according to The Hill, when asked about employing a discharge petition to bypass the Senate Judiciary Committee.
"That's one thing we can do. Certainly we've got that in our arrow quiver, to do that and other things," Reid added.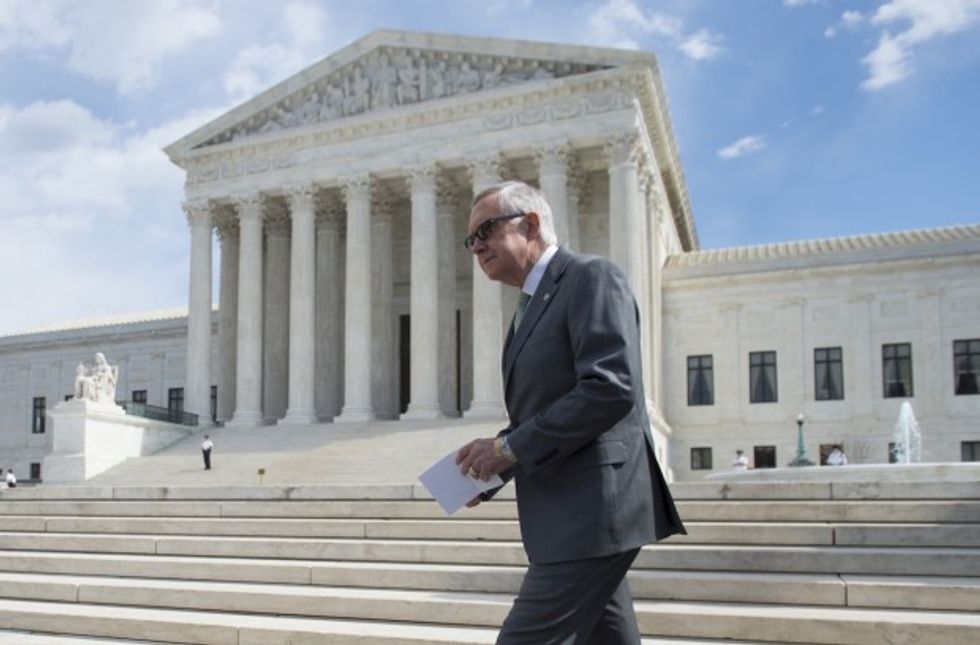 SAUL LOEB/AFP/Getty Images
The Hill explained how a discharge petition would work:
Essentially, Reid or another Democrat would offer a motion to proceed to a resolution to discharge Garland's nomination from the Judiciary Committee.

That would first require Democrats to win a simple majority vote to move into executive session. If achieved, Democrats would have to overcome a 60-vote hurdle to consider the motion to discharge, according to a senior Democratic aide.

All in all, Democrats would need to keep their ranks unified and persuade 14 Republicans to vote with them to pull Garland out of committee, an unlikely scenario.
Senate Judiciary Committee Chairman said at an Iowa town hall that "there's nothing" that Republicans can do to stop the Democrats from attempting the maneuver, but noted it would be a "tough vote," according to The Hill.
Reid also stressed that he was not in a hurry to imitate the procedural trick.
"The obligation is for them to hold hearings and to have a vote. That's in the Constitution," Reid said. "Right now, we think we're in a good place. The pressure's on them, not on us."
Republican leadership has repeatedly said that it will not conduct hearings or allow for a vote on Judge Merrick Garland. Reid, however, said in March that there is "no question in my mind" that the GOP will "cave and confirm Obama's nominee."
—
Follow the author of this story on Twitter and Facebook: