Plans to construct a taxpayer-funded mosque in Athens must move forward or else the country could risk being targeted by Islamist terrorism, an official in Greece's Ministry of Education, Research and Religious Affairs told a Greek newspaper.
According to Britain's Daily Mail, an official who was not named told Kathimerini, "It is exactly because of the recent terrorist attacks that we have to move quickly to construct the mosque in Athens."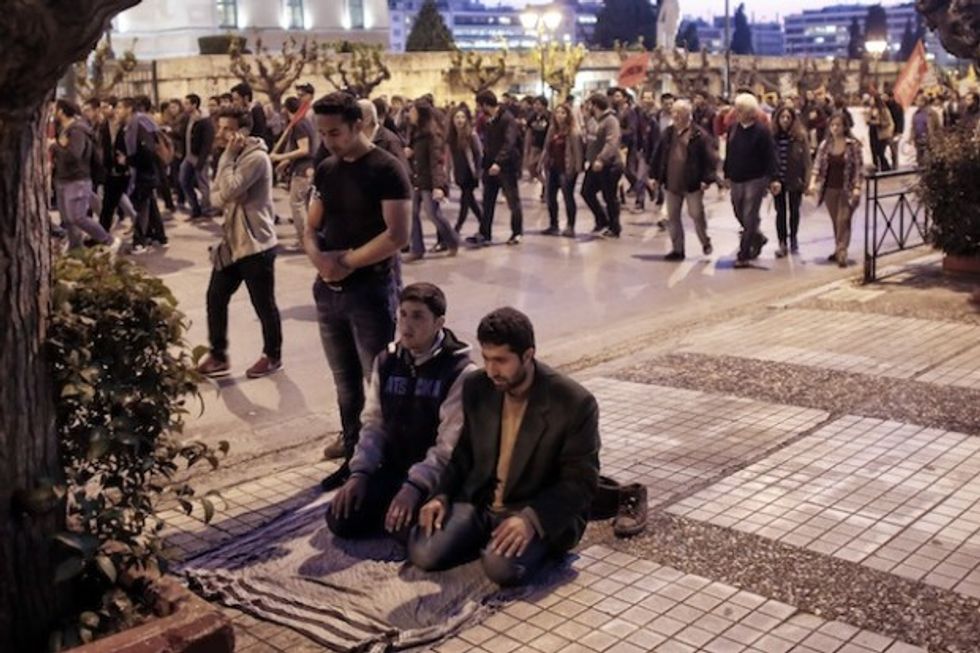 Migrants pray in front of Greek Parliament building during a protest demanding the opening of the borders between Greece and the Republic of Macedonia on March 30, 2016 in Athens, Greece. (Milos Bicanski/Getty Images)
Athens is one of the few major European cities without an official mosque and where Muslims pray in makeshift facilities.
"Every day that we do not have an official mosque and imam in Athens, we pay for in the increased risk of the radicalization of Muslims in the dark and unofficial places of worship," the official said.
"When you do not have official places of worship, who can you speak with?" the official asked.
By contrast, the head of the Church of Greece in February expressed concern about plans to build the mosque and warned mosques could become "schools for Jihad."
"Are these people going to pray there or will mosques become schools for Jihadism and fundamentalism? Who is going to monitor this?" Archbishop Ieronymos said.
Construction of the mosque has been repeatedly delayed, according to Greek Reporter.
The BBC reported in 2012 that without an official mosque, Muslims have been forced to gather in illegal makeshift facilities to worship.
Now the number of Muslims has vastly increased due to Greece serving as the landing point for migrants trying to gain entry to Europe.