A Georgia judge's impassioned speech to a courtroom full of youths last month brought her listeners to tears — but she had no idea her message would make headlines all across the country.
"I did not expect or anticipate that was going to be recorded," she told WMAZ-TV.
Bibb County Judge Verda Colvin gave the speech as part of the town's "Consider the Consequences" initiative, a program established by the Bibb County Sheriff's Office to give young people aged 9 to 17 the opportunity to understand what jail life is actually like and discourage them from a life of crime.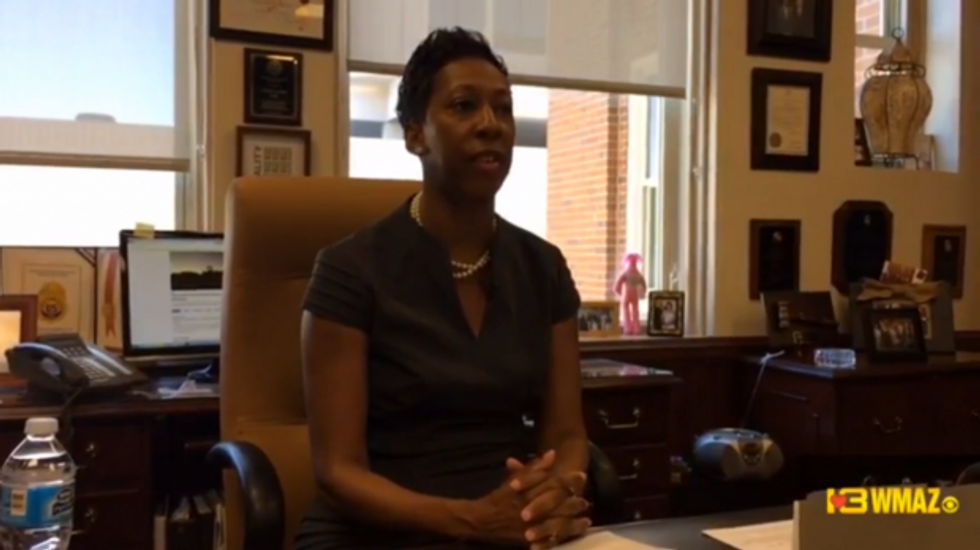 Georgia Judge Verda Colvin discusses her viral speech to youths. (Image: WMAZ-TV)
"I am sick and tired of seeing people who look like you and I [black] come in my courtroom, and I have to sentence them to prison," she told the young people. "And then you hear them fussing on TV about African Americans being in the prison system. Well, guess what? If you don't do what it takes to go there, you won't be a part of it."
Colvin's bold message took off, reaching viewers all over the Internet — a reality the judge said "shocked" her. In fact, Colvin admitted that she was "never thinking about anyone knowing about" the initiative when it was started in May 2015.
But she's glad people found out.
"For some reason, there was a decision to tape it, and I have to think it was predestined for this to happen, because I didn't plan it," Colvin said. "I was just speaking to those kids and every month I've seen the list of kids and the situations become more and more concerning to me."
Colvin went on to say she "just wanted to speak to [the children's] hearts."
"I try to pour into everyone I see some of me," she said, "because if they can feel I'm genuine, then it'll make a difference in their life and that's what I wanted to do that day."
She said the fact that the video went viral "renews" what she has always thought to be the case — people care about each other.
Colvin is "inspired" and "hopeful" that the video of her passionate speech "may make a difference" in someone's life.
"I just want our children to know people care about them and we see possibilities in their future," the judge said. "I never know these kids personally, but they're in my heart, ... and I feel that loss they must feel, that hole in their heart that they want to fill up, and they're filling it with all the negative things."
In the end, Colvin said it "encourages" her to know thousands of people have listened to her bold message.
—
Follow the author of this story on Twitter: