The hashtag #HillarySoQualified has been trending on Twitter since late Wednesday night, but as of Thursday afternoon, the hashtag isn't trending in the way it was intended to.
Speaking in Philadelphia Wednesday evening, Democratic presidential candidate Bernie Sanders told a crowd of more than 10,000 people that Democratic front-runner Hillary Clinton isn't qualified to be president, which set off a fury of backlash against Sanders — both from the Clinton campaign and from her supporters.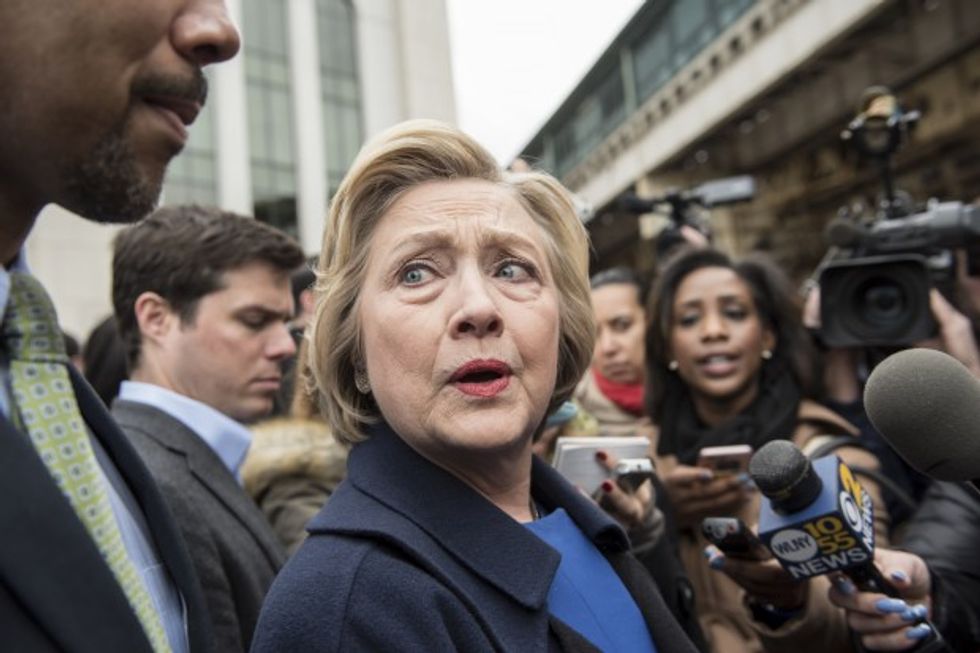 Andrew Renneisen/Getty Image
In response, one supporter of the former secretary of state, 37-year-old Kim Frederick, created the hashtag "#HillarySoQualified" as a way to vent her frustration with Sanders. Frederick, who described herself as an "unbelievably enthusiastic" Clinton supporter during an interview with the Washington Post, said Sanders' comments made her "beyond fiercely angry."
"I was livid," she said. "Just beyond fiercely angry about this, and I could barely control myself. Even talking about it now gets me worked up."
Though Frederick created the hashtag to publicly list Clinton's accomplishments, by Thursday morning, the hashtag was run amok with tweets listing reasons why people believe Clinton is, in fact, unqualified to be president:
#HillarySoQualified to be unqualified for POTUS. anyone who voted for a war that destabilized an entire region killing millions +

— Dominic Vargas (@Dominic Vargas) 1460048913.0
#HillarySoQualified to represent big banks & special interests. https://t.co/zy3p3FS77p

— Simar (@Simar) 1460040126.0
Can flip flop as often as she wants because every criticism of her previous policy positions are "unfair" #HillarySoQualified

— Dylan (@Dylan) 1460056381.0
However, there were some tweets that followed the hashtag's original intent:
Funny how @SenSanders thinks @HillaryClinton isn't qualified yet all his colleagues in the senate endorsed her over him! #HillarySoQualified

— Zack Fraser (@Zack Fraser) 1460026119.0
Once again, cuz of @BernieSanders, a woman candidate has to prove her years of political experience and qualification. #HillarySoQualified

— Thomas M. Ybarra ☕️ (@Thomas M. Ybarra ☕️) 1460055507.0
—
Follow the author of this story on Twitter and Facebook:
[facebook //www.facebook.com/plugins/like.php?href=