SAN FRANCISCO (TheBlaze/AP) — Right after Ross Stripling of the Los Angeles Dodgers was pulled following 7 1/3 hitless innings in his major league debut, Trevor Brown homered off Chris Hatcher for the San Francisco Giants on a rainy Friday night.
#Dodgers el relevista q entro por el novato Stripling no pudo seguir el #NoHitter (SF Trevor Brown BOOM HR) pic.twitter.com/fVwEbqKthJ

— MeGustanLosDeportes (@PalillitoArnold) April 9, 2016
Manager Dave Roberts removed Stripling after 100 pitches and replaced him with Hatcher. The homer tied the game at 2 and Stripling was charged with one run. He finished with four walks and four strikeouts.
#Dodgers en su debut Ross Stripling tiro 7.1 entradas d #NoHitter pero tan pronto tiro su pitch #100 fue sacado. pic.twitter.com/Wpdy2sMFg2

— MeGustanLosDeportes (@PalillitoArnold) April 9, 2016
The 26-year-old Stripling, a 2012 fifth-round draft pick who skipped Triple-A altogether, capitalized on a trio of defensive gems.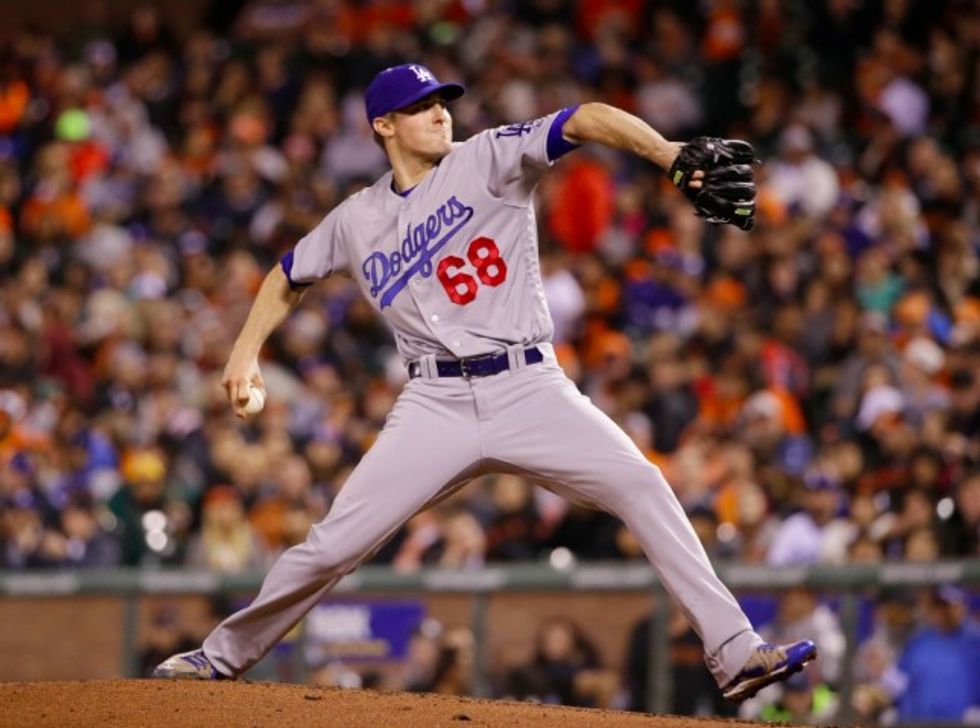 Los Angeles Dodgers starter Ross Stripling throws to the San Francisco Giants during the seventh inning of a baseball game Friday, April 8, 2016, in San Francisco. (AP Photo/Marcio Jose Sanchez)
Yasiel Puig made a diving catch in right to rob Matt Duffy in the second and Stripling then ran down Brandon Crawford's bunt toward third and fired a one-hopper to first baseman Adrian Gonzalez for a slick play.
Center fielder Joc Pederson sprinted hard to his left to make a diving, backhanded catch on Denard Span's fly to start the fourth. Stripling gave up two walks that inning but was unscathed.
In the seventh, the Dodgers made a rare 5-6-3 double play on which third baseman Justin Turner shifted between first and second base.
Stripling went 3-6 with a 3.66 ERA pitching for Double-A Tulsa and Class A Great Lakes last year.
The only pitcher in major league history to throw a no-hitter in his MLB debut is Bumpus Jones on Oct. 15, 1892, for Cincinnati against Pittsburgh, according to STATS.
—
UPDATE Saturday 1:25 a.m. ET: The Giants eventually pulled out a 3-2 victory with Brandon Crawford's home run in the bottom of the 10th inning.