Democratic presidential candidate Hillary Clinton poked fun at her own mishap with New York City's subway system earlier this week when she made a surprise appearance alongside the city's mayor during a charity event Saturday night.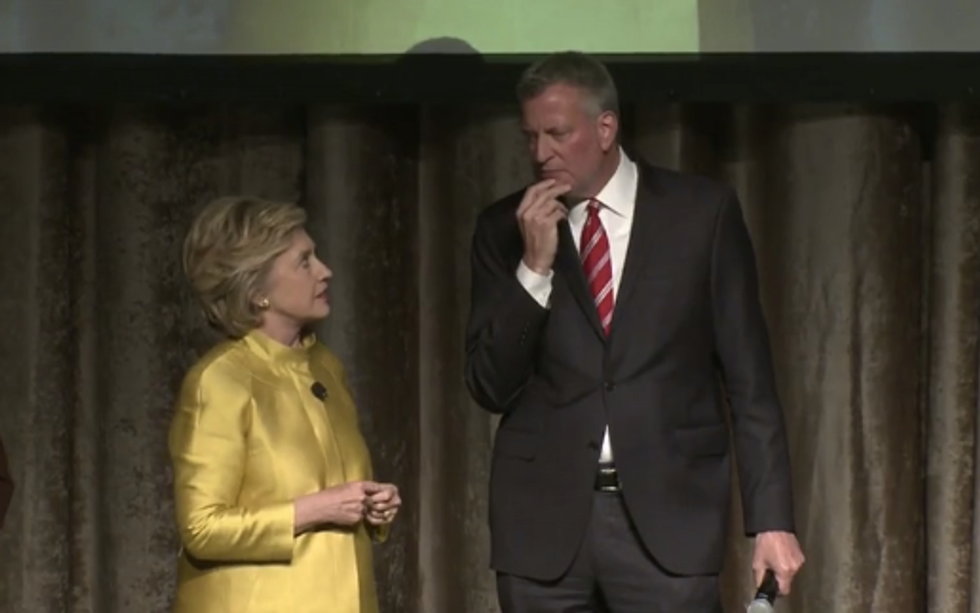 Image source: NBC News
New York City Mayor Bill de Blasio rapped while introducing Clinton to the stage during the event, saying, "So I come blazing, with heavy artillery, for the Queen of the Democrats, my homegirl Hillary."
After Clinton took the stage alongside the mayor to receive his endorsement for her as a presidential candidate, she quipped in response, "Thanks for the endorsement, Bill. Took you long enough."
She's always been a show stopper. Thanks to @HillaryClinton for taking #InnerCircle to the next level. #ImWithHer pic.twitter.com/HzC2Hvg55m

— Bill de Blasio (@BilldeBlasio) April 10, 2016
Then Clinton decided to poke fun at herself for her embarrassing encounter with the city's subway system on Thursday during which she experienced trouble using her Metrocard and was forced to swipe it five times before finally making her way through the system. It did not take long for video footage of the former Secretary of State's difficulty with her MetroCard to become viral and seep its way across social media platforms.
But Clinton seemed to take it all in good stride when she confronted de Blasio about her mishap.
"There are a lot of things I could ask you of international, national, state and city importance, but would you just fix these MetroCard slots in the Subway?" Clinton said to de Blasio during her appearance. "It took me like five swipes. The little terminal thing kept saying, 'please swipe again.' I mean, you've got to fix that!"
(H/T: NBC News)
—
Follow Kathryn Blackhurst (@kablackhurst) on Twitter