Professional Filipino boxer Manny Pacquiao invited fellow fighter Timothy Bradley to a Bible study Saturday immediately following their 12-round battle in Las Vegas.
After Pacquiao was declared the unanimous victor of the fight that would conclude his Hall of Fame career, he asked Bradley to come along with him to the Sunday evening study, which Pacquiao had been holding regularly in his hotel suite, according to the Inquirer.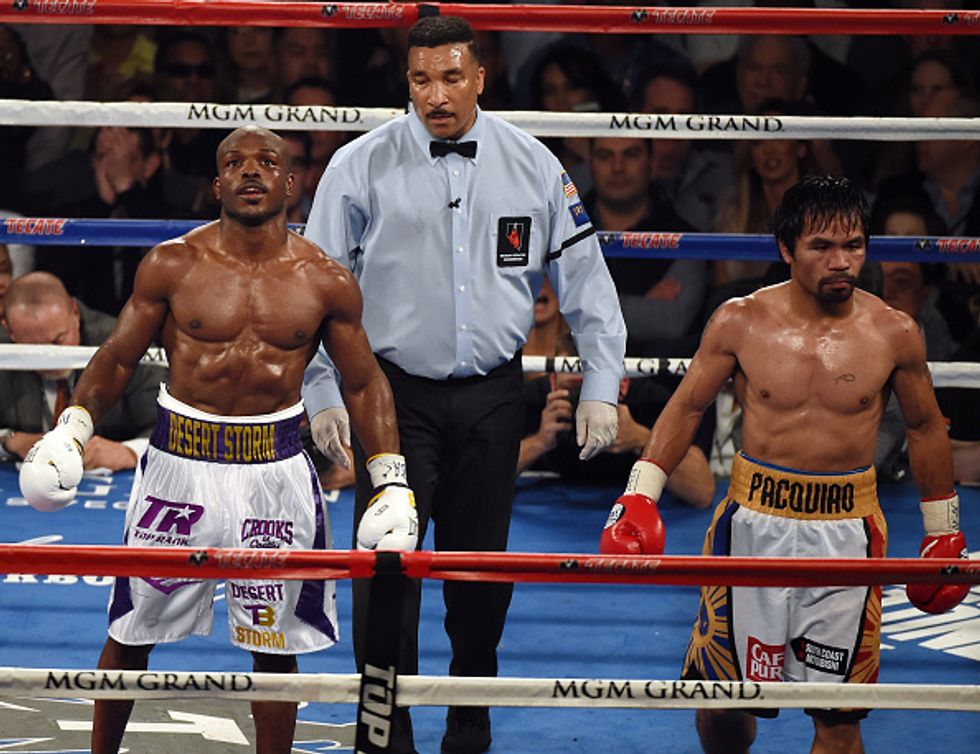 Manny Pacquiao, right, and Timothy Bradley Jr. during their welterweight fight at the MGM Grand Garden Arena Saturday in Las Vegas. (Ethan Miller/Getty Images)
"What time?" Bradley reportedly asked Pacquiao, the only part of the conversation that could be heard over the mic as the crowd roared in celebration of Pacquiao's win.
"Bradley is a nice guy, he's a good man. In fact, I invited him tomorrow to our Bible study. He said he will try," Pacquiao said Saturday at a post-fight presser.
Bradley did not end up attending, according to the Christian Post.
The Desert Sun reported that Pacquiao maintained in the weeks leading up to the Bradley fight that it would mark the final bout in his decorated career.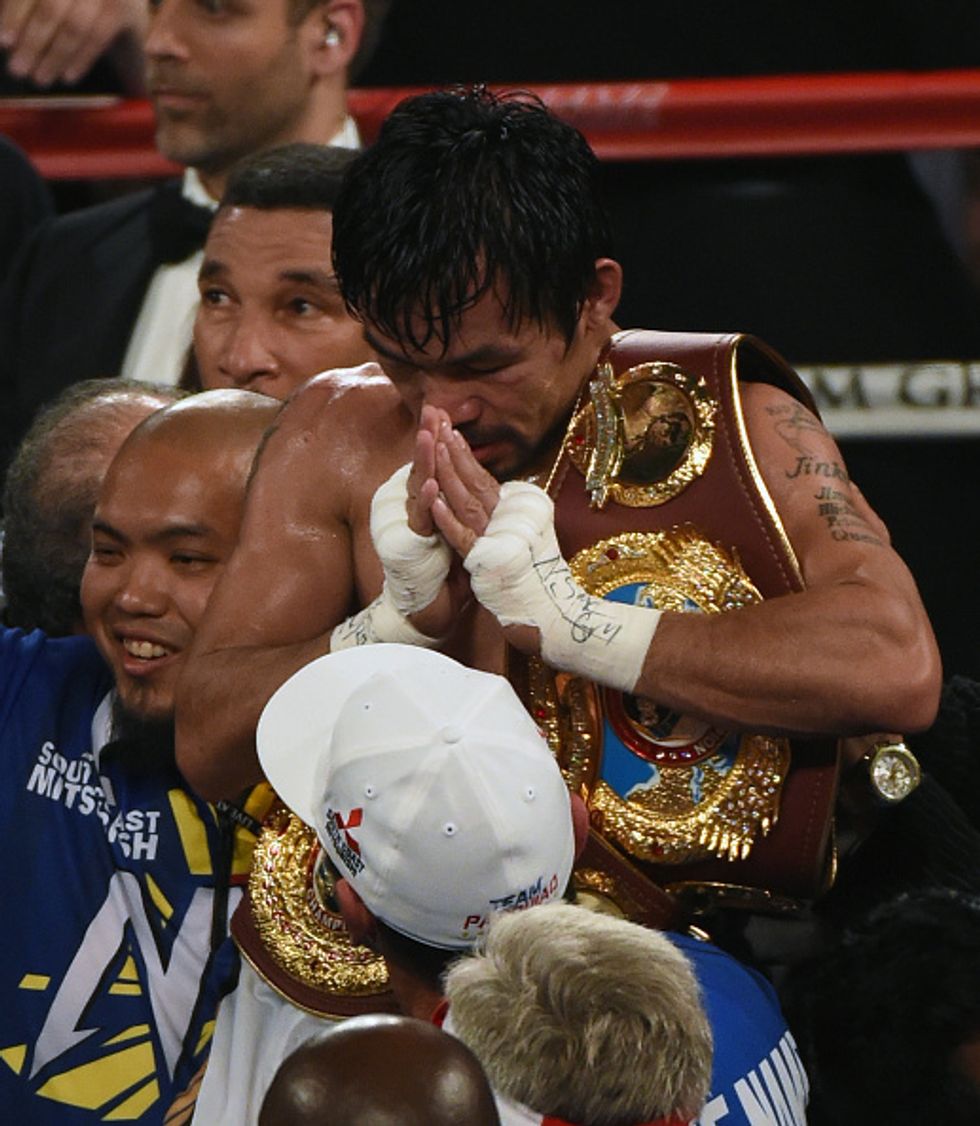 Manny Pacquiao celebrates his unanimous-decision victory over Timothy Bradley Jr. in their welterweight fight Saturday at the MGM Grand Garden Arena in Las Vegas. (Ethan Miller/Getty Images)
His retirement announcement came in light of a decision to focus more on his family and political career.
"Like I said … I already made a commitment to my family that after this fight I am going to go back home and spend more time with them," Pacquiao said at the presser, according to the Sun. "And I [am] going to retire and serve the people of the Philippines. That is my focus."
Pacquiao plans to reenter politics and run for a seat in the Philippines Senate in May.
Despite this, the Sun added that during Saturday's presser Pacquiao was asked "at least three separate times" by the reporters if he was actually going to retire.
"One reporter suggested that if Pacquiao wanted to serve the people of the Philippines, the best way would be to continue fighting and make money to donate," the Sun reported.
Later in the press conference, however, a reporter asked Pacquiao if he could definitively say that he'd never fight again.
To this, the boxer offered an intriguing response: "You're good," Pacquiao said to the crowd, according to the Sun. "My heart is 50/50. Boxing is a really hard sport, very difficult. Like I said, I might enjoy retired life. It's hard to say because I'm not there yet. But right now my decision is to retire."
Pacquiao, who describes himself as a born-again evangelical Christian, told TheBlaze last year that his ultimate goal is to remain open to God's plan for his life.
"The Lord has blessed me [with] everything I have … [my] political career and serving the Lord and being a boxer — and I believe God has a purpose," he said. "It is beyond my expectation and imagination. I think it's time to proclaim his name, not mine."