Sitting behind Glenn Beck while he broadcast from his home office Tuesday morning was a life-like bust of Abraham Lincoln's head and apparently he received a lot of email questions about it.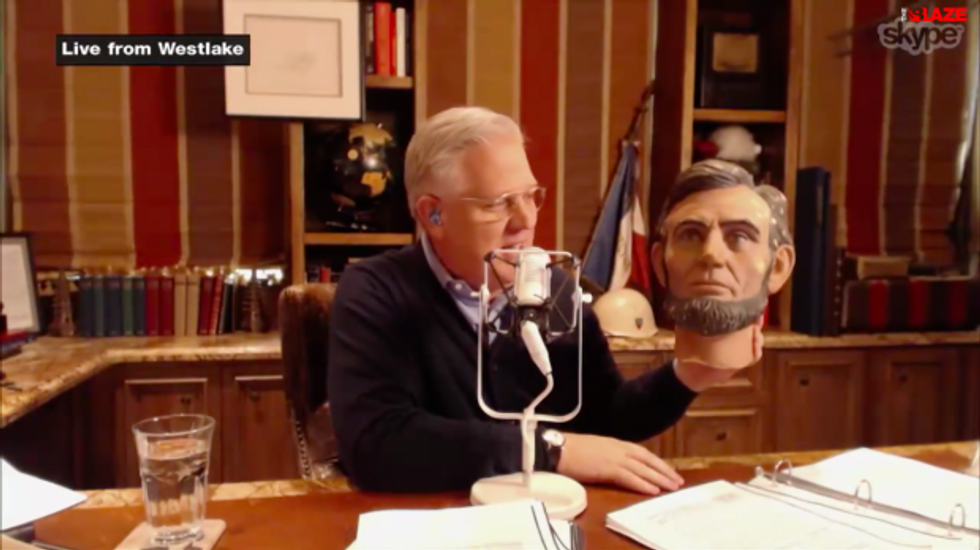 Glenn Beck tells the story behind the Abraham Lincoln bust he has in his home office Tuesday. (Image source: TheBlaze TV)
"We're getting email from people like, 'What's the creepy Abraham Lincoln head right behind you?'" Beck said Tuesday on The Glenn Beck Radio Program.
Walt Disney was preparing for the 1964 World's Fair in New York City, which featured a never-before-seen attraction with Abraham Lincoln, using a technology the Disney franchise calls "audio-animatronics." However, as Beck tells the story, when Disney was preparing to introduce the "Great Moments With Mr. Lincoln" event, the Honest Abe lookalike malfunctioned.
"He was going to introduce the walking, talking Abraham Lincoln, and it wasn't working," Beck said. "And so they couldn't set lights. They couldn't set the stage or anything else."
So, while the famous Disney imagineers worked to correct the issues with the audio-animatronic Lincoln, engineers built a temporary bust of the former president's face to use as they set the stage, and that bust now sits in Beck's home office in Westlake, Texas.
"This is the head of that body that they used," Beck said. "And then as soon as they got the audio-animatronics working, they took this and — I don't know — put it on some shelf back in the Disney archives, and so that's the creepy Abraham Lincoln head right behind me."
Complimentary Clip from TheBlaze TV The full episode of The Glenn Beck Program, along with many other live-streaming shows and thousands of hours of on-demand content, is available on just about any digital device. Click here to watch every Glenn Beck episode from the past 30 days for just $1!
—
Follow the author of this story on Twitter: