A unique set of maps representing the first modern cartographic drawings of Jerusalem went on the auction block earlier this week, offering a glimpse at how those living outside the Holy Land may have perceived the city that sits at the core of biblical history.
Prior to British engineer Capt. Charles Wilson's expedition to the Holy Land in the mid-1800s, maps were based on biblical sources and the imagination of mapmakers, rather than modern scientific methods.
"This map is the basis for the modern understanding and recognition of the city of Jerusalem, which had been shrouded in mystery," Ron Warren, owner of Jerusalem's Kedem Auction House, which sold the maps, told the Jerusalem Post.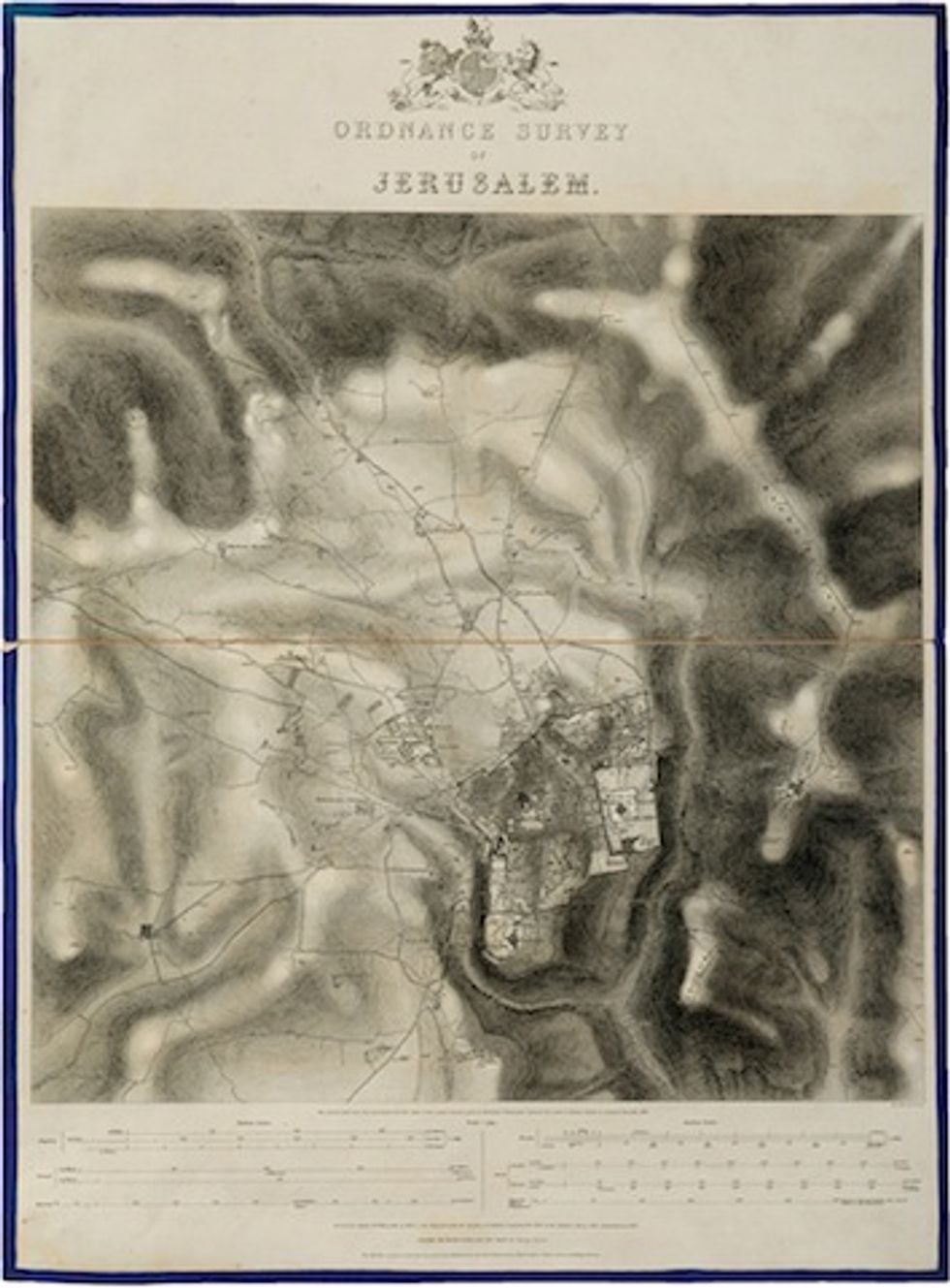 Capt. Charles Wilson's 1865 map survey of Jerusalem was the first effort at using modern mapping techniques to portray the holy city. Researchers say that previous efforts were based on scriptural clues and the mapmakers' imaginations. (Kedem Auction House)
The starting price for the maps published in 1865 was $700 and ended up selling for $3,500, according to Israel's Ynet News.
Kedem's auction catalogue noted that the portfolio included five folding, cloth-backed maps including two maps of Jerusalem and the Temple Mount, the Dome of the Rock, and the Church of the Holy Sepulcher.
Kedem described the "Ordnance Survey of Palestine" as the "first modern cartographic and archaeological survey conducted in Palestine."
While carrying out his survey, Wilson discovered an ancient stone arch to the north of Jerusalem's Western Wall, a feature that today is known as "Wilson's Arch."
Wilson, who was not only a military man, but also an engineer, geographer and archaeologist, was assigned the task of surveying the city by the British government following a request from the Ottoman governor who ruled the area at the time.
The survey was a first step in ameliorating the poor sanitary conditions in Jerusalem with a plan to improve the sewage system.
"The survey is an unusual item, because he actually undertook the first practical survey ever conducted in the city of Jerusalem," Kedem's Meron Eren told Ynet. "Until then, it was customary in Europe to draw Jerusalem according to imagination and as the city is described in various scriptures."
Wilson, described by the Post as "a devout Christian and proto-Zionist," conducted the survey for a year, mapping city streets and embarking on archaeological studies.
The paper noted that Wilson's work in other parts of what is today the state of Israel "is considered to be the most comprehensive and accurate delineation of the country's infrastructure."
More images from the portfolio can be seen here.