It was far from an endorsement, but President Barack Obama made sure to make mention of the idea of a woman president during remarks dedicating a monument to women suffragist.
"I want them to be astonished that there was a time when women were outnumbered in the boardroom or Congress or that a woman had never sat in the oval office," Obama said regarding children in later generations.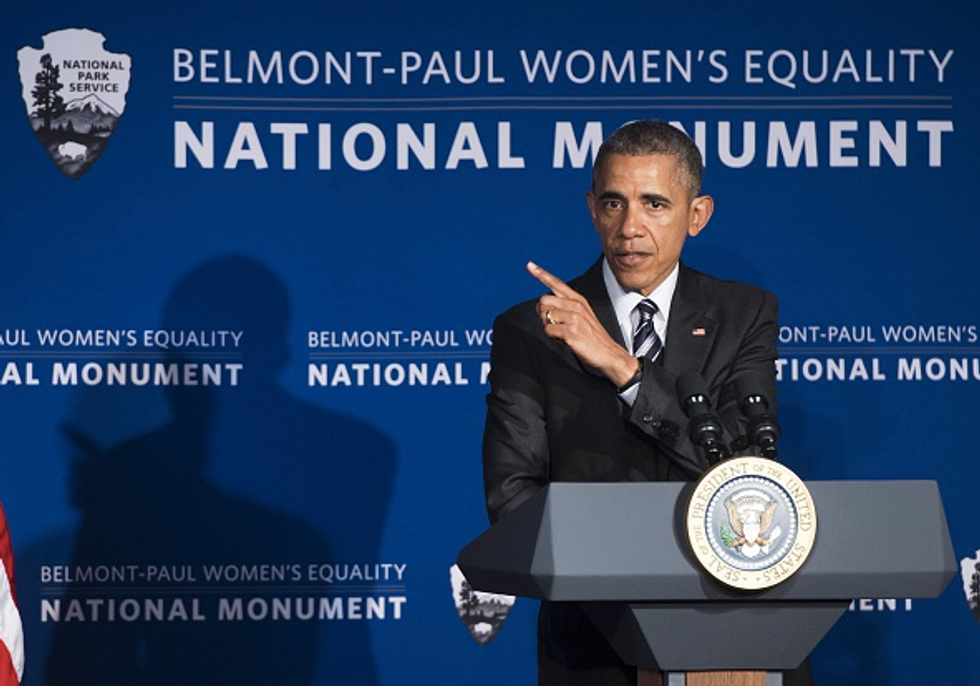 President Barack Obama speaks at the newly designated Belmont-Paul Womens Equality National Monument in Washington, D.C, Tuesday. (Saul Loeb/AFP/Getty Images)
The remark comes as Obama's former Secretary of State Hillary Clinton is running for the Democratic presidential nomination.
Obama on Tuesday declared the Sewall-Belmont House, the headquarters of the National Woman's Party, the Belmont-Paul Women's Equality National Monument. The monument honors suffragist Alva Belmont and Alice Paul, founder of the National Women's Party.
Obama mentioned the Oval Office in the context of future generations visiting the newly declared monument.
"I want young girls and boys to come here, 10, 20, 100 years from now to know women fought for equality, it was not just given to them," Obama said. "I want them to come here and be astonished that there was ever a time when women couldn't vote. I want them to be astonished that there was ever a time when women earned less than men for doing the same work."
Obama called on Congress to pass the "Paycheck Fairness Act" to increase the ability to women to sue for gender pay discrimination. But he also said that America is a "work in progress" always improving.
"I'm not here just to say we should close the wage gap. I'm here to say we will close the wage gap," Obama said.