Businessman Donald Trump was grilled Monday during an interview with Fox News host Bill O'Reilly, who repeatedly pressed Trump on how he'd win over the African-American community.
O'Reilly noted during the interview that the Republican front-runner doesn't have much support from minority supporters, citing poll numbers. Trump disputed that fact but went on to say that he would do "fantastic" with minority communities, explaining that he would win them over by bringing jobs back to the United States.
"I think we're gonna do fantastic with African-Americans and with Hispanics," Trump told O'Reilly.
"What's your message to African-Americans?" O'Reilly replied.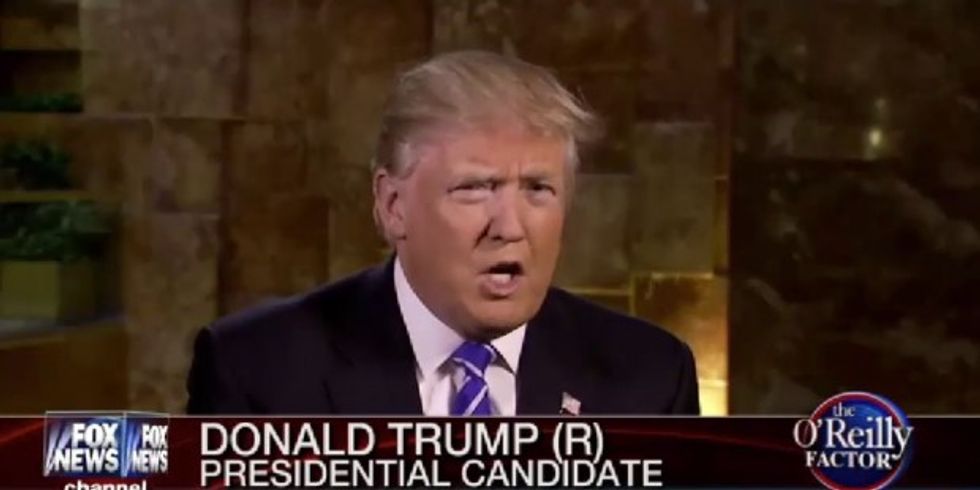 Image source: YouTube
"My message is that I'm gonna bring jobs back," Trump retorted. "China has the jobs. Mexico has the jobs. Japan has the jobs. Everybody has the jobs — we don't have the jobs. The jobs have been taken out of the United States like we're a bunch of babies."
Feeling unsatisfied, O'Reilly continued to press Trump, asking him about the "grievance industry," which the host alleged is run by Al Sharpton, adding that there is a subsection of the black community that not only wants economic prosperity but also feel as if they are "owed" something because of slavery.
"I'm telling you, it's an economic message," Trump said. "If you look at President Obama, he's been a president for almost eight years, it will be eight years, you have with black youth, with African-American youth, you have a 59 percent unemployment."
"How are you going to get jobs for them?" O'Reilly shot back. "Many of them are ill-educated and have tattoos on their foreheads — and I hate to be generalized about it but it's true — if you look at all the educational statistics, how are you going to give jobs to people who aren't qualified for jobs?"
Trump reiterated his main talking point by again saying that as president, he would bring jobs back to the U.S. But O'Reilly pointed out that many unemployed workers don't even have the basic skills to complete many jobs. The billionaire responded by saying he'll give the unskilled workers the skills necessary to do the jobs.
"We will get the skills," Trump said. "We will develop the skills. We have an incredible population."
"It's more challenging for a poor child in Harlem without parental guidance in a school that's falling apart than it is for some white kid out in Garden City," O'Reilly said back. "You say you can bring jobs back, but if the kid isn't qualified to do the job and can't do the work, I mean, you've got to get into the infrastructure of the African-American community."
Trump went on to tell O'Reilly that while education is important, it's also about "spirit."
"Well, it is true. It's about education, but it's also about spirit," he said. "A lot of people don't have spirit. Not only African-Americans, but we don't have spirit in our country."
Watch the exchange below:
—
Follow the author of this story on Twitter and Facebook:
[facebook //www.facebook.com/plugins/like.php?href=