A former U.S. senator said that 28 classified pages from the 9/11 Commission Report should be released to the American people and that it's "inexplicable" why the government hasn't done so to this point.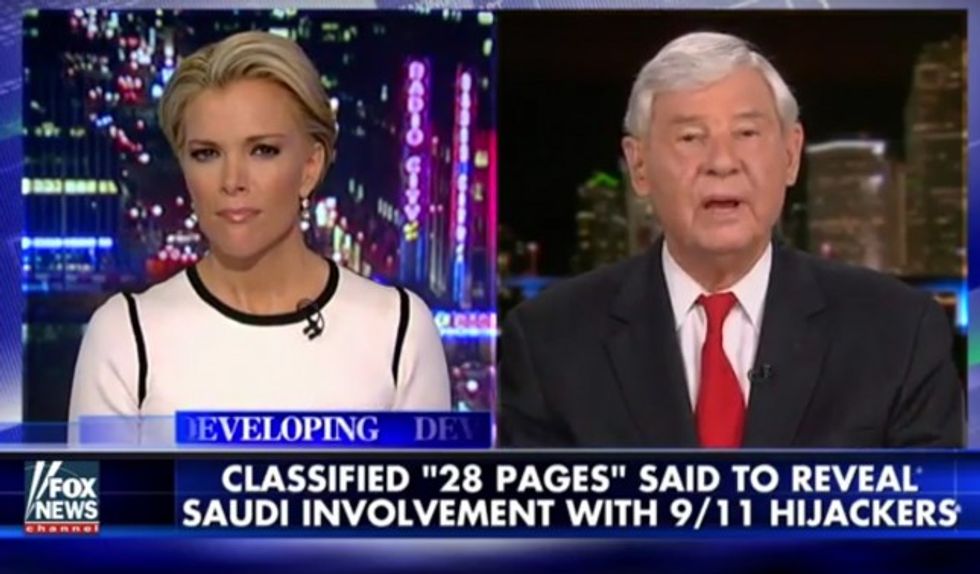 Image source: YouTube
Bob Graham, a Florida Democrat and former chairman of the Senate Select Committee on Intelligence, told Fox News' Megyn Kelly Monday night that his oath prevents him from discussing much content from the 28 pages but that "it has been said publicly that this chapter primarily relates to who financed 9/11, and that it points a finger at Saudi Arabia."
Graham noted during "The Kelly File" on Fox News that while the Bush administration may have kept the pages classified since it was dependent on the Saudis for intelligence and because of the Bush family's "close relationship with the House of Saud going back three generations," the same reasons don't necessarily apply to the Obama administration.
Graham added to Kelly that it's "disrespectful to the American people not to allow them to have the transparency of knowing what their government has done in their name when it does not involve a national security risk. In fact, I think it actually increases our vulnerability because it allows the Saudis to continue feeling that there's no sanction against them to fund terrorist activities and to train the next generation of terrorists."
CBS' "60 Minutes" ran a segment Sunday night featuring Graham and the 28 classified pages from the 9/11 Commission Report. 
Here's Graham's interview with Kelly: