Republican presidential candidate Ted Cruz, who was elected to the Senate from Texas in 2012, says Washington, D.C., is "exactly like" the way it is portrayed in the hit Netflix series "House of Cards."
When Glenn Beck learned Cruz watches the popular political drama "religiously," he asked the senator if the series really is grounded in any truth. According to Beck, before he could even finish asking the question, Cruz chimed in.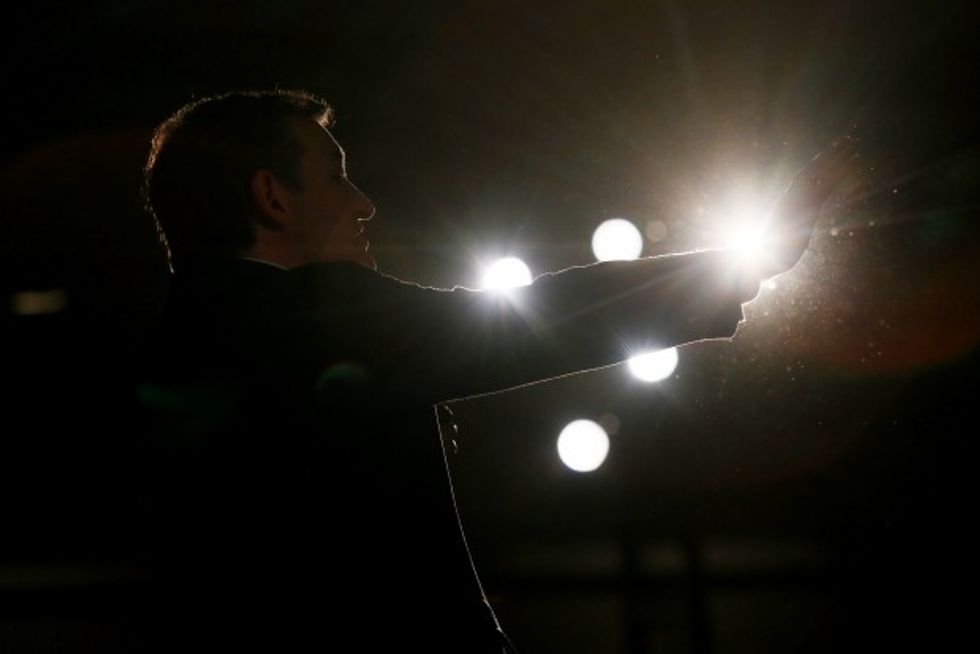 Republican presidential candidate Texas Sen. Ted Cruz speaks to supporters during a campaign event Monday in San Diego. (AP Photo/Sandy Huffaker)
"[Cruz] said, 'Oh, my gosh, it's exactly like that ... except for murder. However, Lindsey Graham made a half joke about you could kill me in the Senate,'" Beck recalled of a conversation he had Tuesday with the 2016 candidate.
South Carolina Sen. Lindsey Graham, who ran a failed campaign for the GOP presidential nomination, made headlines in February when he said the Republican Party has gone "bats**t crazy" and joked that it would be possible to get away with murdering Cruz if it happened on the Senate floor.
"If you killed Ted Cruz on the floor of the Senate, and the trial was in the Senate," Graham remarked, "nobody would convict you."
Graham has since changed his tune. Though he is not particularly enthusiastic about a potential Cruz nomination, the South Carolina senator held a fundraiser for Cruz's campaign last month. The reason for Graham's support hinges mostly on a desire to block GOP front-runner Donald Trump from securing the nomination at the party's July convention in Cleveland.
"I think [Cruz] is the best alternative to Donald Trump. He's certainly not my preference — Sen. Cruz is not — but he's a reliable Republican conservative of which I've had many differences with," Graham said in March.
Complimentary Clip from TheBlaze TV The full episode of The Glenn Beck Program, along with many other live-streaming shows and thousands of hours of on-demand content, is available on just about any digital device. Click here to watch every Glenn Beck episode from the past 30 days for just $1!
—
Follow the author of this story on Twitter: