Benner's Farm in East Setauket, New York, dates all the way back to 1751.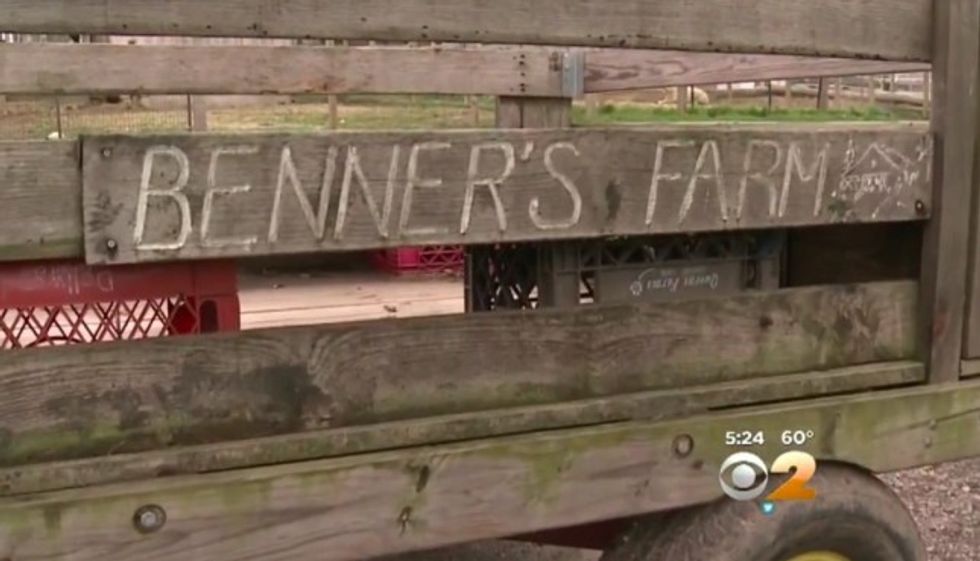 Image source: WCBS-TV screenshot
Bob Benner and his wife Jean have owned the Long Island farm for nearly 40 years — the seventh family to have worked the 15 rustic acres — and during that time they've learned to live off the land around them.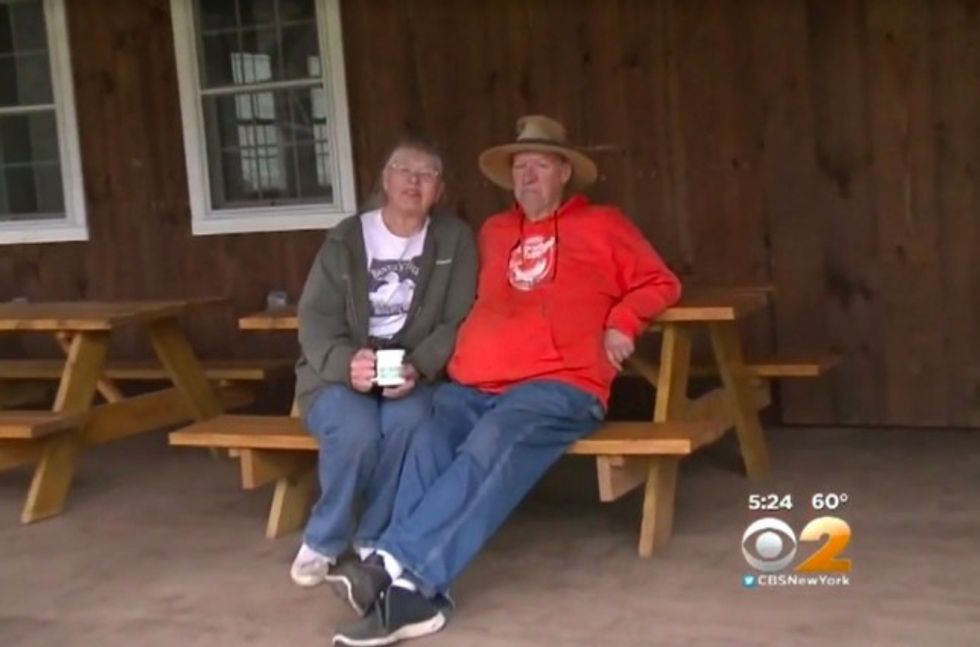 Image source: WCBS-TV screenshot
"We made our own food. We made our own clothing. We raised a garden," Benner told Fios1 Long Island, adding that they also heated their home themselves.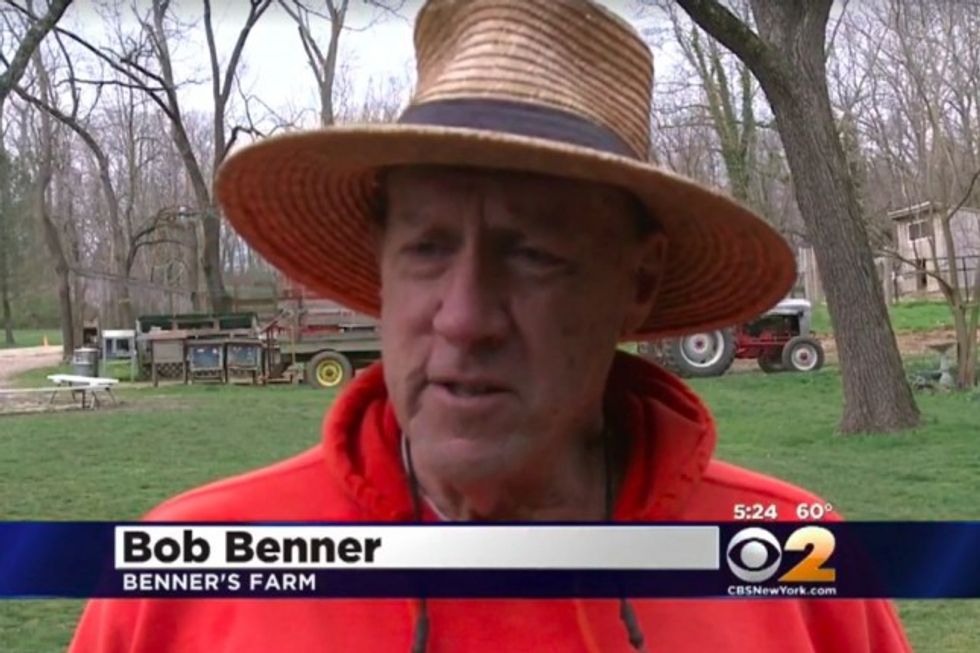 Image source: WCBS-TV screenshot
As you might expect, the Benners also have procured plenty of animals — sheep, goats, roosters, chickens. Some of them for food.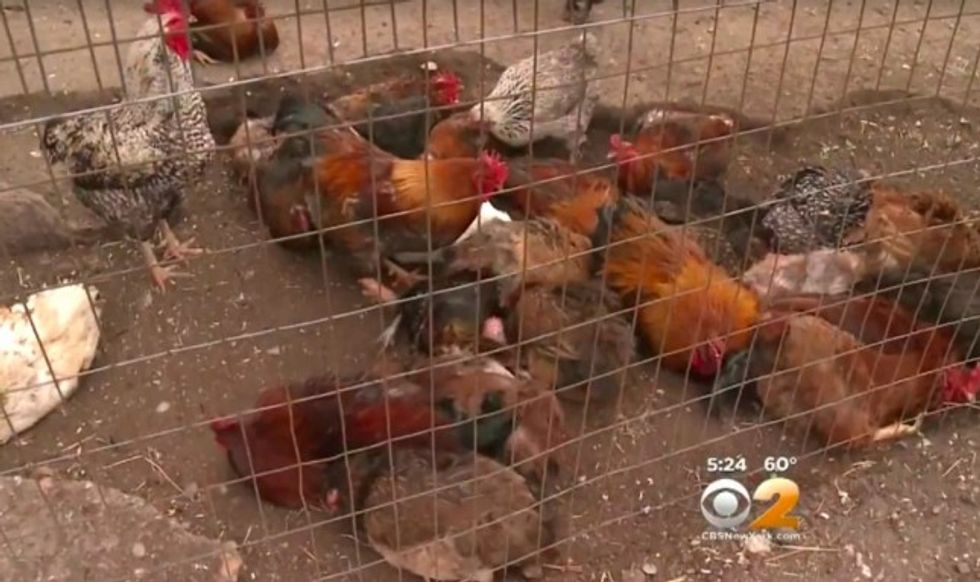 Image source: WCBS-TV screenshot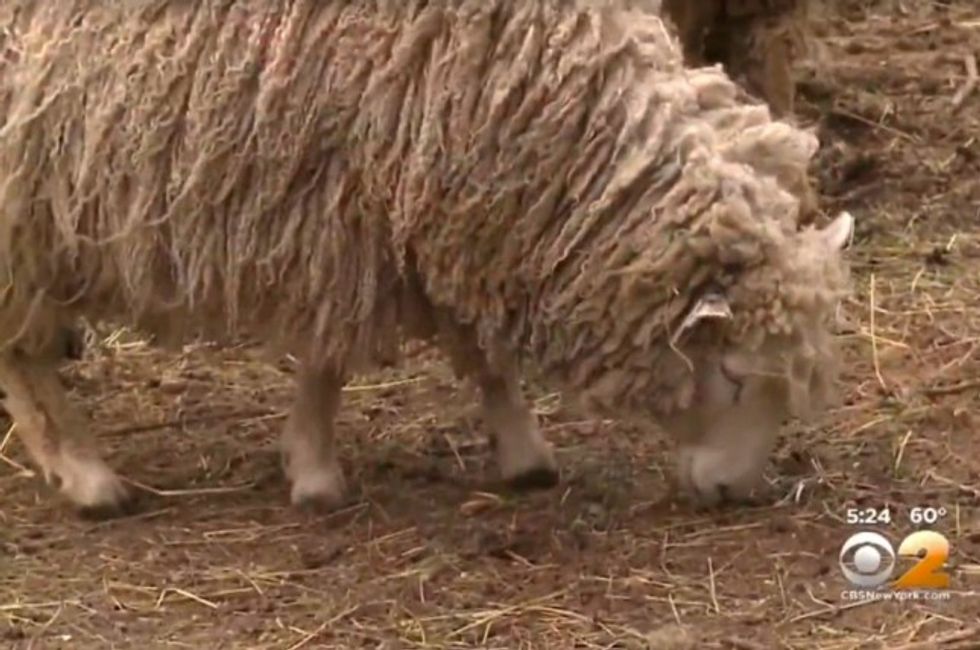 Image source: WCBS-TV screenshot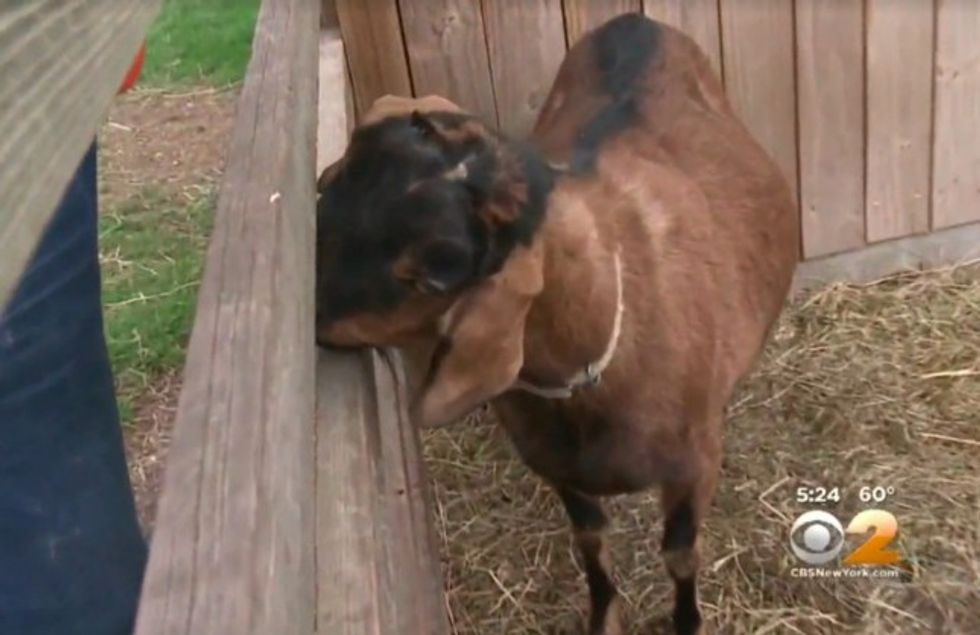 Image source: WCBS-TV screenshot
But likely never before has any animal slated for slaughter on Benner's Farm caused so much controversy as Minnie the cow.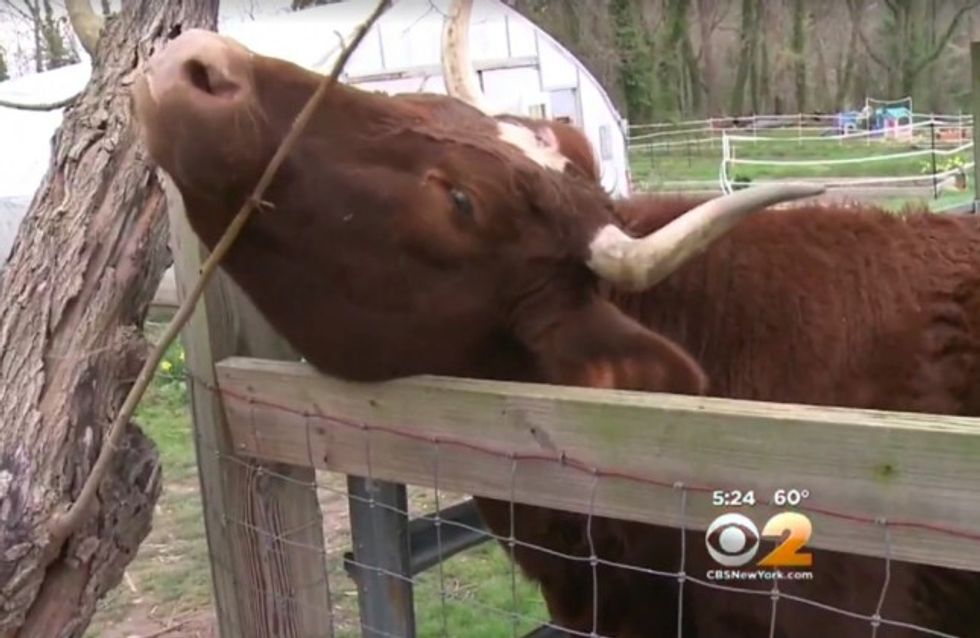 Image source: WCBS-TV screenshot
It all started about two weeks ago when Jean Benner took a birthday party group on a tour of the farm and a mother, Kimberly Sherriton of Commack, offered to help place Minnie in an animal sanctuary instead of becoming meat for the Benners, TBR News Media reported.
"Why would I send her to live in sanctuary someplace with no reason for being?" Jean Benner asked WCBS-TV. "Her reason for being is to be a meat animal. That's what she was born to be."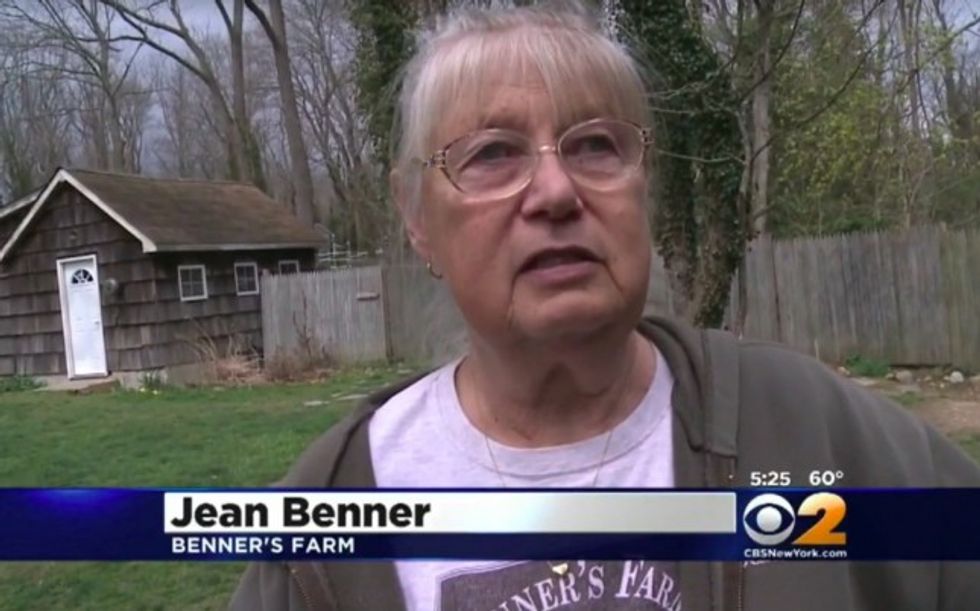 Image source: WCBS-TV screenshot
"Jean tried to explain the difference between an animal on a farm and a pet, explaining that our farm was a homestead where we raise animals for meat, as it has been since 1751," Bob Benner told TBR.
That apparently wasn't sufficient for Sherriton, who spoke with Bob Benner the next day with the pair not coming to a resolution. And since that point, the Benners have been "inundated and harassed with phone calls, Facebook posts, bad reviews and threats all aiming to change our mind," Bob Benner told TBR.
A Change.org petition with more than 3,600 supporters puts it this way:
Minnie has been the resident cow at Benners Farm for over 2 years. She is used as the face of the farm for all their educational programs, birthday parties and festivals...the events are too numerous to name. Updates are posted about her on their instagram account...and with good reason..she is quite personable and has been a wonderful animal ambassador for the "farm." The public was led to believe that this was a resident cow but now are being advised she is being slated for slaughter. Please support Minnie and support this petition.
The Benners bought Minnie in Ohio two years ago not long after the cow's birth.
"The reason we brought it back is that it's a meat cow, and there aren't many meat cows on the island that you can find," Bob Benner told WCBS.
John Di Leonardo, a member of the Save Minnie From Slaughter campaign, takes issue with that.
"There's plenty of pictures on their Facebook where they call Minnie family. You don't slaughter family," Di Leonardo told WCBS, adding that "Minnie is a thinking, feeling animal just like a dog or a cat. She's beloved by all of the community."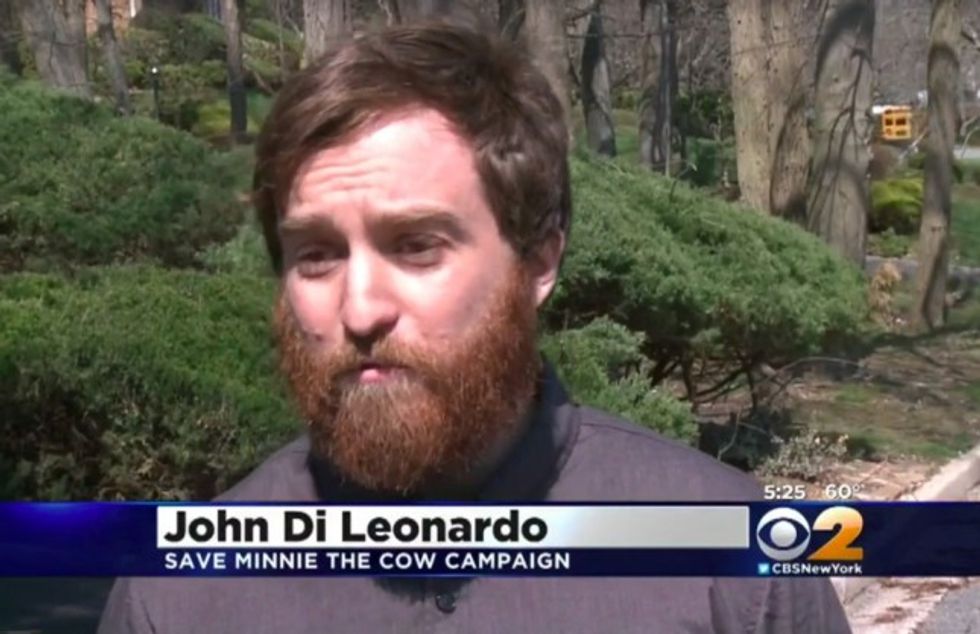 Image source: WCBS-TV screenshot
But Bob Benner said such claims don't reflect the views of his neighbors in the Three Village community.
"There have been literally thousands of people who have supported us and a majority of them live right here in the community," he told TBR. "The people that are trying to impose their values on us do not live here. We're talking about a national group of people who have a direction — they're trying to tell us how to live." Benner added that names on the online petition are from all over America.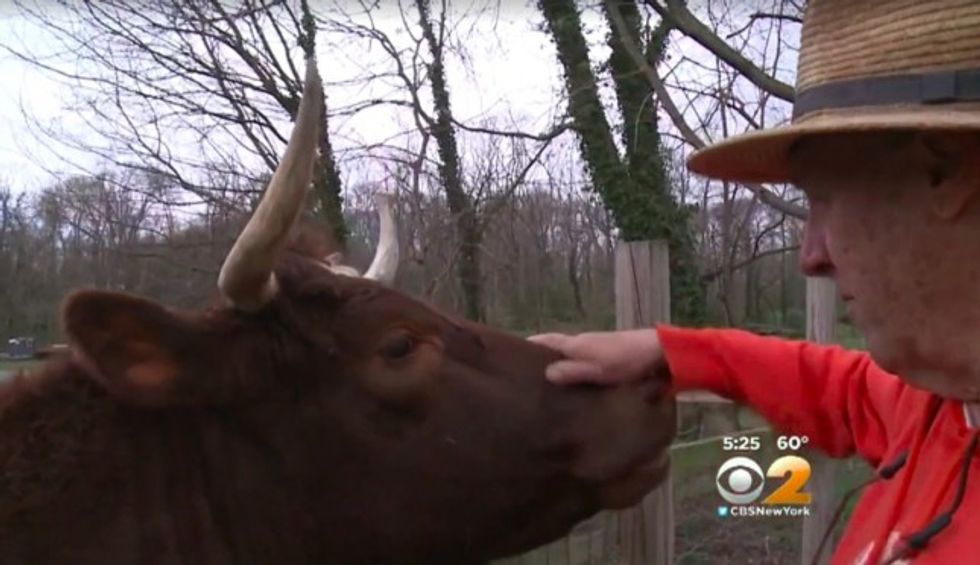 Image source: WCBS-TV screenshot
Indeed protestors came out with signs over the weekend, and WCBS reported that they plan to do so this coming weekend — and won't stop until the cow is spared. Save Minnie adherents even have offered to buy the cow from the Benners, the station said.
But Benner isn't budging. "If I do it for you, I have to do it for somebody else," he told WCBS. "I have to do it for somebody that falls in love with a chicken in 10 minutes."
He added to TBR that "we care for the animals we raise" and "families who spend time with us are able to have this connection to where food comes from. We are sympathetic that many people today do not have a direct connection to their food source. We get it. There is a disconnect for people, and that is hard. But we are farmers, and we do have that connection to our food."
This story has been updated.