© 2023 Blaze Media LLC. All rights reserved.
Comedian D.L. Hughley Does Not Censor Himself When Breaking Down the Transgender Bathroom Debate
"I don't understand how that's so bigoted!"
Comedian D.L. Hughley did not mince words when he added his voiced to the recent transgender bathroom debates plaguing states such as North Carolina, Mississippi and Georgia.
Hughley, 53, was discussing both racial and transgender issues with Jim Norton and Sherrod Small on SiriusXM's "Opie with Jim Norton" show on Wednesday. During the conversation, the guests talked about self-identification and how that affects gender and race. Hughley began by expressing his distaste for Rachel Dolezal, the former president of an NAACP chapter in Spokane, Washington, who came under fire last year for lying about her race and "identifying" as an African-American.
"She wanted to be so black so bad she became one," Hughley said before adding, "To me, you can change your gender, but you can't change your race. Like, you can tell me that you are man who used to be a woman, but you can't tell me you are a black woman who used to be white?"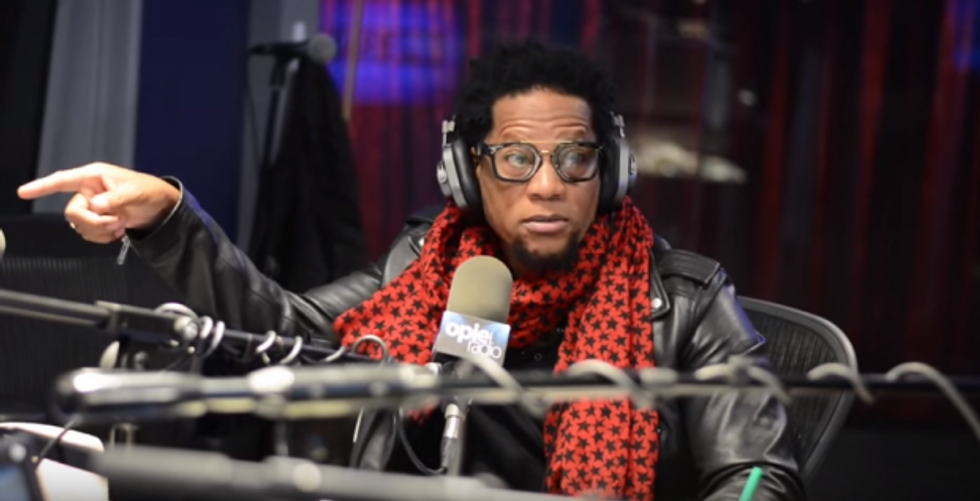 D.L. Hughley (Image source: YouTube)
Sherrod Small then interjected into the discussion, saying, "You can tell me both, but I'm gonna laugh soon as you leave the room!"
"Me too!" Hughley agreed.
Opie Radio host Gregg Hughes then cut in to the discussion.
"Are we allowed to still laugh? That's all that I want to know," Hughes added. "You're not even allowed to laugh at that s**t."
Norton then cut in to bring up the topic of "self-identifying" as opposed to being "legitimately" who they say they are.
"With trans issues, what's the difference between somebody who's legitimately, this is who they are, and someone who's just self-identifying?" Norton asked. "We don't put any line on it anymore. If you say you are, you are, and that's what's kinda nuts."
Hughley then elaborated on his opinion on the transgender bathroom debate.
"And you know what's crazy to me? I can just respect you, you can self-identify and tell me who you are. But like Caitlyn Jenner, you can tell me, I'll call you Caitlyn, but your body thinks you're a 67-year-old white man, and your neurologist is gonna tell you you need a prostate exam," Hughley said. "And I dislike ... what's going on in North Carolina and Mississippi and now Tennessee. It is bigoted and horrible to deny people rights based on their sexual orientation. It is horrible. But, it ain't so horrible if  I say, 'you got a d**k, go to the bathroom with people who got d**ks.'"
Hughley's blunt comments drew laughter from his on-air colleagues.
"You got a d**k, stand in that line," Hughley reiterated. "I don't understand how that's so bigoted! I'm bigoted? If you got a d**k, stand in a line where they got d**ks!"
Hughley then concluded by urging people not to compare transgender rights to civil rights cases.
"Somebody gotta stand up so you all can sit down," Hughley said.
—
Follow Kathryn Blackhurst (@kablackhurst) on Twitter
Want to leave a tip?
We answer to you. Help keep our content free of advertisers and big tech censorship by leaving a tip today.
more stories
Sign up for the Blaze newsletter
By signing up, you agree to our
Privacy Policy
and
Terms of Use
, and agree to receive content that may sometimes include advertisements. You may opt out at any time.