© 2023 Blaze Media LLC. All rights reserved.
Police: Houston Deputy Shot Multiple Times From Behind in 'Completely Unprovoked' Attack
"I can't see how someone can mistake them for someone other than law enforcement."
HOUSTON (TheBlaze/AP) -- A deputy constable in Houston who assisted in a traffic stop was talking to another constable when he was shot from behind six times in a "completely unprovoked" ambush style attack, authorities said, according to KTRK-TV.
The shooting happened around 11:20 p.m. Wednesday as the deputy constable was standing next to another deputy constable's vehicle, Houston police spokesman Kese Smith told The Associated Press.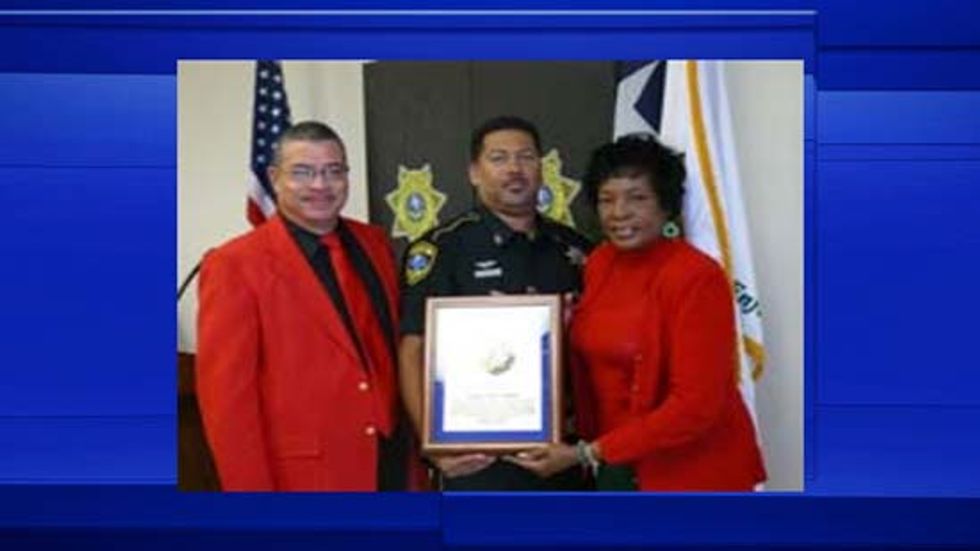 Image source: KTKR-TV
Meanwhile, authorities were questioning a male who showed up a nearby fire station after the shooting and matched the description of the suspected shooter, Smith said. The person had not been arrested or charged, he said, but authorities also were not currently looking for anyone else.
The deputy constable is Alden Clopton, an 11-year veteran of the force who is married and has children, Lt. Holland Jones of the Harris County Precinct 7 Constable's Office told media outlets Thursday morning. Clopton was in surgery Thursday morning with wounds to the abdomen and a bullet lodged near his heart, said Pamela Greenwood, also with Precinct 7.
"So right now, we're not really sure of his condition," she said.
According to Smith, the shooting came after a female reserve deputy constable made a traffic stop and called the male deputy constable to assist. The vehicle that was pulled over left and the male deputy constable was standing outside the window of the female's vehicle when he was shot six times. The female deputy constable got out and shot back, but it was unknown if she hit the suspect, who then fled, Smith said.
Image source: KTRK-TV
The person being questioned at the fire station did not have any injuries, Smith said. Smith also said he did not think the shooting was related to the traffic stop.
"It was completely unprovoked," Greenwood said.
Asked if authorities believed the shooter was targeting law enforcement, Smith noted that both deputy constables were in uniform and had marked vehicles.
"I can't see how someone can mistake them for someone other than law enforcement," Smith said.
This is the second time in less than a year that a Harris County sheriff's deputy has been targeted in an "unprovoked attack." Last August, Deputy Darren Goforth was murdered while pumping gas at a gas station.
Prosecutors later revealed the motive in that attack to be "retaliation for being a law enforcement officer, and no other reason."
—
Want to leave a tip?
We answer to you. Help keep our content free of advertisers and big tech censorship by leaving a tip today.
Staff Writer
Chris Enloe is a staff writer for Blaze News
chrisenloe
more stories
Sign up for the Blaze newsletter
By signing up, you agree to our
Privacy Policy
and
Terms of Use
, and agree to receive content that may sometimes include advertisements. You may opt out at any time.