Hillary Clinton campaign chairman John Podesta was confronted by CNN's Anderson Cooper following Thursday's Democratic debate over why Clinton is so reluctant to release her Wall Street speech transcripts.
As pressure has increased on Clinton to release her speeches, the former secretary of state has continued to insist that she'll only release the transcripts if and when it becomes a standard for all presidential candidates — not just Democrats.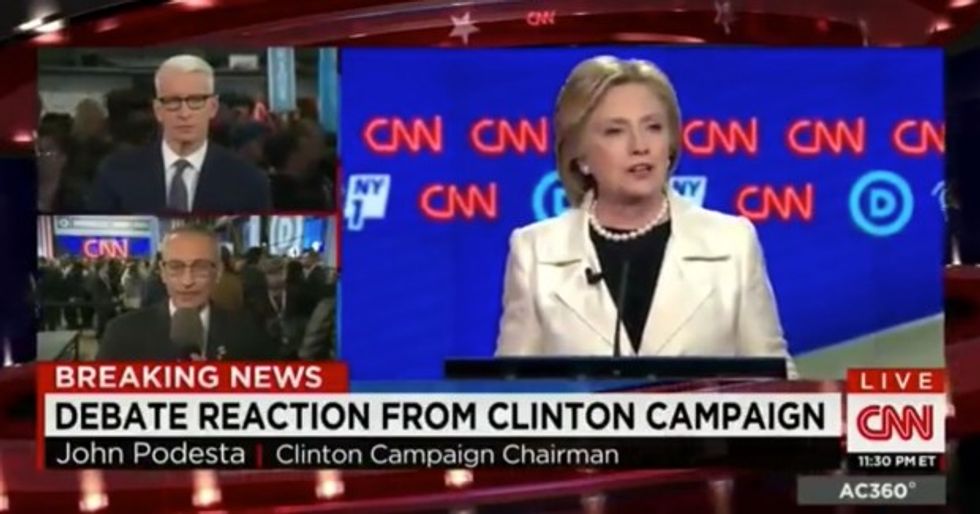 Image source: YouTube
Podesta reiterated that point Thursday, insisting that Clinton is being held to a double standard. However, Cooper wasn't buying it. According to Cooper, there is no double standard because the speech transcript issue is currently a Democrats-only issue.
Instead, Cooper wondered if Clinton's reluctancy is due to something "embarrassing" being present in her speeches.
"I just don't understand," Cooper said. "It does seem like there must be something that she said that she would be embarrassed to have come out, or else you guys wouldn't keep letting this issue hang out there."
If there was something embarrassing in the speeches, then it would have previously been reported, Podesta contended.
"If there was something that she said that, uh, it would have come out," Podesta said. "There was actually reporting on those speeches in the New York Times and other places from when she gave them from people who listened to them."
"So I don't think that's the issue," he added. "The issue is: Is she going to be treated fairly in this campaign. That's what we're trying to establish."
(H/T: Mediaite)
—
Follow the author of this story on Twitter and Facebook:
[facebook //www.facebook.com/plugins/like.php?href=