BROOKLYN, N.Y. — Democratic presidential candidates Hillary Clinton and Bernie Sanders fiercely battled one another during Thursday night's debate, but did their questioning of each others' judgment help or hurt?
Looking at reports from Brandwatch, the social media monitoring site which analyzed Twitter users' interactions with the CNN debate, Sanders seemingly fared better online than his female counterpart. For the Vermont senator, 55.3 percent of his mentions were positive while 53.8 percent of Clinton's mentions were negative.
Yet while Clinton received more negative than positive mentions on Twitter, the former secretary of state did receive the most mentions overall out of the two remaining Democratic presidential candidates during the debate — a feat that is the first for her.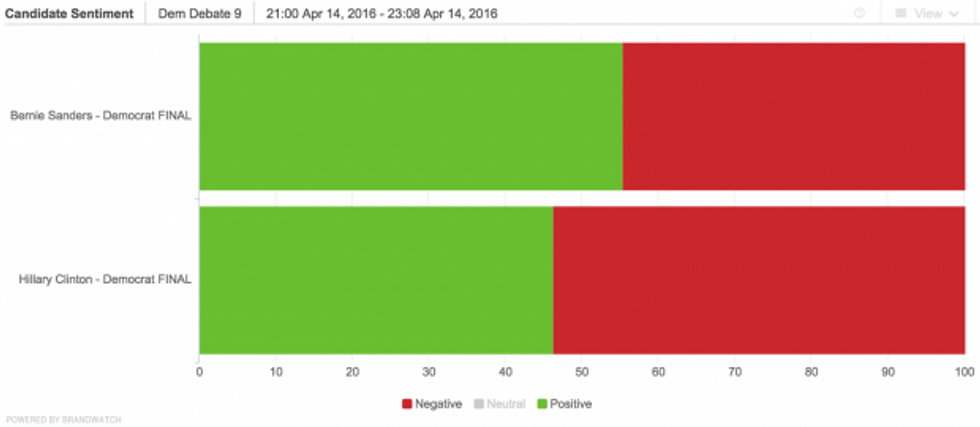 Image provided to TheBlaze via Brandwatch.
This debate also generated one of the largest number of responses on social media, according to Brandwatch data analyst Kellan Terry.
"The reason this debate's conversation is larger comes down to two aspects," Terry told TheBlaze late Thursday night. "The first, New York is a pivotal primary state that has a large population. Secondly, this is the first debate in several weeks, and the public had time to recover from its fatigue from nationally scheduled political events such as debates."
Clinton generated the most buzz on social media when she talked about fracking. For Sanders, it was his comments on climate change.
"It's easy to diagnose the problem; it's harder to do something about the problem," Clinton said in response to Sanders' criticism that she's supported fracking technology.
Conversation online was driven by more than just the candidates' Twitter accounts; in fact, celebrities and activists played a large part of the online conversation, such as actor Mark Ruffalo and activist Sean King.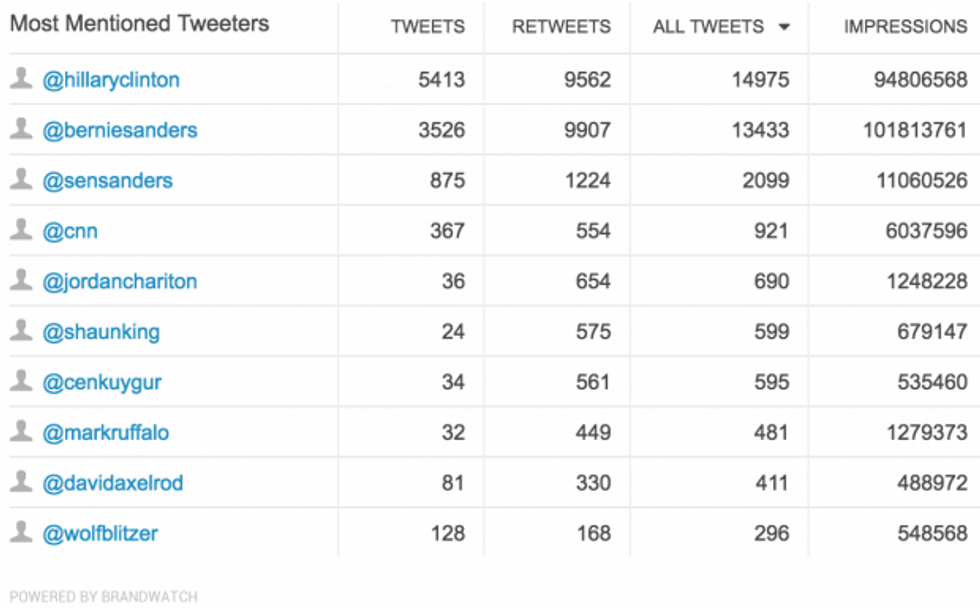 Image provided to TheBlaze via Brandwatch.
Sanders and Clinton faced off in Brooklyn Navy Yard Thursday ahead of the state's divisive April 19 primary and were quick to question each others' judgment and qualifications in order to become the next president.
Clinton currently leads by nearly 14 points, according to the Real Clear Politics polling average.
Brandwatch's data was collected between 9 p.m. and 11:08 p.m. ET — the duration of the debate. Charts used are at 10 percent samples.
—
Follow Kaitlyn Schallhorn (@K_Schallhorn) on Twitter