© 2023 Blaze Media LLC. All rights reserved.
See Stephanopoulos' Reaction When Clinton Claims She's Ignorant About 9/11 Legislation
"You don't know about this issue? It's been around for several years."
Days before the April 19 New York primary, Democratic presidential front-runner Hillary Clinton appeared on ABC's "This Week" with George Stephanopoulos. The former secretary of state fielded questions on a wide range of sensitive topics like the FBI investigation into her private email server, the transcripts of her paid Wall Street speeches and a proposed $15 federal minimum wage.
But one issue in particular seemed to launch the candidate into self-defense mode: A New York bill backed by families of 9/11 victims.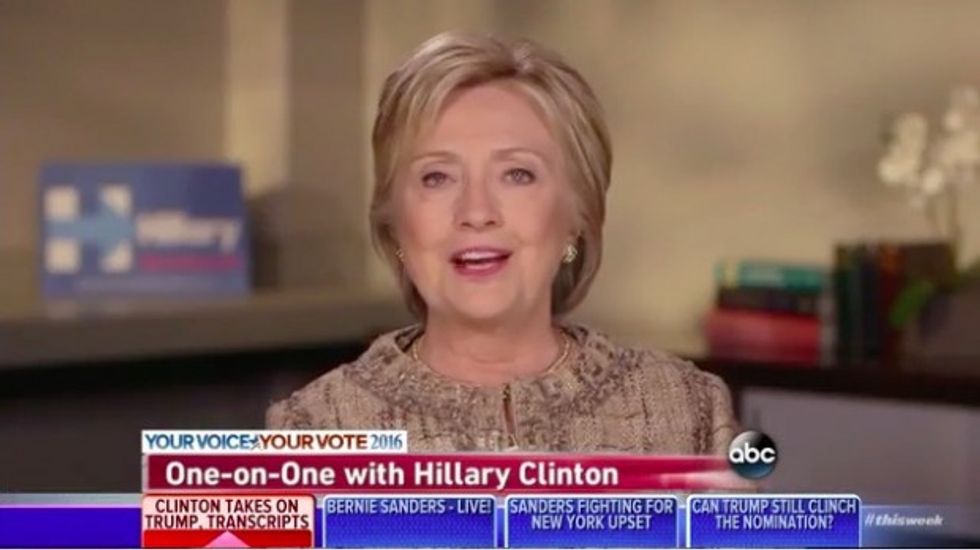 Image source: YouTube
"Your senior senator here in New York, Chuck Schumer, sponsored a bill backed by the 9/11 families that would give them the right to sue state sponsors of terror in federal court," Stephanopoulos said. "Now, it's opposed by the Obama administration. They say it's going to expose the U.S. and its officials to retaliation. So who's right here, Senator Schumer or President Obama?"
Instead of answering the questions, Clinton claimed she was unfamiliar with the legislation and thus wouldn't be able to provide clear or accurate details. Instead, she took a middle-ground approach:
"I don't really know about that, George," she said. "I'll have to look into it. Obviously, we've got to make anyone who participates in or supports terrorism pay a price, and we also have to be aware of any consequences that might affect Americans, either military or civilian or our nation. So, I'm not able to take a position on something…"
Clinton's response triggered this expression: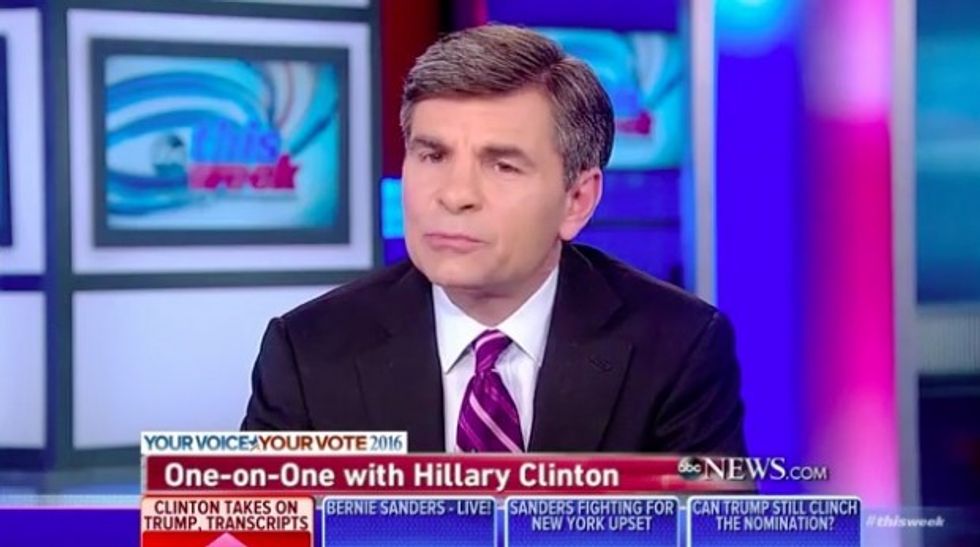 Image source: YouTube
"You don't know about this issue?" Stephanopoulos asked, evidently surprised by the former New York senator's response. "It's been around for several years."
"Well ... I know there's been an issue about it for quite some time," Clinton replied. "I don't know about the specific legislation that you're referring to. But obviously, I'll look into it."
"Ok, so but you're not prepared to say now if you support it or oppose it?" the ABC host pressed.
"I can't. I haven't studied it," Clinton said. "Unlike some people, I actually do try to learn what's at the core of any question before I offer an opinion, because you know, it's not enough to say what's wrong. I think you have a responsibility to say how you're going to fix it."
Clinton served as a New York senator from 2001 to 2009 before leaving her post to work for the Obama Administration as secretary of state until 2013.
Watch:
Want to leave a tip?
We answer to you. Help keep our content free of advertisers and big tech censorship by leaving a tip today.
more stories
Sign up for the Blaze newsletter
By signing up, you agree to our
Privacy Policy
and
Terms of Use
, and agree to receive content that may sometimes include advertisements. You may opt out at any time.