Three 11-year-old boys who attend Fiske Elementary School in Wellesley, Massachusetts, were forbidden last week from performing their "dancing Donald" skit in their school's evening talent show after a parent complained about the routine.
Christian Mattaliano, Marc Maggiacomo and David Maggiacomo, who were dubbed the "Bobblehead Boys" after a similar talent show performance last year, were informed by school administrators last week that their wordless, apolitical dance routine — which included oversized Donald Trump heads — could not be performed with the props.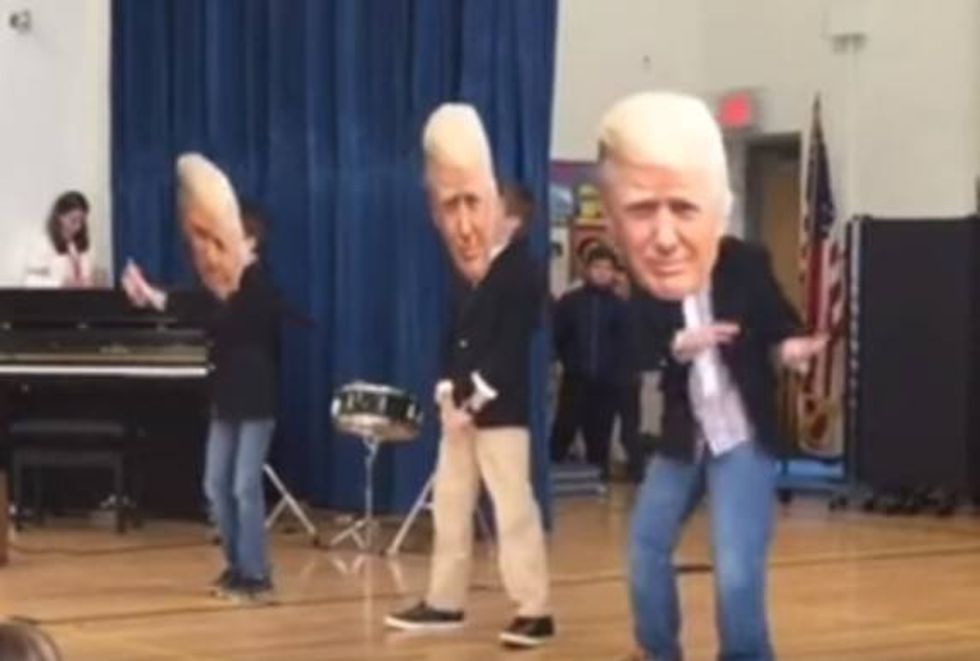 Image source: Youtube
"It's pop culture to them — not politics," Laurie Mattaliano, Christian's mother, told Fox News. "They were not making a political statement. They just wanted to dance with a funny head."
But after at least one parent complained about the kids' performance during a morning rehearsal, school administrators decided to nix all performances with political ties or props for the evening show because they didn't want to offend anyone. However, it's not clear if a pro-Trump or anti-Trump person was offended.
"I think it's so important for us to be seen as nonpartisan in a highly charged election environment," David Lussier, the Wellesley school superintendent, told the Boston Globe. "We wanted to make sure that nothing we are doing would be perceived as biased in some way."
The mother of twin boys Marc and David Maggiacomo, who spent about $70 purchasing the Trump paraphernalia, added that she doesn't understand how the boys' performance qualifies as political satire or could be percieved as bias by the school.
"They see Trump in the news," Maryellen Maggiacomo told the Globe. "There was no political agenda on our boys' part."
Though their planned performance was sidelined at the last minute, the trio was still featured in the school's talent show, performing a routine featuring late-night talk show hosts Jimmy Fallon and Jimmy Kimmel.
Watch their 'Dancing Donald' routine below:
(H/T: The Gateway Pundit)
—
Follow the author of this story on Twitter and Facebook:
[facebook //www.facebook.com/plugins/like.php?href=