The public supports the Little Sisters of the Poor in its case against the government by a 21-point margin, according to a Marist poll released Monday.
The Supreme Court heard arguments about the case March 23.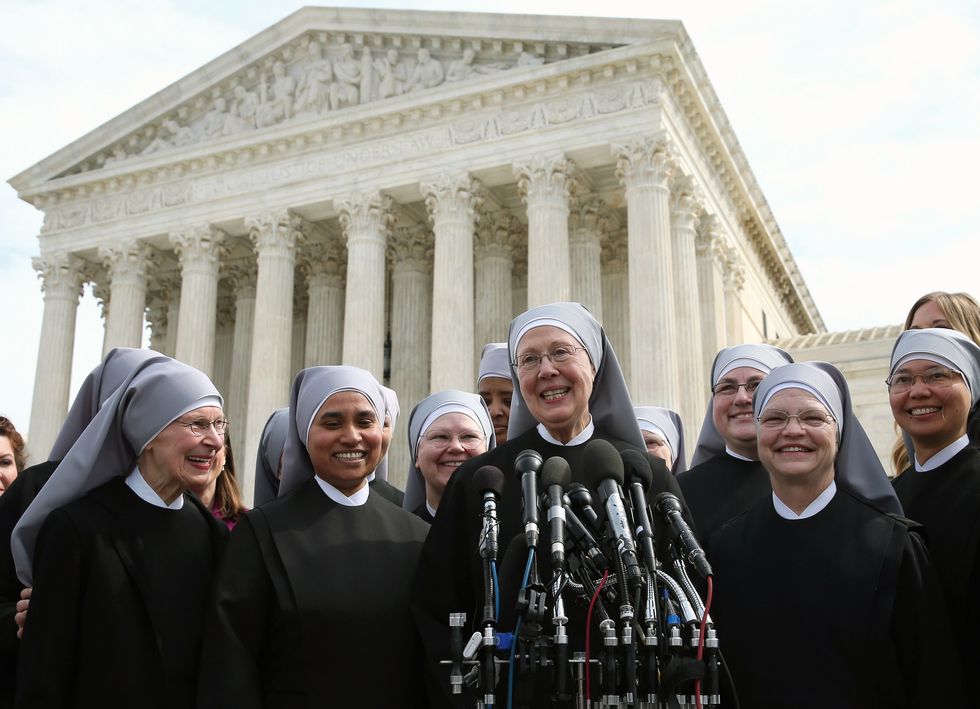 Mother Loraine Marie Maguire of the Little Sisters of the Poor speaks to the media after arguments at the U.S. Supreme Court March 23. (Mark Wilson/Getty Images)
A majority of Americans, 53 percent, believe the government is being unfair to the Catholic charity in trying to force it to provide insurance coverage for contraception and abortion-inducing drugs. Still, a significant portion is undecided.
The Knights of Columbus, a Catholic organization, sponsored the poll.
"It is not reasonable for the government to demand that some — and only some — religious employers engage in activity that is totally unnecessary to the government's stated purpose of providing elective and morally problematic drugs to employees," Knights of Columbus supreme knight Carl Anderson said in a statement.
"Such action doesn't just violate the rights of employers like the Little Sisters, it is also at odds with the American people's understanding of basic fairness and our long-standing commitment to protecting the deeply-held beliefs of every American — especially when those beliefs are the minority view," Anderson continued.
Many religious organizations' health plans are exempt from providing contraception and abortion-inducing drugs because of exemptions in the Obamacare law. However, the government requires Little Sisters of the Poor to sign a form directing their insurance contractors to deliver such coverage through its own health plan.
The Marist survey was conducted among 1,020 adults from April 8-12.