Legendary singer and actor Pat Boone is going after "Saturday Night Live," saying that a recent skit that poked fun at the Christian film "God's Not Dead 2" was "outright sacrilege" and "diabolical."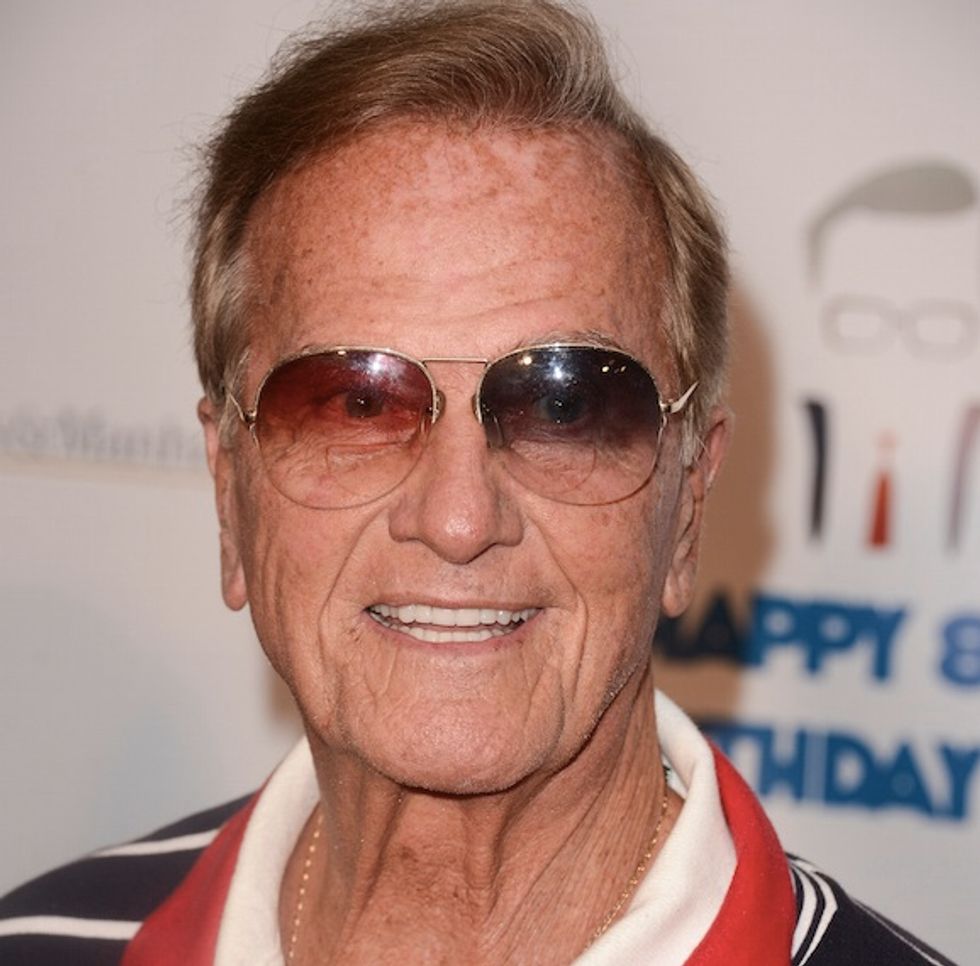 Singer Pat Boone arrives at a surprise birthday party for television personality Larry King at Dodgers Stadium on Friday, Nov. 15, 2013 in Los Angeles. (Photo by Dan Steinberg/Invision/AP)
The spoof featured a woman named Beth (Vanessa Bayer), a "small town baker without a care" who suddenly finds herself in the middle of a high-stakes legal battle after refusing to bake a wedding cake for a gay couple. In the parody, titled, "God is a Boob Man," Beth's big challenge is to prove to a embattled nation that "God's not gay."
Boone, who stars in "God's Not Dead 2," offered up his theory about what would have happened if "Saturday Night Live" did something similar to Muslims, telling the Hollywood Reporter that the makers of the show would "have to be put in the witness protection program."
"There's nothing sacred at SNL — except maybe the words 'Mohammad' or 'Allah,'" he said. "They'd never take those names in vain, but when they called God a 'boob man,' they took his name in vain."
While Boone said that he believes God most certainly has a "sense of humor," he said that this particular "Saturday Night Live" skit simply crossed the line.
'God has a sense of humor. Why else would he invent the porcupine and the giraffe?" Boone told the outlet. "Something can be devilishly funny, but this skit is diabolical. God has only one real enemy — Satan. Satan ridicules faith, and they're taking Satan's side."
Boone also took issue with "Saturday Night Live" for purportedly ridiculing "God's Not Dead 2" by telling "impressional young people not to see it because it's ridiculous," calling the inclusion of a Jewish lawyer in the skit "anti-Semitic."
Despite his frustrations, Boone said that he won't waste his time waiting for NBC or "Saturday Night Live" producers to apologize, but did warn that he believes that they will be accountable for their actions.
"They don't answer to me," he said. "They answer to the one they defame, and there are consequences."
Watch the "Saturday Night Live" skit below:
As TheBlaze previously reported, the plot of "God's Not Dead 2″ centers on fictional character Grace Wesley (played by Melissa Joan Hart), a Christian high school teacher who is quiet and subdued, yet finds herself in the middle of a boisterous battle over the separation of church and state after she discusses the historical nature of Jesus Christ in the classroom.
"When Brooke, a hurting student grieving the loss of her brother, reaches out to Grace, their coffee-shop conversation leads to Grace sharing the hope she finds in Christ," reads an official synopsis. "However, when Brooke asks an honest question about Jesus in the classroom, Grace's reasoned response lands her in big trouble — almost before she finishes giving her answer."
"God's Not Dead 2," which has brought in nearly $17 million at the box office thus far, has also been criticized by some atheists, among others, as being rooted in a far-fetched, Christian persecution storyline, but Erik Stanley, an attorney with the conservative Alliance Defending Freedom, told Townhall that he believes that such a case is not over-the-top.
"I think that what happened in the movie illustrates what has happened in classrooms across the country already," Stanley recently said. "Students and people of faith, teachers included, are silenced simply because of their religious beliefs."
Stanley cited a 2010 case surrounding Professor Kenneth Howell at the University of Illinois, who reportedly fell under scrutiny for a discussion about Catholic views on sexuality during a course he was teaching called "Introduction to Roman Catholicism," Townhall reported.
Howell was initially fired from his position, but was later reinstated, according to the Alliance Defending Freedom.
Spoofs like what appeared on "Saturday Night Live" likely won't surprise those involved in the project such as Hart, who told TheBlaze earlier this month that she went into "God's Not Dead 2" knowing that persecution would likely be a reality.
"I was ready day one for the persecution for this one, the spiritual warfare," she said. "I felt it mostly from my inner circle in the beginning."
(H/T: Hollywood Reporter)
--
Follow the author of this story on Twitter and Facebook: