The gun industry has boomed under President Barack Obama, according to a new study from the National Shooting Sports Foundation, resulting in a significant increase of gun-related jobs throughout the Untied States.
The number of full-time jobs in the gun industry has ballooned from approximately 166,000 in 2008 to nearly 288,000 in 2016, according to the report. That's an increase of more than 73 percent in just eight years. In 2015 alone, the industry added nearly 25,000 jobs.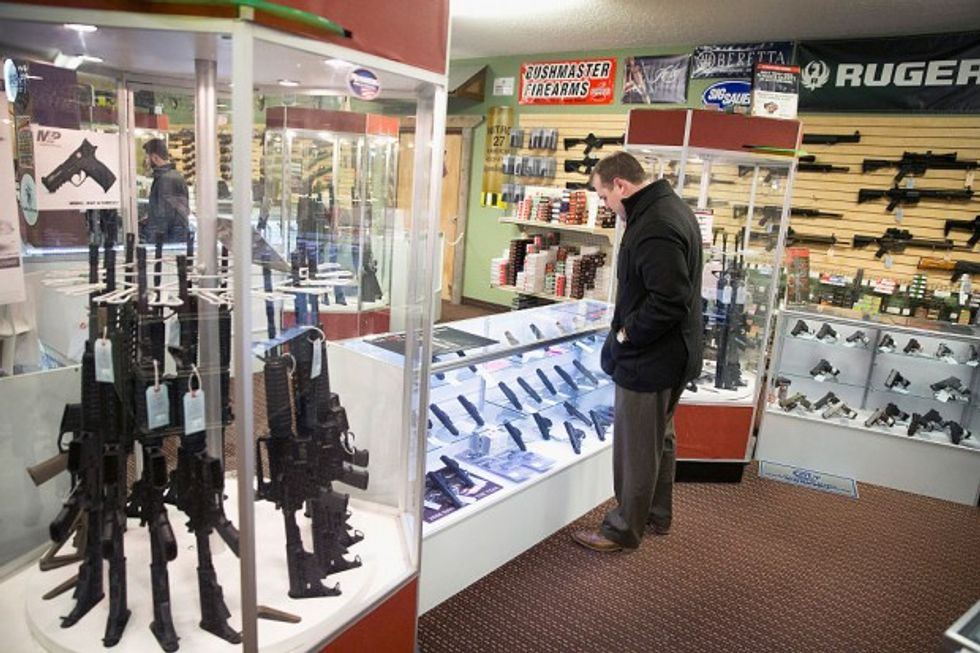 A customer shops for a handgun at Metro Shooting Supplies in Missouri. (Scott Olson/Getty Images)
The report estimates that the current economic output of the gun and ammunition industries is more than $49 billion. That represents an increase of more than 158 percent compared to 2008, when the estimated economic output of the firearms industry was only $19.1 billion.
The study also found that jobs in the gun industry are "good jobs," explaining that the current worker in the firearms industry earns an average of $50,180 annually in wages and benefits. Wages in the industry have seen an increase of more than 126 percent compared to 2008.
There are many reasons for the vast increases, such as recent Supreme Court cases reaffirming the Second Amendment or the average American feeling the need to arm themselves in self-defense, but Alan Gottlieb, founder of the Second Amendment Foundation, believes the increases are a direct result of the Obama administrations attempts to hinder the right to bear arms.
"The answer is simple," Gottlieb told the Washington Free Beacon. "President Obama, Hillary Clinton and other Democrat Party leaders push to destroy Second Amendment rights."
However, Gottleib said he believes Democrats' efforts have failed, which explains the spike in gun ownership and record sales of ammunition.
"Their anti-rights agenda has had the opposite result: An increase in firearms ownership and record sales of ammunition and accessories," he said.
(H/T: Washington Free Beacon)
—
Follow the author of this story on Twitter and Facebook:
[facebook //www.facebook.com/plugins/like.php?href=