A Spartanburg, S.C., sheriff is facing backlash for claiming earlier this month that minorities are sometimes "the most racist people in America right now" and comparing the NAACP to the Klu Klux Klan.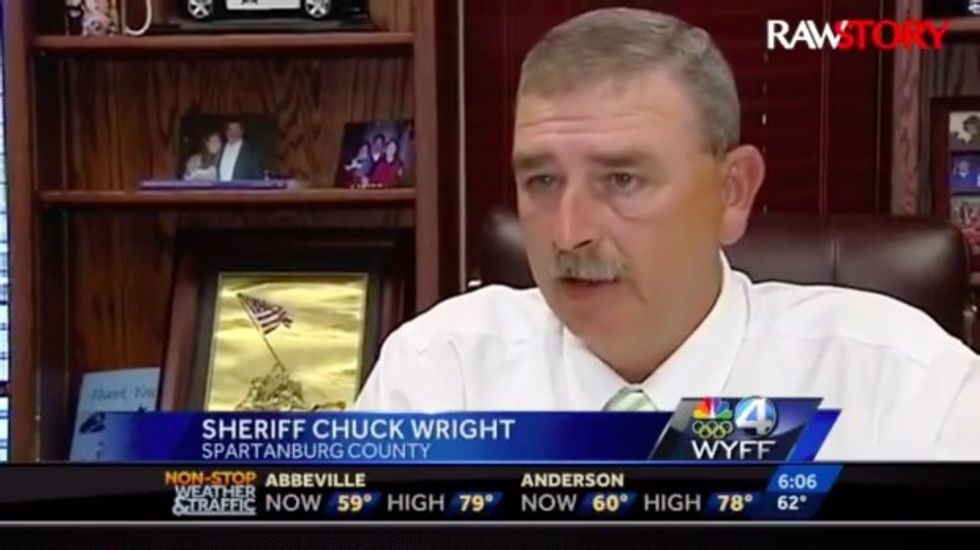 Image source: WYFF-TV screen grab
Speaking during a Greenville-Spartanburg Republican Women's meeting April 7, Sheriff Chuck Wright, who is running for re-election, argued that the NAACP is a racist organization because it focuses on advancing rights for only one race, citing an African-American friend of his who feels the same way.
"I've got a chaplain who works for me — he's an African-American, he is my brother and I love him more than anything," Wright said, according to WYFF-TV. "He doesn't buy into that mess. A bunch of his friends don't either. They don't do the NAACP because I feel like that is a racist group as well as the KKK. I don't care about them either."
Wright asserted that he does not want people to associate with a group "that's got something to do just because of your color" because he doesn't feel they are "right."
"I think if we would quit worrying about Democrats or Republicans and just love our neighbors as God told us to, we're gonna be better. We're just gonna be better," he said.
However, his opponent, Russell Lynch, an Independent, finds Wright's comments "embarrassing" and "not conducive to solving those problems and addressing those issues and building those relationships with anybody, minorities included."
"It's an embarrassment to a law enforcement for a law enforcement professional to sum a group like the NAACP up as being a racist organization," Lynch said. "Because the group I've been dealing with in Spartanburg, they've been nothing but good people."
Wright later walked back his comments, saying the NAACP's Spartanburg chapter "tries to help everybody."
"There's a very small group within that group, they're divisive, and I don't buy into that mess," he said. "I certainly wasn't pointing a finger at anybody. I don't care about any group or any person who doesn't respect you just because of whatever color God made you."
—
Follow the author of this story on Twitter: