In London, President Barack Obama called for the states of North Carolina and Mississippi to repeal laws requiring men and women to use public restrooms that comport to the sex they were born with.
The British government issued travel advisory to LGBT travelers to the United States about the bathroom bills enacted in North Carolina and Mississippi.
"I want everybody here in the United Kingdom to know that people of North Carolina and Mississippi are wonderful people and beautiful states, and you are welcome. You should come and enjoy yourselves, and I think you will be treated with extraordinary hospitality," Obama said Friday during a joint press conference in London with British Prime Minister David Cameron. "I also think that the laws that have been passed there are wrong and should be overturned."
"They are in response to politics in part and some strong emotions that are generated by people, some of whom are good people but I just disagree with when it comes to respecting the equal rights of all people regardless of sexual orientation, whether they are transgender or gay or lesbian," Obama said. "Although I respect their different viewpoints, I think it is important for us not to send signals that anybody is treated differently."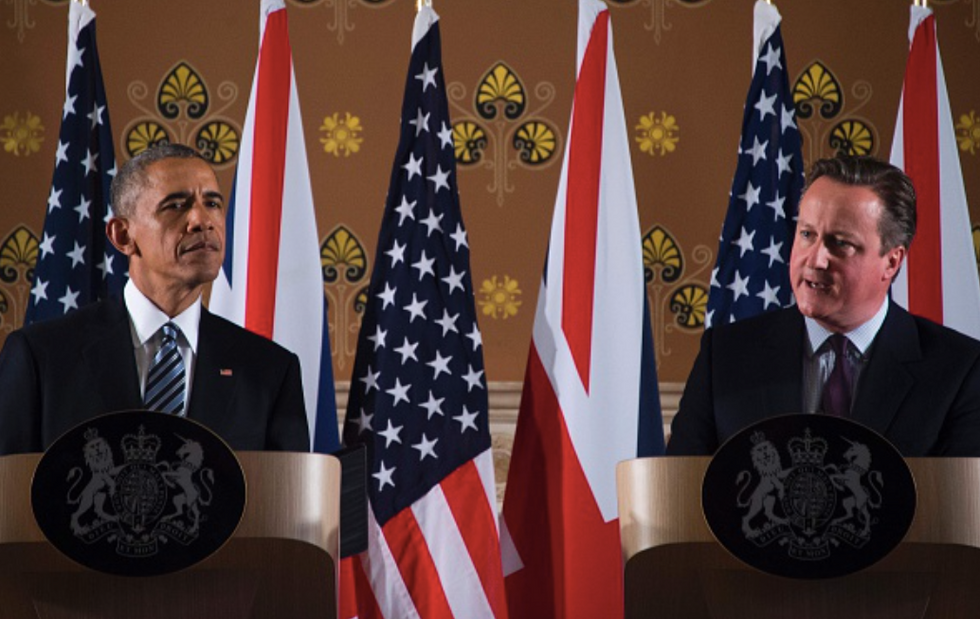 Britain's Prime Minister David Cameron, right, talks and President Barack Obama listens during a press conference at the Foreign and Commonwealth Office in central London Friday following a meeting at Downing Street. (Jim Watson/AFP/Getty Images)
The state laws in North Carolina and Mississippi allow private businesses to set their own policies for public restrooms and restrict local government from passing anti-discrimination laws on public restroom use.
The British travel advisory said that the new laws could affect LGBT travelers and that attitudes toward LGBT individuals varies widely throughout the United States.
"I have been to North Carolina many years ago and enjoyed it. I have not made it to Mississippi, but one day I hope to," Cameron said.
"The guidance that we put out on foreign office gives advice on travel and deals with laws and situations as they are," Cameron said. "Our view on any of these things is that we believe we should be trying to do more to end discrimination rather to embed it or enhance it. That's something we are comfortable saying to countries and friends around the world."