First lady Michelle Obama has long supported healthy living initiatives and has even founded a few programs of her own.
Given this, it's likely those attending the annual "Take Our Daughters and Sons to Work Day" at the White House Wednesday were surprised after hearing Obama's answer to one boy's question.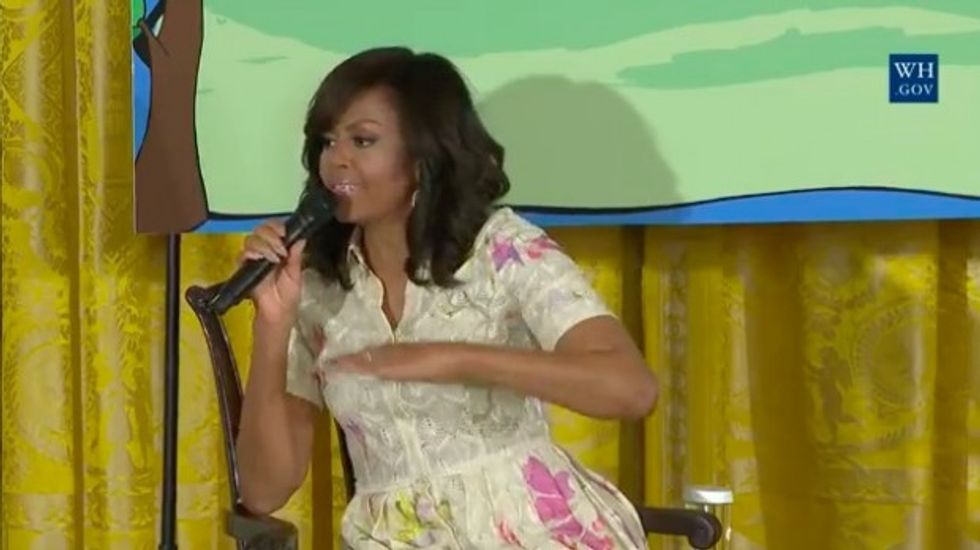 Image source: YouTube / White House
The 12-year-old boy, whose father works in the office of Vice President Joe Biden, asked the first lady to name her favorite food.
"Hands down, pizza. Pizza! Don't you all agree?" Obama asked, receiving cheers from the crowd, which consisted primarily of children.
In the past, the first lady has sought to reform the food choices available to American school children. Her 2010 Healthy, Hunger-Free Kids Act demanded that more whole grains, fruits and vegetables be added to public school cafeteria menus and that other "unhealthy" choices be removed.
In light of this initiative, her response Wednesday seemed comparatively moderate:
Pizza is the ultimate food because it can be a junk food, it can be healthy. Like almost every Friday, I'll eat like a veggie pizza on wheat — now that may not be something you like, but I like it. You can have dessert pizza, you can do anything with pizza. It's a very versatile, universally loved food.
"And I like french fries," she added, which again was received favorably.
Neither french fries nor the "ultimate food," pizza, are feasible options for many school children affected by Obama's healthy lunch menu reforms.
And the prolific catalogue of #ThanksMichelleObama posts on social media shows that the changes weren't welcomed by all:
When your school puts cheese on a hot dog bun and calls it "lunch". #ThanksMichelleObama https://t.co/ywbAe618n3

— Betsy Ettinger (@Betsy Ettinger)1461086872.0
#ThanksMichelleObama https://t.co/hTEBjzNSKm

— Austin Lambert (@Austin Lambert)1461083509.0
Obama's pizza comments Wednesday were met with saucy backlash:
@markknoller But, the children have no pizza or fries. "Then let them eat cake!"

— Todd Simmerman (@toddsimmerman) April 20, 2016
@BradThor "Yes kids, I like junk food. But none for you!"

— Zombie Dachshund (@ZombieDachshund) April 20, 2016
See Obama's favorite food remarks, which begin at the 34:45 mark in the video posted by the White House: