For many Prince fans, it's common knowledge that the late pop legend loved breakfast foods. The star's fondness for pancakes was even parodied in a Dave Chapelle skit. But a man claiming to be Prince's former butler, who says he served the singer from November 2006 to April 2007 during his residency at Club 3121 in Las Vegas, has revealed that the man was downright obsessed.
The man claiming a tie to Prince hosted a Reddit IamA Thursday night, introducing himself as someone who worked with 14 other butlers at the Rio All-Suite and Casino in Las Vegas, where from 2005-2008 he "serviced the high rollers and celebrities that stayed in their suites."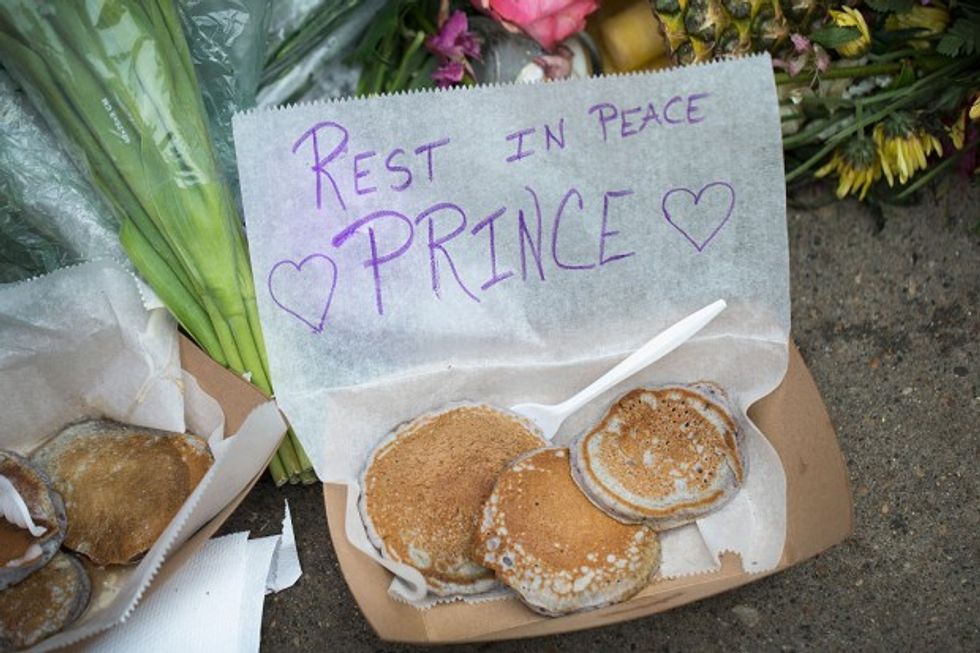 Purple pancakes sit on the sidewalk outside of the First Avenue nightclub where fans have created a memorial to Prince on Friday in Minneapolis. (Scott Olson/Getty Images)
During the open Q&A forum, he fielded questions about celebrities he's met and the high-rolling, coked-up parties he served.
The one of the most amusing revelations that came out of the discussion was this little anecdote that seems too "Prince" to be false:
I have a lot of great memories but the one that made me laugh was there was one night where I got a call at about 3 am in the morning and he wanted breakfast for 14 people. I was the only butler on duty during that graveyard shift. He asked for 14 omelets and 14 orders of pancakes. I called everyone in the casino and had all the cooks running to make this order while I made the table. I had to serve the whole breakfast at now 4am in the morning by myself. I came up with the two carts full of food trying to plate it as fast as I can when Prince stood up from his chair and walked over to my cart. He grabbed a plate of pancakes and started helping me serve. I couldn't help but to laugh from the Charlie Murphy story on the Dave Chappelle show. This was my favorite moment ... ever.
Comedian Dave Chappelle famously parodied the singer's pancake obsession in a skit he performed mocking the time when Prince and the Revolution beat Eddie and Charlie Murphy in a game of basketball. After the epic match, Prince reportedly served his opponents a pancake peace offering.
@RollingStone "Breakfast Can Wait" Prince https://t.co/SUhK2nZBk6

— WebGirlsLive (@WebGirlsLive)1461261293.0
After the "Chappelle Show" skit went viral, Prince kept the joke going, using a photo of Chappelle's "Prince" character for the cover of his single, "Breakfast Can Wait."
The butler, who noted that he no longer works at the Rio, had a few other quirky Prince tidbits to share with fans seeking to uncover as many details about the star as possible in the wake of his untimely death:
I remember after he won his Golden Globe for Happy Feet [the award] was in his room but in an odd place. I was in the room with my manager and I looked at it and said wow, I am actually looking at a Golden Globe, my manager laughed and asked me if I could guess why it was in an odd place on an oak table in the room. I didn't know so he lifted it up and there was a burn mark from a candle which Prince caused one night. He was using the Golden Globe to cover up room damage, which is hilarious ... He also broke a wine glass one night and kicked it under a rug in the living room. Housekeeping noticed when they heard the crunching sound the next morning.
Read more about Prince's death here.
—
Front-page image via Shutterstock