President Barack Obama's announced deployment of 250 additional troops into Syria to train rebels to fight the Islamic State is more of a political policy than a substantive defense policy, critics said.
"The vast majority of decisions on national security matters have been politically driven. None of it seems on the basis of an attempt to win or achieve the outcomes," Jim Hanson, a former Army Special Forces sergeant, told TheBlaze. "Sending 250 troops is enough for a parade, a small parade."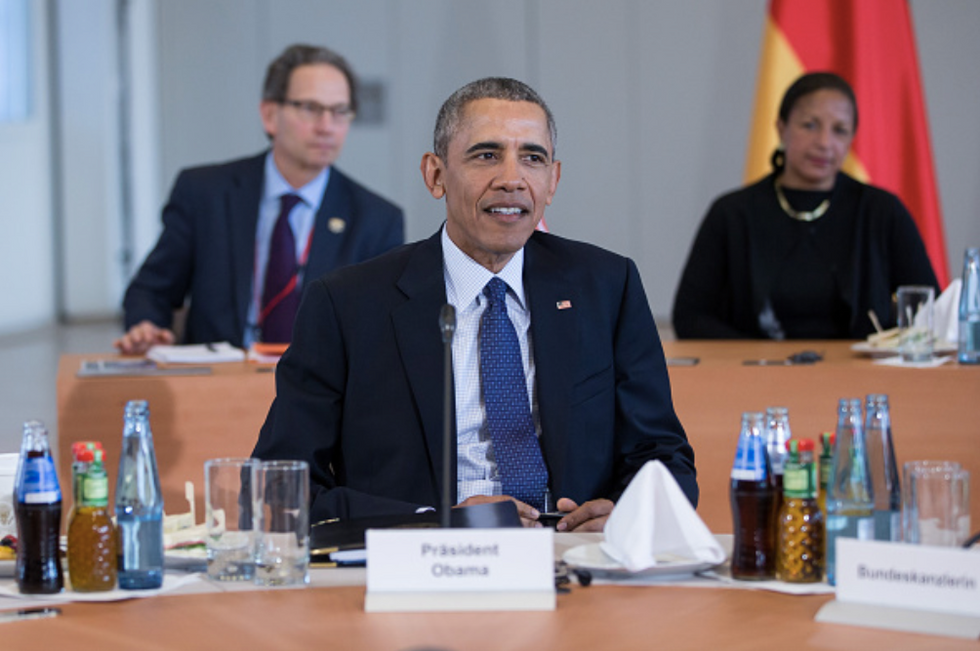 President Barack Obama meets with European leaders at Herrenhausen Palace Monday in Hanover, Germany. (Maja Hitij/Getty Images)
Obama announced Monday from Hanover, Germany, that he would be sending the troops to Syria, bringing the total to 300, up from 50 special operations forces in Syria for training and support. Defense Secretary Ash Carter announced last week that more than 200 troops would go to Iraq.
"They're not going to be leading the fight on the ground, but they will be essential in providing the training and assisting local forces," Obama said during a speech during a day he met with multiple European leaders.
Hanson, the executive vice president of the Center for Security Policy, a national security think tank, argues this will not be nearly enough to adequately train forces to fight the Islamic State.
"We've been training the Iraqis for years and they still aren't capable," Hanson said. "The Syrians are completely untrained, just a bunch of guys running around with guns. The most telling aspect of this is that we've seen CIA-trained rebels fighting DOD-trained rebels."
But to accomplish the mission of defeating the Islamic State, it would likely take 10,000 to 15,000 troops for training and support, said Phillip Lohaus, a former analyst at the Defense Department. He added he isn't advocating for that type of increase.
"I'm not calling this a political play, I actually think the White House has deluded itself into believing that instrumentalism can degrade and defeat ISIS," Lohaus, now a research fellow with the American Enterprise Institute, told TheBlaze.
Lohaus added that the progress against the Islamic State is a "drop in the bucket."
The move could suggest that Obama is "increasingly desperate to show progress before he leaves office," said James Carafano, a retired Army lieutenant colonel, now a vice president with the Heritage Foundation.
"This would seem to represent that President Obama has a strategy to that is risk averse to do just enough to avoid failure," Carafano told TheBlaze. "Syria is hopeless. As long as Russia and Iran are supporting Assad, Assad is going nowhere. Syria will likely dissolve into something akin to the Balkans, or a cold peace. That would not be good, but it's not genocide."