Tracy Murphree, a candidate for sheriff of Denton County, Texas, hopped on Facebook last week to sound off about the transgender bathroom debate — and his words have ignited a firestorm.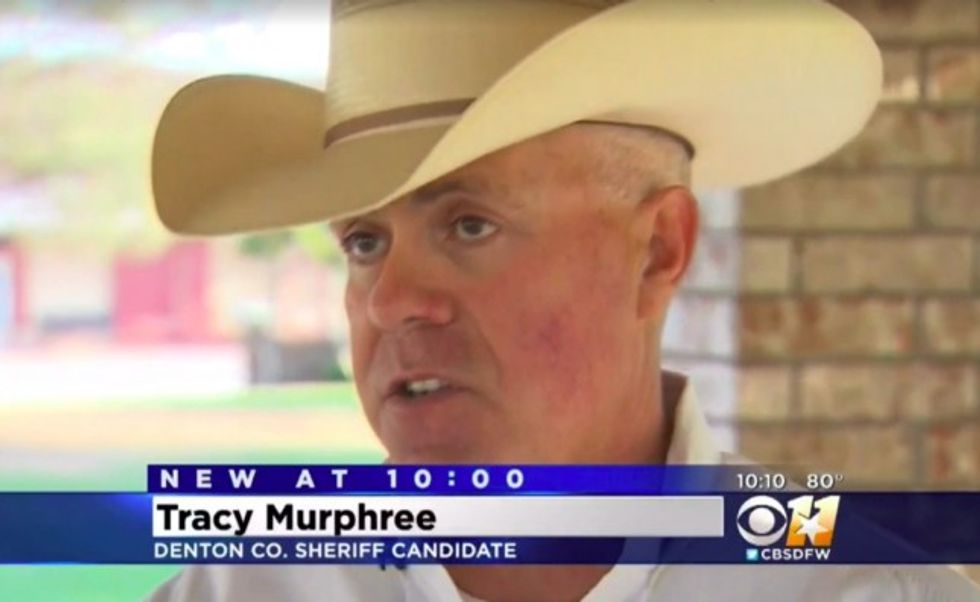 Image source: KTVT-TV video screenshot
"This whole bathroom thing is craziness I have never seen," he posted on Friday. "All I can say is this. If my little girl is in a public women's restroom and a man, regardless of how he may identify goes into that bathroom. He will then identify as a John Doe until he wakes up in what ever hospital he may be taken to. Your identity does not trump my little girls safety."
He added: "I identify as a over protective father that loves his kids and would do anything to protect them."
Once word got out about Murphree's post, those in the LGBT community and their supporters shot back at the sheriff's candidate:
.@EqualityTexas Condemns Tracy Murphree, Denton Sheriff Candidate, for Inciting Violence Against #Transgender Texans https://t.co/BjvZZQagQu

— Equality Texas (@EqualityTexas) April 23, 2016
Denton County TX @GOP Sheriff Candidate Tracy Murphree Calls for Violence Against Transgender People Needing to Pee https://t.co/8CvDLXlTtg

— transadvocate (@transadvocate) April 23, 2016
Texas CopBlock seemed to imply violence could come to Murphree if he acts on his comments:
Then a resident of Denton, Amber Briggle — a mother of a transgender child — stepped into the fray and said Murphree's message could open the door for violence against transgenders.
"I feel like they might have gotten a blessing then from potentially the future sheriff for vigilante justice," Briggle told KTVT-TV.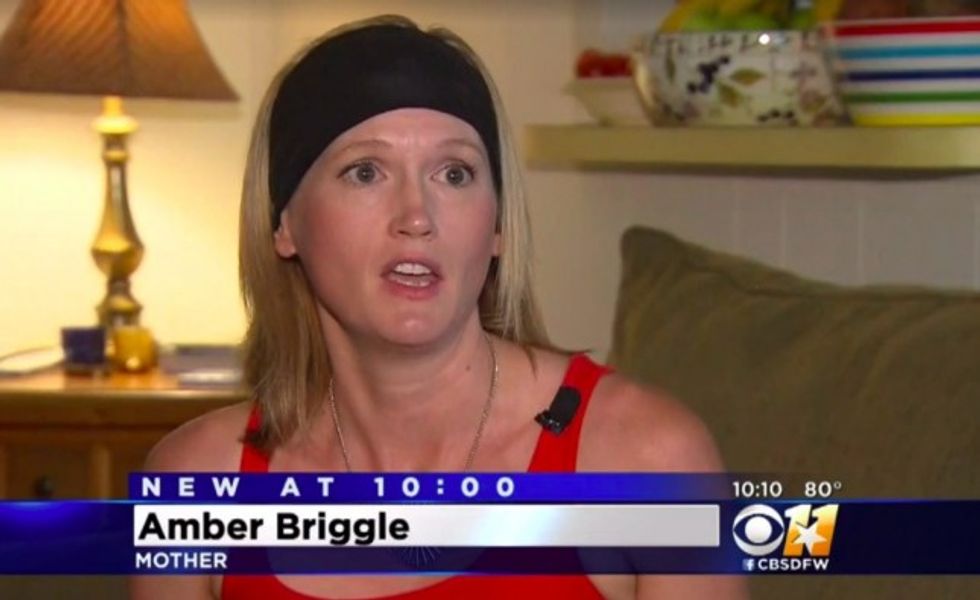 Image source: KTVT-TV video screenshot
Briggle told the station she voted for Murphree in the recent primary for sheriff — he's the Republican candidate — and said she doesn't believe he's a bad person.
"Sometimes good people can say stupid things," she told KTVT.
But she's also concerned about her 8-year-old child and doesn't want him in danger. "It's my son," Briggle told the station. "He's acting as a protective parent and so am I."
Murphree told KTVT he apologizes for upsetting the transgender community and wasn't looking to target the group in general.
"I understand how they interpreted it, I understand how they saw it, I understand their anger," Murphree told the station. "For that, I apologize."
But Murphree didn't completely walk back his Facebook statement, telling KTVT that he doesn't want public restroom policies to become an opening for those who would do harm.
"What you're doing is you're raising the odds of these predators. You're giving them a window, you're giving them an opportunity," he explained to the station.
Briggle told KTVT she appreciates Murphree's "late" clarification.
"I want to take this opportunity to educate him and to educate his supporters that transgender families exist and we are just as normal as any other family out there," she told the station.
LGBT rights group Equality Texas and Murphree have planned to meet Tuesday to discuss his comments, KTVT reported.