Donald Trump won the North Carolina Republican primary but has since spoken out against the state's so called "bathroom law" requiring people to use the public restroom that comports with their biological sex.
Still, Republicans in the state don't anticipate buyers' remorse for the real estate billionaire and party front-runner. Although, it could have some impact on the state's upcoming Republican Party Convention on May 7, said John Anglin, a pastor and chairman of North Carolina's Yancey County Republican Party.
"We've not heard regrets about Trump," Anglin told TheBlaze. "If anything, this raises eyebrows for the delegates to the national convention that this is what we've been saying about Trump all along."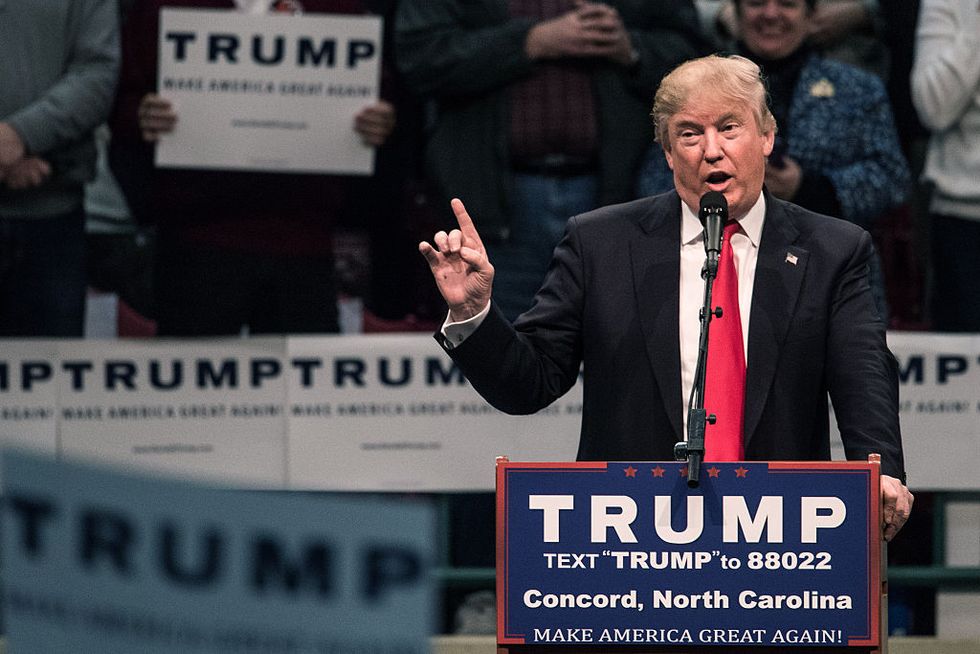 Getty Images/Sean Rayford
During an interview with NBC News last week, Trump said that transgender people should be able to "use the bathroom that they feel is appropriate." He added, "North Carolina did something that was very strong, and they're paying a big price, and there's a lot of problems."
Anglin, who described his region as one of the more conservative areas of the state, said that since Trump attacked the North Carolina law, some of the evangelical supporters have been laying low.
"Evangelicals that support him are not backing away, they just aren't saying much right now," Anglin said. "HB2 was absolutely common sense. The North Carolina Sheriff's Association, made up of Republicans and Democrats, supported it. This is not a social issue but a social protection issue."
While Trump's stance gained a lot of national attention, it wasn't a shock to Republicans in North Carolina, Anglin added.
"Trump's position on values is not the reason most of his supporters ended up voting for him," Anglin said. "Those who choose to vote for him will do so regardless of his position on social issues."
Trump won the North Carolina primary in March, carrying 40 percent of the vote, while Texas Sen. Tec Cruz won 36 percent. Trump won the Mississippi primary with 47 percent of the vote. Mississippi passed a similar law to that of North Carolina.
Phillip Stephens, a doctor and chairman of the Robeson County Republican Party, said both Republicans and Democrats in his area led the state in voting to support a traditional marriage amendment to the state constitution.
He said, "Trump's position has been met with a yawn here."
"Anecdotally, it is either that voters understand Trump is all about deal making and economics or that he is known for the ability to change his position after reasoning over the issue," Stephens told TheBlaze. "It could also be they see the limited impact a president would have on the issue or that the alternative is not an option."
Robeson County is in one of the most solid Democratic strongholds in North Carolina, Stephens said, but still very socially conservative and nonetheless a place where many Trump supporters can be found.
"Voters seem content to let the governor and legislature handle the bathroom issues and understand the alternative, Hillary Clinton, would certainly be worse on that issue at the end of the day — at least among Republicans and conservative Democrats," Stephens said.