Video of a woman protesting a free-space event at the University of Massachusetts, Amherst by screaming at the event's speakers that their "hate speech" wasn't welcome at the school went viral earlier this week. According to Fox News host Greg Gutfeld, the woman is "a victim of a cult-like indoctrination."
"Now, it's easy to mock her, but she's a victim of a cult-like indoctrination by the new campus religion of safe spaces," Gutfeld said on Fox's "The Five" Wednesday.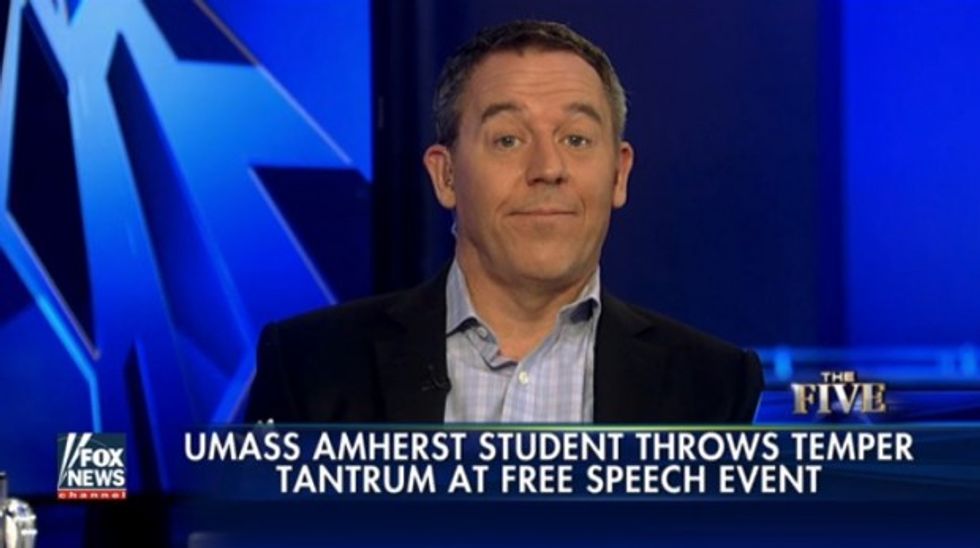 Image source: Fox News
"She's so brainwashed she claims blocking speech is actually a version of free-speech. It's not a bug in the system, it's now the system — the result of the left's long free reign over campus brain matter," Gutfeld added.
During his monologue, the host also scorned an editor of the British newspaper "The Guardian," who recently declared that correcting a person's grammar is "racist."
"It doesn't take much to see the power imbalance when it comes to grammar snobbery," the editor declared in a video. "The people pointing out the mistakes are more likely to be older, wealthier, whiter or just plain academic than the people that they treat in condescension."
According to Gutfeld, the editor is the actual bigot because her "expectations of non-whites" is "so low." He also said the editor is "guilty of activist privilege," which is "an arrogance that allows you to decide who can or can't handle 'standards' or objective truth."
"The virus is spreading, undoing centuries of progress since the enlightenment, as we excuse reason from the table of discourse," Gutfeld said. "The campus, once an exchange of ideas, is now a daycare center for outraged merchants gurgling vitriol donning full diapers of non-thinking hate."
Their "gurgling vitriol," Gutfeld said, makes them "excellent candidates for positions at 'The Guardian.'"
—
Follow the author of this story on Twitter and Facebook:
[facebook //www.facebook.com/plugins/like.php?href=