GOP presidential front-runner Donald Trump has caused consternation among many while on the campaign trail, yet as he inches toward solidifying the nomination, several establishment Republicans have seemingly warmed up to him.
"Many of us who have expressed concerns are reconciling ourselves to the fact that in all likelihood he will be the eventual nominee," South Carolina Rep. Mark Sanford, who supports Texas Sen. Ted Cruz, told CNN.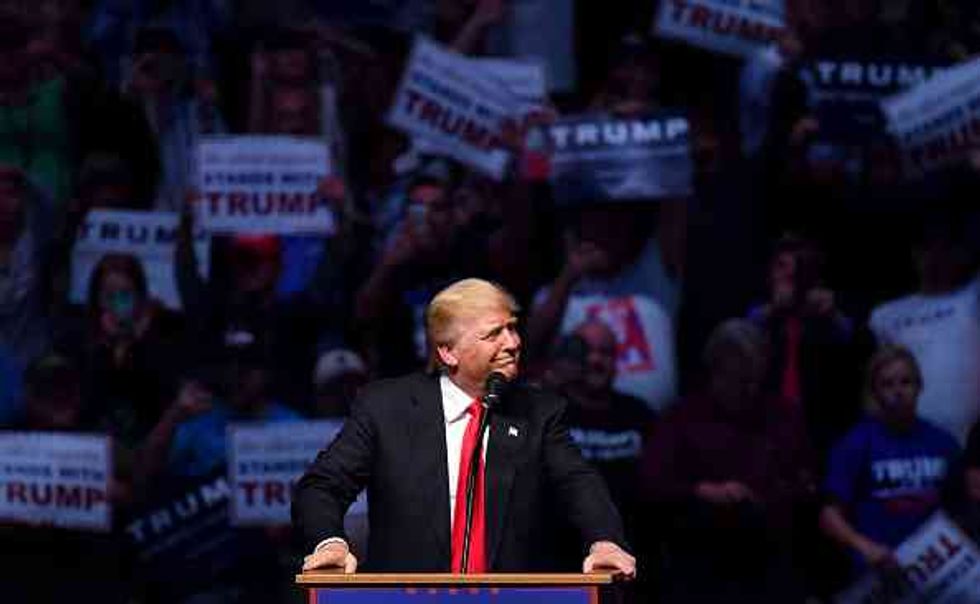 Republican presidential candidate Donald Trump addresses his supporters during a rally at the Indiana Farmers Coliseum on April 27, 2016 in Indianapolis, IN. (Getty Images/Ricky Carioti)
And as CNN noted, Sanford is not the only Republican lawmaker with that line of thinking, especially after Trump gave his foreign policy speech in Washington, D.C. Wednesday — an address that Tennessee Sen. Bob Corker deemed "full of substance."
"If you look at the broadness, the vision, I thought it was a major step forward," Corker, a Republican, told MSNBC's Chris Matthews Wednesday evening.
"I look forward to hearing more details, but in a year where angry rhetoric has defined the presidential race on both sides of the aisle, it is my hope that candidates in both parties will begin focusing not only on the problems we face but on solutions," Corker also said in a statement following Trump's speech.
As for Senate Majority Whip John Cornyn (Texas), he thinks "it will be OK" when asked about how a Trump nomination could affect other Republican tickets.
"I think [Trump] could change the electoral map in ways we haven't seen before," he told CNN. "This disrupts the usual Republican-versus-Democrat, conservative-versus-liberal paradigm, and I think we don't know how this will all play out."
Rep. Raul Labrador (R-Idaho), also a Cruz backer, told CNN that he can understand the mentality of Trump's supporters who are angry at Washington.
"This is a way to give Congress and the Republican Party the middle finger," Labrador said of the supporters.
On Thursday, Trump snagged two House endorsements from Rep. Bill Shuster (R-Pa.) and Rep. Jeff Miller (R-Fla.), the latter of the which has advised the presidential candidate on national security issues.
"Donald is a private-sector business leader who knows what it takes to get things done — and that is something that Washington desperately needs," Shuster said in a statement regarding his endorsement. "Donald also shares my passion for economic development, including making sure our nation's infrastructure meets the needs of our citizens."
—
Follow Kaitlyn Schallhorn (@K_Schallhorn) on Twitter