Vice President Joe Biden had a private meeting with Pope Francis Friday after delivering remarks at the Vatican's International Conference on the Progress of Regenerative Medicine, where he pushed his "moonshot" initiative for fighting cancer.
During his remarks, Biden talked about the need for governments, businesses and nonprofits to tap resources that could "end cancer as we know it," the Associated Press reported.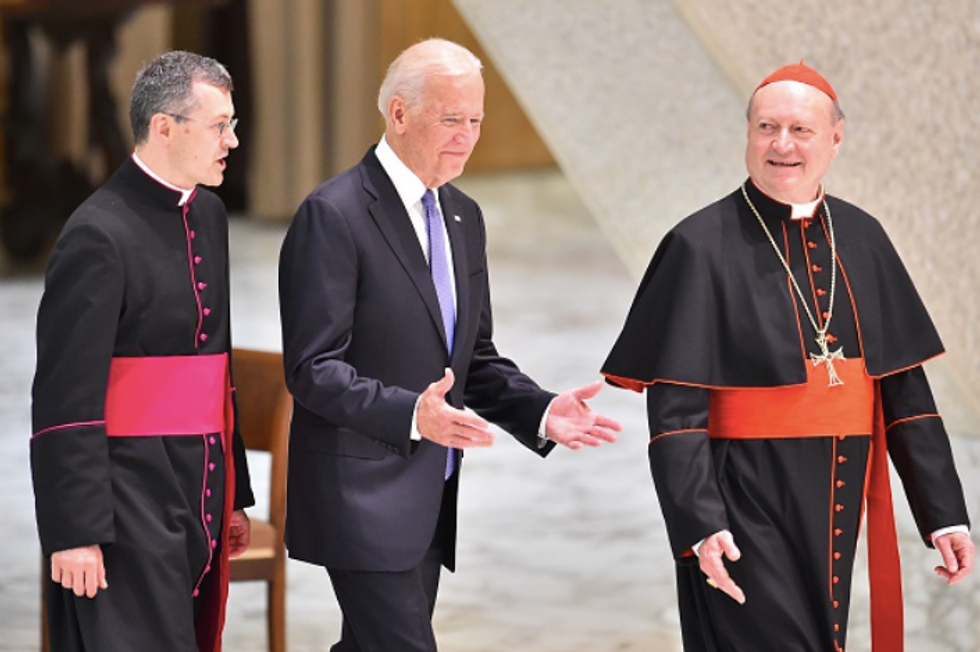 Vice President Joe Biden, flanked by Cardinal Gianfranco Ravasi, arrives to deliver a speech and to attend an audience of Pope Francis to the participants of the International Conference on the Progress of Regenerative Medicine and Its Cultural Impact on Friday at the Paul VI audience hall in Vatican.(Vincenzo Pinto/AFP/Getty Images)
Biden lost his son Beau Biden, the former Delaware attorney general, to brain cancer last year.
"Cancer is a constant emergency," Biden said. "Cancer's not a national problem, it's an international problem. It's a human problem. It affects all races, all religions."
Biden also met with Cardinal Pietro Parolin, the Vatican Secretary of State and Italian Premier Matteo Renzi.
During the Vatican event, the pope also spoke about the need for confronting cancer.
"Research, whether in academia and industry, requires unwavering attention to moral issues if it is to be an instrument which safeguards human life and the dignity of the person," Pope Francis said.
During the State of the Union address this year, President Barack Obama announced the "moonshot," or a task force, that Biden would lead to try to leverage greater resources for cancer research. Obama asked Congress for $1 billion for the effort.