Actress and comedian Amy Schumer ridiculed gun shows and laws and portrayed them as inadequate and illogical during a recent sketch on her Comedy Central show, "Inside Amy Schumer."
The outspoken Schumer, 34, had already made known her disapproval for gun laws after a gunman killed two and injured others at a 2015 showing of her film "Trainwreck" in a Louisiana movie theater, according to the Washington Post. At the time, Schumer had said, "We need a background-check system without holes and fatal flaws."
But Schumer took her frustration one step further in a sketch titled "Welcome to the Gun Show" in which she and fellow comedian Kyle Dunnigan pretended to be infomercial hosts selling a variety of products — one of which was a handgun for only $39.95.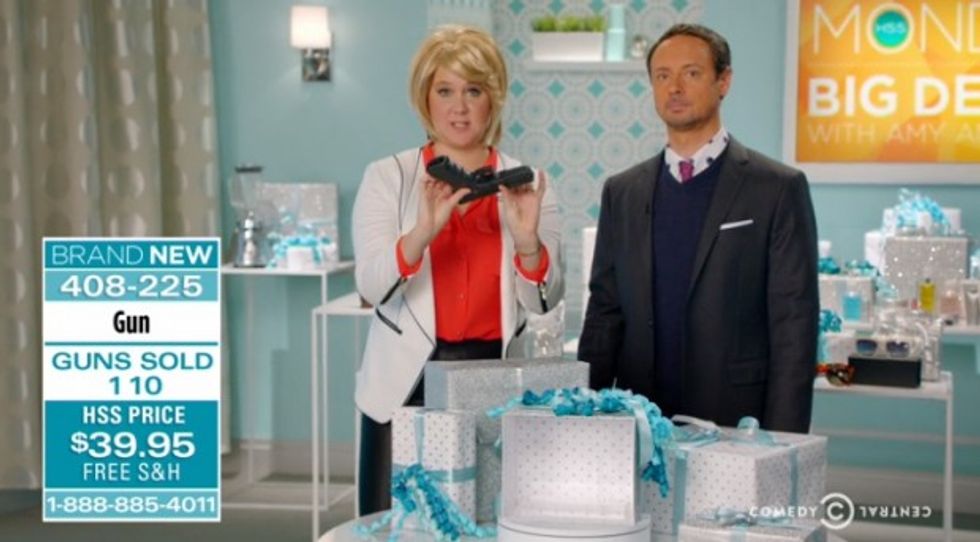 Image source: Comedy Central
"Here is what's great about this," Schumer said of the "no-brainer" gift. "Almost anyone can purchase this," she said, adding that the guns made a perfect stocking-stuffer for children.
When a caller expressed his doubt over whether or not he could purchase the gun — since he had accrued several felonies ober the years — Schumer immediately set about to reassure him.
"Caller, you bite your tongue, you silly goose! You can absolutely get a gun if you have several felonies, as long as you buy it on the Internet or at a gun show," Schumer said. "The government could be coming for your guns soon, like they never have, but always might."
Dunnigan added, "If you go to a gun show, you can get an unlicensed seller to sell you a gun, no questions asked."
When a "terrorist" who found his name on the "no-fly" list called in later, Schumer proceeded to set the record straight for him, as well.
"No one can tell you you don't have the right to buy a gun in this country you're trying to destroy!" Schumer said.
At the very end of the sketch, after both Schumer and Dunnigan have waved the gun carelessly about, Dunnigan misfires and shoots himself in the foot — literally.
Watch the rest of the sketch below.
(H/T: Daily Caller)
—
Follow Kathryn Blackhurst (@kablackhurst) on Twitter