CNN's Jake Tapper opened Sunday's episode of "State of the Union" with an overtly irritated message to viewers:
"I'm Jake Tapper in Washington where the state of our union is — a bit hungover," he announced.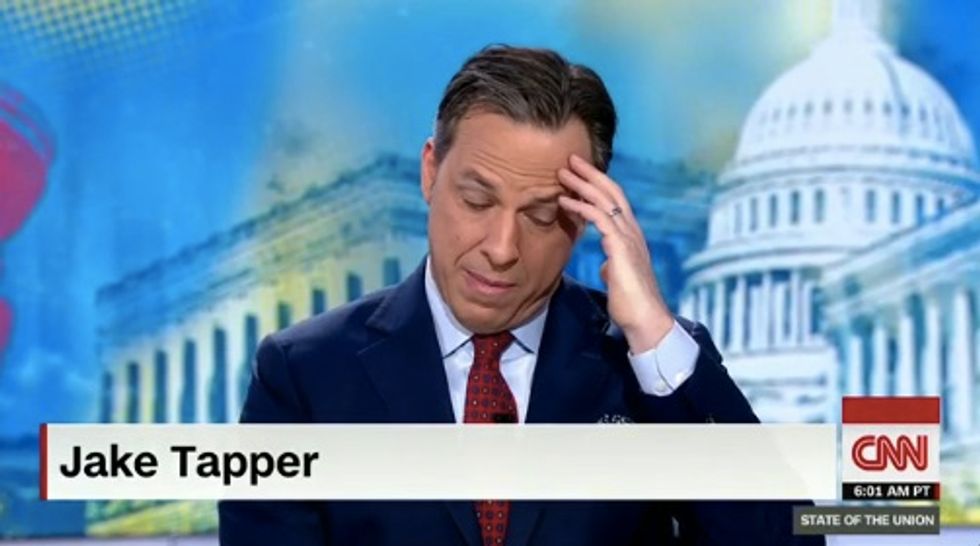 Image via Twitter / CNN
Tapper began the show by mentioning the White House Correspondents' Association Dinner that took place Saturday evening and "stretched into the wee hours of the morning."
The CNN host noted that critics find the dinner "an appalling self-congratulatory symbol of all that is wrong with Washington."
"President Obama seemed to relish his final year at the party in cracking jokes at the expense of the media, including CNN, Congress, Hillary Clinton, Bernie Sanders and of course, Donald Trump," Tapper said.
Indeed, Saturday's celebration was accompanied by a fair bit of scandalous episodes, including a racially charged speech delivered by Larry Wilmore, in which the comedian referred to the president by using the n-word, as well as a roast of Democratic front-runner Hillary Clinton delivered by President Obama himself.
"You've got to admit it though, Hillary trying to appeal to young voters is a little bit like your relative that just signed up for Facebook," Obama joked.
Watch:
#CNNSOTU has begun. Tune in https://t.co/mJt5gbXS6b https://t.co/xryYHKr10q

— CNN Politics (@CNNPolitics) May 1, 2016