MSNBC's Joe Scarborough, co-host of "Morning Joe," suggested Monday that Democratic presidential candidate Sen. Bernie Sanders (Vt.) has yet to suspend his campaign because he's waiting on a ruling from the FBI concerning the probe into Clinton's use of a private email server during her tenure as secretary of state.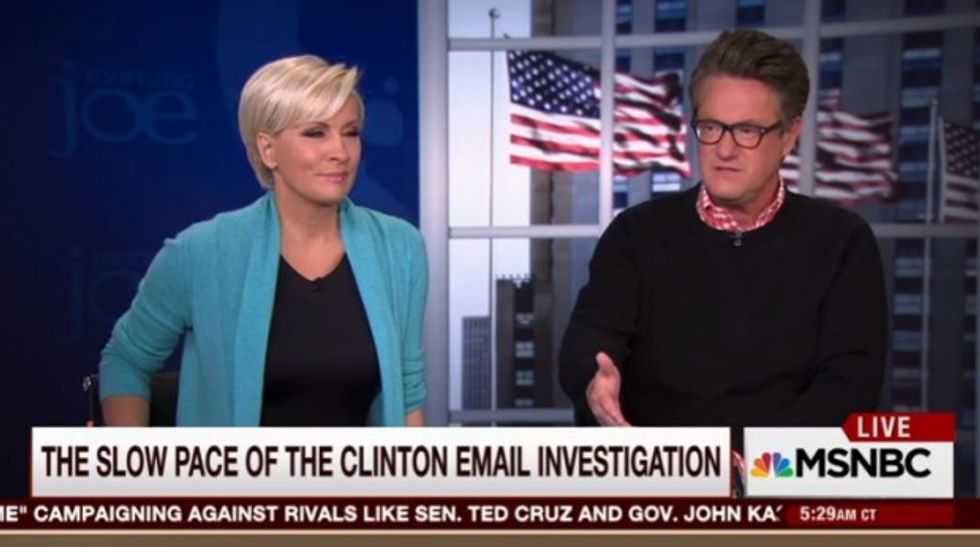 Image source: MSNBC
"So, we were talking around the table what's he doing here ... there's an Indiana poll that shows that race is pretty close," Scarborough said. "Yeah, a four-point lead, so that's tight. And he is right about super delegates, it would take something — like an FBI ruling — and who knows?"
"Maybe that's what he's waiting for because obviously then we'd switch all the super delegates in his favor, giving him the nomination" he added, "if [the investigation] didn't go the way the Clintons wanted it to go."
Scarborough went on to question why the FBI is "dragging their feet" in bringing an indictment against Clinton because "there is a clear mishandling of classified information."
"You talk to people in the intel community and they say that anybody else would be in prison right now," Scarborough said. "Talk to anybody in the intelligence community that's been doing this for 20 years they will all say, "If anybody mishandled classified information that way, they would be in jail.'"
Sanders predicted over the weekend that the Democratic national convention this July would be contested because Clinton will be unable to win with pledged delegates only.
—
Follow the author of this story on Twitter and Facebook:
[facebook //www.facebook.com/plugins/like.php?href=