Republican presidential candidate Ted Cruz delivered an impromptu mini-lecture on civility and parenting Sunday at a rally in La Porte, Indiana.
It all started when a young boy attending the event yelled out "You suck!" while the Texas senator was speaking. Cruz was in the middle of laying out his tax plan when the shouting began.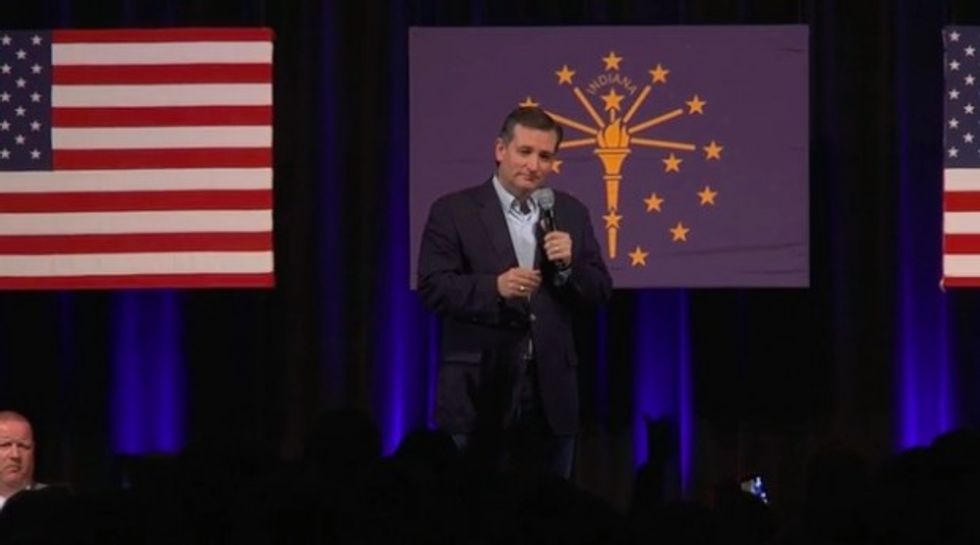 Image source: YouTube
"Apparently, there's a young boy who's had some problems," Cruz said. The child yelled something unintelligible at Cruz before shouting louder, "You suck!"
Cruz took the opportunity to address the pre-teen on how to properly conduct himself when voicing his opinion.
"One of the things that hopefully someone has told you is that children should actually speak with respect," Cruz said, adding, "Imagine what a different world it would be if someone had told Donald Trump that."
After the child was escorted out of the the venue by law enforcement, Cruz proceeded to share how things would have gone down in his home if a child had spoken disrespectfully.
"You know, in my household, when a child behaves that way, they get a spanking," he said, garnering cheers from the audience. "And you know, that really comes down to who we are as a people."