Six news anchors from around the U.S. were invited to the White House for a special event Monday, but in order to interview the president, they reportedly had one rule.
"I was invited to the White House along with five other anchors from around the country, and really the only requirement we had is that one of our questions to President Obama had to do with the Supreme Court nominee, his nominee, Merrick Garland," Cincinnati's WKRC-TV news anchor Cammy Dierking reported.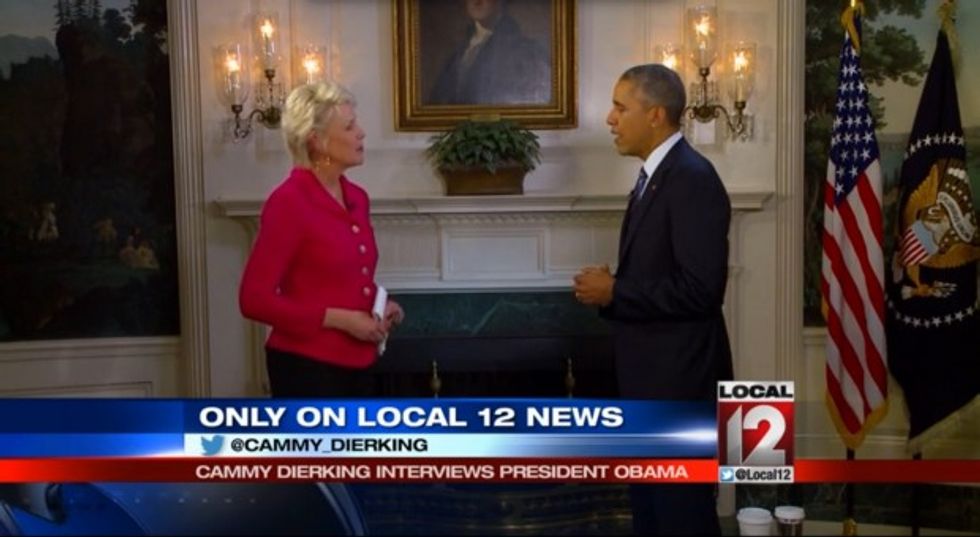 Image source: WKRC-TV
"I'm really kind of surprised by the access we've been granted by the White House," Dierking also told her viewers, adding that "of course" the reporters had to "be cleared through all kinds of security."
According to CNN, Obama made the pitch for his stalled Supreme Court pick to stations in markets with vulnerable Senate Republicans who are facing increased pressure from Democrats to make a move on Garland's nomination.
In a clip of Dierking's interview published online, she also asked Obama about his legacy and any advice he might have for his successor.
"I think the most important piece of advice I'd give is: make your decisions based on what you genuinely believe is best for the American people, and then figure out the politics — not the other way around," Obama said.
Dierking reported that she was also able to meet with a few of Obama's senior advisors, including Valerie Jarrett, as well as sit in on a White House press briefing.