ATLANTA (TheBlaze/AP) -- Georgia's Republican governor rejected the two top priorities of a legislature controlled by his own party this year, defying election year politics in a deep red state.
Gov. Nathan Deal, in his second and constitutionally limited final term, vetoed legislation that would have protected opponents of gay marriage just days after the close of the legislative session in March. But he waited until Tuesday, the last possible day to issue vetoes, to block another bill that would have allowed people over 21 and with state permits to carry concealed handguns on college campuses.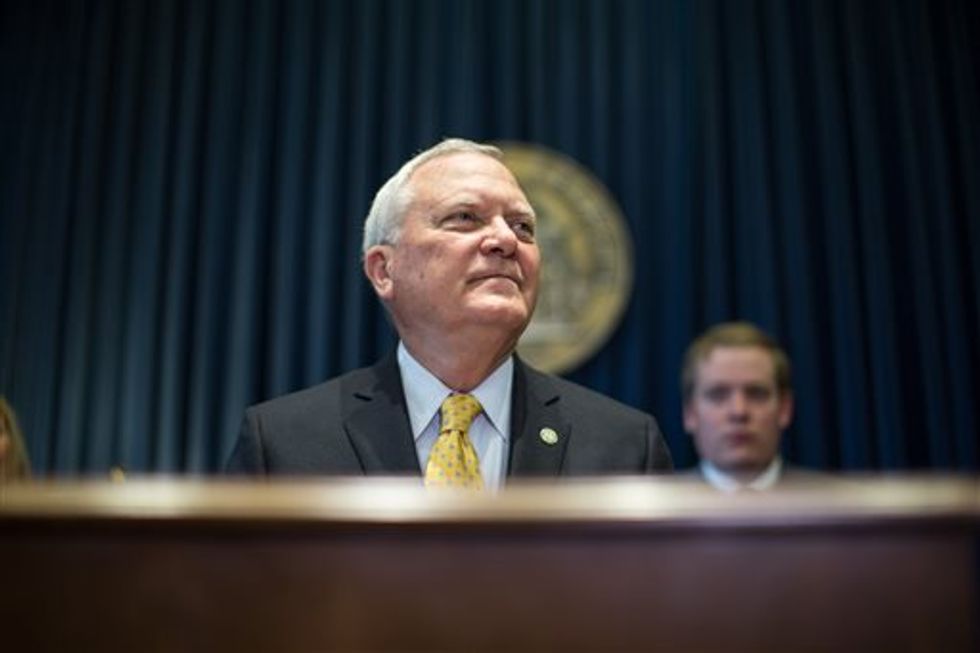 In this Nov. 5, 2014 file photo, Georgia Gov. Nathan Deal speaks during a news conference, in Atlanta. The state ethics commission has been mired in lawsuits filed by former employees and allegations of outside influence. Deal proposed an overhaul of the commission, during the last election campaign, and there are strong indications he plans to push the issue during the upcoming legislative session. (AP Photo/Branden Camp)
Both proposals were popular with the majority of Georgia's Republican lawmakers. But opponents aggressively lobbied Deal to block the measures.
The state's business community, with help from giants like Apple, the Walt Disney Co. and the NFL, mobilized against the religious exemption bill. The state's powerful Board of Regents, which oversees the university system, and all 29 of its campuses' presidents and police chiefs opposed the so-called campus carry measure.
In both cases, Deal offered lengthy, written veto messages, relying on legal precedents. And in both cases, he concluded that the bills weren't necessary in Georgia.
On Tuesday, he referred back to Thomas Jefferson and James Madison opposing guns on the University of Virginia campus and to writings by recently deceased U.S. Supreme Court Justice Antonin Scalia. He concluded that "no justification exists" to allow firearms into "sanctuaries of learning."
Deal quoted Scalia from the late justice's decision in the 2008 case, District of Columbia v. Heller.
"'Like most rights, the right secured by the Second Amendment is not unlimited. From Blackstone through the 19th century cases, commentators and courts routinely explained that the right was not a right to keep and carry any weapon whatsoever in any manner whatsoever and for whatever purpose.' Justice Scalia further states that 'nothing in our opinion should be taken to cast doubt on…laws forbidding the carrying of firearms in sensitive places such as schools and government buildings,'" Deal said.
"Georgia, like most jurisdictions, has set forth statutory provisions defining what constitutes those 'sensitive places' and has imposed specific rules relating to the presence of weapons in those places...Since the right to keep and bear arms in sensitive places such as those enumerated in HB 859 is not guaranteed by the Second Amendment nor the Georgia Constitution, the inquiry should then focus on whether or not those places deserve to continue to be shielded from weapons as they are and have been for generations in our state," Deal added.
In March, Deal discussed the cases of business owners in other states objecting to providing services for same-sex weddings but said no examples "of the things this bill seeks to protect us against" existed in Georgia.
He vetoed that bill, saying that he didn't think it was necessary to "discriminate against anyone to protect the faith-based community in Georgia."
It's not clear how the contentious decisions will shape Deal's relationship with the Georgia Legislature. Supporters of both bills already vow to return with similar proposals next year.
Deal will lead the state through the end of 2018 and plans to focus on an overhaul of education in Georgia, including the state's method for funding schools.
Deal's decision to kill the gun bill isn't a complete surprise. After it passed the Legislature, he asked members to pass follow-up bills addressing concerns about access to on-campus day care centers, spaces where high schools students can take college-level courses and where disciplinary hearings are held. They declined, saying the original bill was carefully considered.
Georgia House Speaker David Ralston said he was disappointed by his fellow Republican's veto, but added that it's not the end of the discussion.
"At a time when our Second Amendment rights are under attack, I believed and still believe that it is very important that we do all that is necessary and proper to strengthen our constitutional protections," he said in a written statement. "Georgians should not be required to give up their constitutional rights when they set foot on a college campus."
The National Rifle Association was one of the premier lobbying groups behind the bill, and voiced their disapproval of the veto in a statement Tuesday.
NRA spokeswoman Catherine Mortensen said the measure would have made Georgia campuses safer for Deal's constituents.
"The NRA is thankful to Lt. Gov. Casey Cagle and the legislators who worked to protect law-abiding citizens' constitutional right to self-defense on campus and we look forward to working with them next session to pass this important safety legislation," Mortensen said.
Nine states have laws on the books allowing concealed handguns on campus: Colorado, Idaho, Kansas, Mississippi, Oregon, Texas, Tennessee, Utah and Wisconsin. According the National Conference of State Legislatures, 23 states leave the decision to ban or allow weapons up to the individual colleges and universities, and 19 states - still including Georgia - ban concealed weapons on campuses.
Democrats credited students, faculty and other opponents with helping defeat the "ill-advised" measure.
"Georgians stood together to work toward making our campuses safer environments," said the state Democratic party's executive director, Rebecca DeHart.