Police say Hunter Osborn told them it was a dare — and he took it.
As he and his football teammates from Red Mountain High School took their spots on the bleachers for the squad's photo last season, police said Osborn told them he exposed himself — and the shot made it into game programs as well as the yearbook.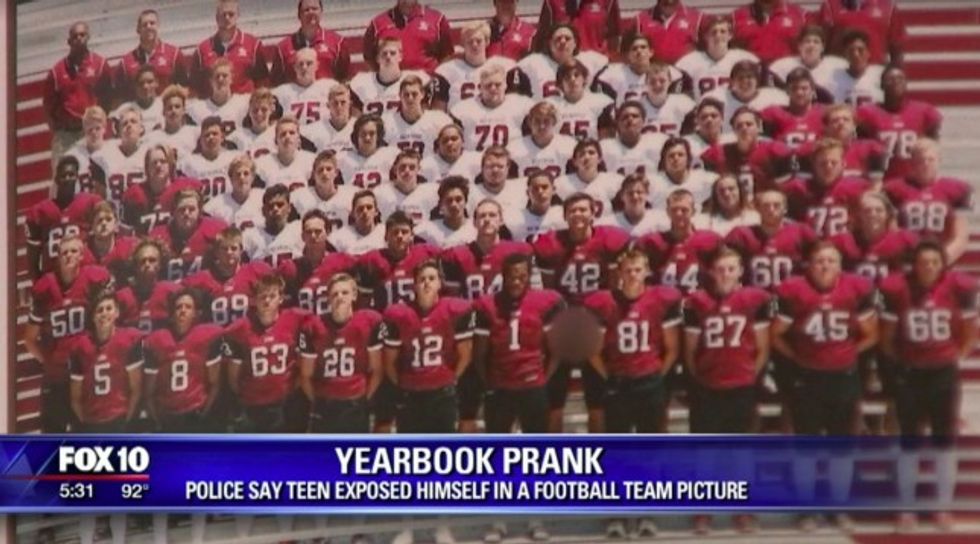 Image source: KSAZ-TV
Students have known about the photo for quite some time; it took a bit longer for school officials to catch on, however. But when they did, the hammer came down on the senior.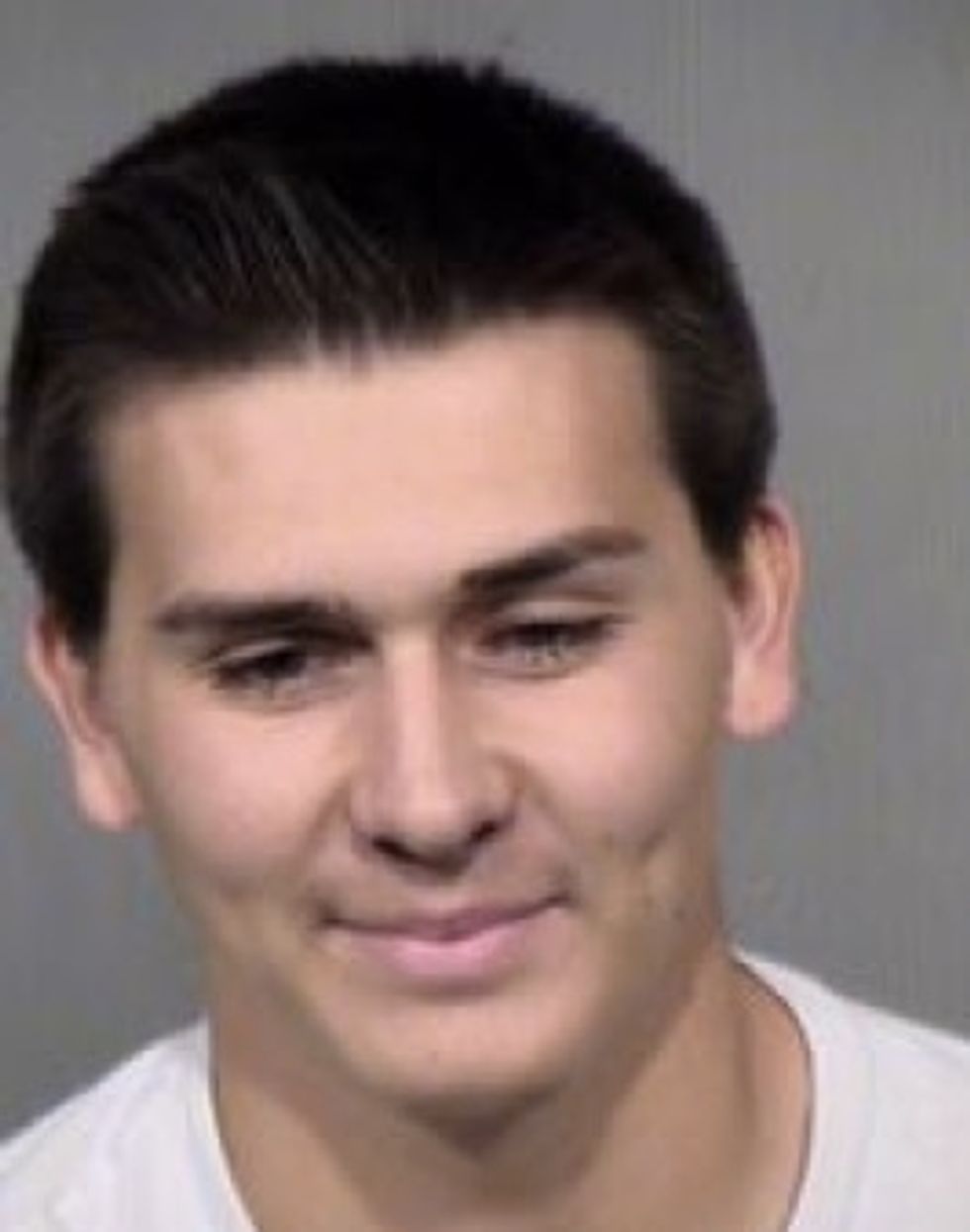 Hunter Osborn (Image source: Maricopa County Sheriff's Office)
Osborn, 19, was arrested by Mesa, Arizona, police Saturday, the Arizona Republic reported. He faces 69 counts of indecent exposure, the paper said, based on the students and staff present when the photograph was taken, along with one count of furnishing harmful items to minors. Osborn was 18 when the photo was taken, the Republic said.
He was at home this week wearing an electronic monitoring device, KSAZ-TV reported.
Sophomore Brooke Bodrero told the station, "At first, it was kind of like a joke, but then once we found out the consequences he has to face for this, we all feel really bad for him, and we don't think it's very fair."
Regarding the offending aspect of the photo, senior Zach Anthony told KSAZ, "When people told me about it, I thought it was a big thing, but when I looked at it like you cant really tell, it's kinda hard to see."
Neighbor Jim Borsheim told KSAZ that Osborn has always been an upstanding person and that the punishment is too severe.
"To me it's a prank that really just went wrong, and if they're going to persecute him, they need to pull in the administration of the school, they need to pull in maybe the kid that did the prank," he added to the station.
Police said Osborn told them he was "disgusted by what he had done," KSAZ reported, adding that his preliminary hearing is set for May 20.
Here's the statement from Mesa Public Schools, via KSAZ:
The district is dismayed by the actions of the students involved in the photograph. Their behavior does not reflect the values of Red Mountain High School or Mesa Public Schools.

Upon learning of the photograph, school administration immediately contacted police and is cooperating fully with the investigation. Disciplinary action will follow policy and may be based on the outcome of the police investigation.

The school and district are conducting an investigation to determine what actions might have prevented the publication of the photograph, so appropriate safeguards can be put in place going forward.

While the small size of the photograph as published makes the details difficult to discern, the yearbook has been recalled so the school can make a minor but critical edit for the inappropriate content.