The infamous Romanian hacker known as "Guccifer" said in a pair of interviews which aired Wednesday that he was able to repeatedly access Hillary Clinton's private email server — and claimed that he came across evidence that indicated others had done so as well.
"It was like an open orchid on the Internet," Marcel Lehel Lazar, who was extradited to the U.S. last month on charges he hacked political power players, told NBC News.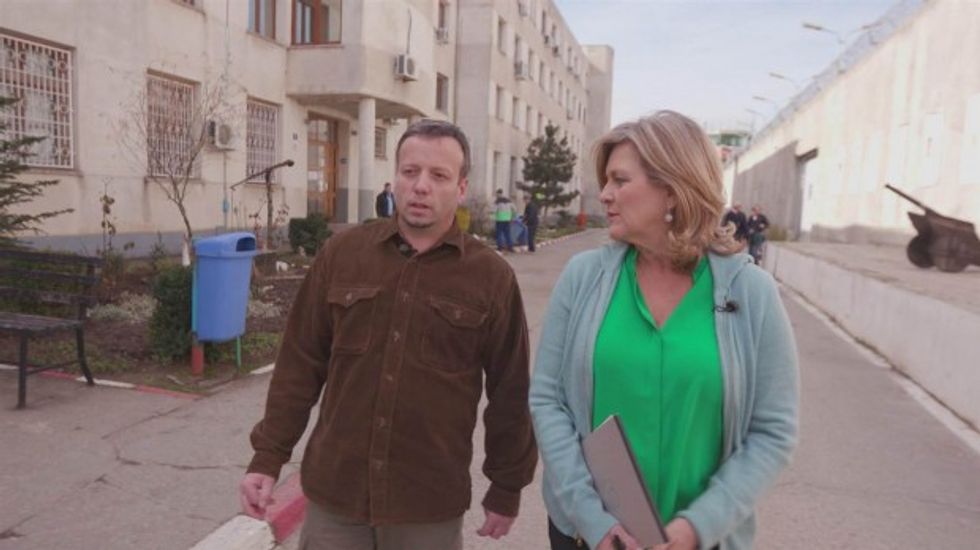 NBC News journalist Cynthia McFadden with Romanian hacker Marcel Lehel Lazar in Romania. (Image source: NBC News)
Lazar told Fox News that it was, in fact, "easy" to gain access into Clinton's email server.
"It was easy for me, for everybody," he said.
The hacker estimated that he broke into Clinton's server on two occasions and found evidence that others had done so as well.
[sharequote align="right"]"It was easy for me, for everybody."[/sharequote]
"As far as I remember, yes, there were up to 10 like IPs from other parts of the world. You see the numbers only but you can tell by the numbers the region of the world," he told Fox News.
Clinton used the private server to send all her work-related emails as secretary of state. Thousands of emails that traversed through the server were later deemed classified — something Clinton is now under investigation by the FBI for. Clinton has contended they were not "marked classified" at the time she sent or received them.
In a statement provided to multiple media outlets, Clinton national press secretary Brian Fallon said "there is absolutely no basis to believe the claims made by this criminal from his prison cell."
"In addition to the fact that he offers no proof to support his claims, his descriptions of Secretary Clinton's server are inaccurate," Fallon said. "It is unfathomable that he would have gained access to her emails and not leaked them the way he did to his other victims.
A source told NBC News that U.S. investigators intended to question Lazar about the server, something Fallon said the campaign had no knowledge of.
"We have received no indication from any government agency to support these claims, nor are they reflected in the range of charges that Guccifer already faces and that prompted his extradition in the first place," Fallon said. "And it has been reported that security logs from Secretary Clinton's email server do not show any evidence of foreign hacking."
A federal judge said Wednesday he may order Clinton to testify about her use of a public server to conduct business as secretary of state.
—
Follow the author of this story on Twitter and Facebook: