Republican Sens. John McCain (Ariz.), Joni Ernst (Iowa), Dan Sullivan (Alaska) and Cory Gardner (Colo.) revealed Friday in a joint radio interview what they believe presumptive GOP nominee Donald Trump needs to do in order to bring the Republican Party together in November.
"What do you think needs to happen to mend the fences between the Republican Party and Donald Trump? ... What do both sides need to do to get this together before November?" KFYI radio show host Mike Broomhead asked the senators.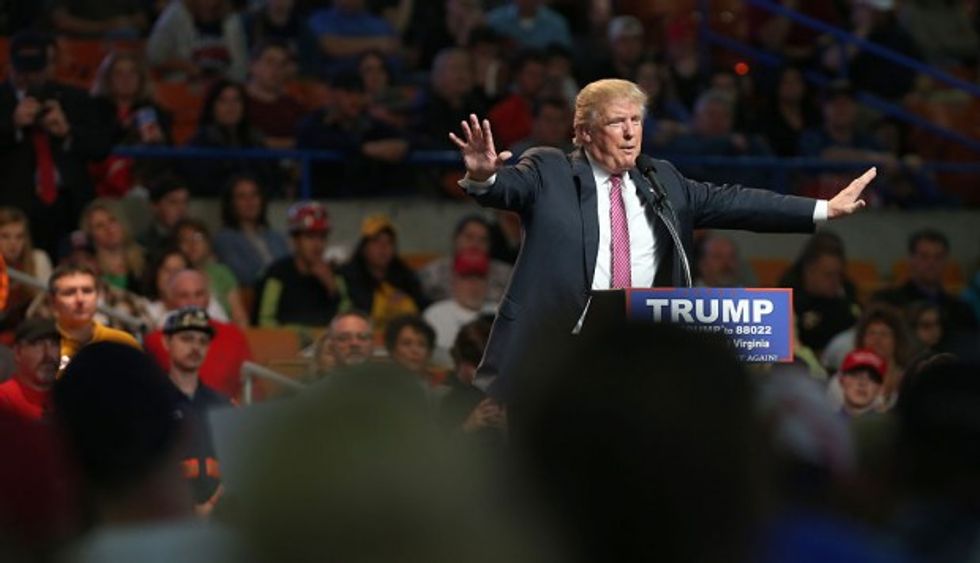 Republican Presidential candidate Donald Trump speaks during his rally at the Charleston Civic Center on May 5, 2016 in Charleston, West Virginia. Trump became the Republican presumptive nominee following his landslide win in indiana on Tuesday. (Photo by Mark Lyons/Getty Images)
In response, Ernst called for a "great effort" on the part of both Trump and the GOP leadership in order for the party to unify around their presumptive nominee.
"I think there needs to be a great effort on the part of Donald Trump as well as the Republican Party to come together and start talking about what goals they would have in his administration and it has to be a cohesive message," she said. "What do we want to accomplish? How can we counter the past eight years of a horrible, horrible Obama administration where we have overregulation and burdensome rules?"
The Iowa senator went on to say the U.S. is "hungering for leadership," noting that, as the nominee, Trump "will have to provide that type of leadership" — a task of which many have said the billionaire businessman just isn't capable.
"There have to be some great discussions out there," she continued, "and we hope all of us can be a part of finding solutions, not being divisive."
Moving forward, Sullivan added that Trump, as the party's likely standard-bearer, now has the "obligation" to prove he stands on the same principles that define the Republican Party.
"We certainly want to win, but I think Mr. Trump has the opportunity, but also the obligation to unite the party around our goals," he told Broomhead.
Gardner noted four "critical" issues on which Trump and the GOP must agree: "Less government, more freedom, strong national defense. And the critical one, critical one which has been a failure of the Obama administration, is to grow this economy."
As the nominee, Gardner insisted it is paramount for Trump to highlight a distinction between himself and likely Democratic nominee Hillary Clinton.
"If you want to achieve the dream that you've been long fighting for," he said, "that's the distinction that he'll need to show."
This discussion came one day after Politico obtained audio of McCain telling a group of donors at a closed-door meeting that, should Trump ultimately secure the GOP nomination this summer, his reelection campaign would be the "race of my life" due to the fact that Arizona boasts a large Hispanic population.
Earlier in the interview with Broomhead, McCain sought to walk back the impression those comments left.
"What was I saying was this is the most turbulent time, obviously," McCain said, noting that he always takes his reelection campaigns seriously. "I said look, anybody now with all this turbulence out there is crazy if they take anything for granted."
"I really think we have to — all of us who are seeking reelection as Republicans — have to really understand that this a tough time," he continued, "but it's not so much Trump as the turbulence out there. Look, Bernie Sanders still continues to hang in."
—
Follow the author of this story on Twitter: