EDMONTON, Alberta (TheBlaze/AP) -- Canadian officials fear a massive wildfire could double in size by the end of Saturday as they continue to evacuate residents of fire-ravaged Fort McMurray from work camps north of Alberta's oil sands city.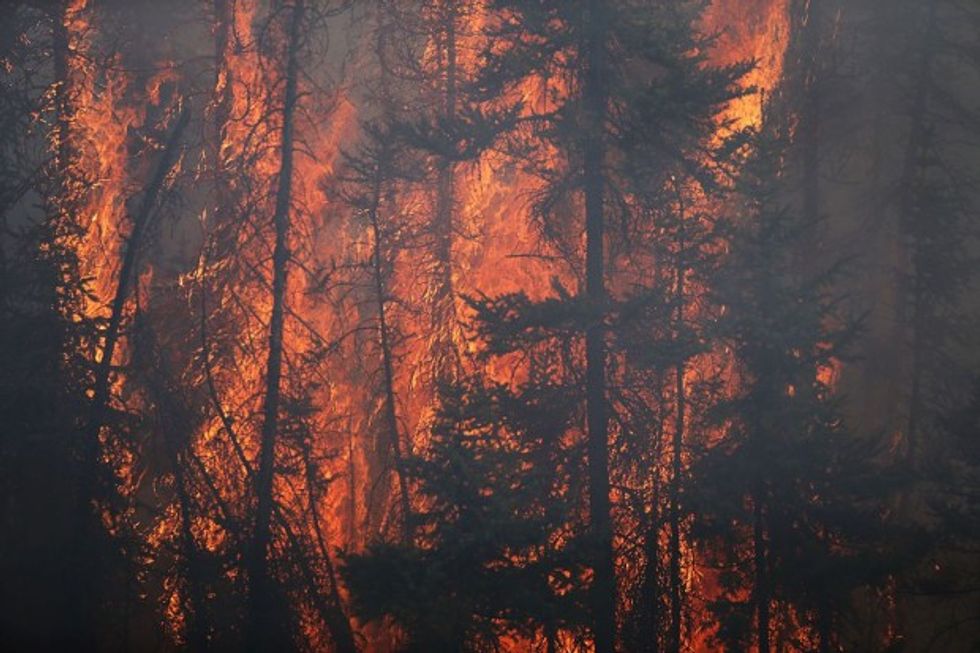 Flames engulf trees along a highway near Fort McMurray, Alberta, on May 6, 2016. Getty Images
Thousands more displaced residents will get a sobering drive-by view of their burned out city as convoys continue Saturday.
However, one couple actually watched their home go up in flames in surveillance video.
Within 20 minutes of them evacuating, the couple reportedly watched live footage from an indoor security camera as the fire engulfed their Alberta home.
Watch the video via ABC News:
Couple watches their home go up in flames via security camera 20 minutes after evacuating due to Canadian wildfires.https://t.co/ReYLWoPAan

— ABC News (@ABC) May 6, 2016
Police and military will oversee another procession of hundreds of vehicles, and the mass airlift of evacuees will also resume. A day after 8,000 people were flown out, authorities said 5,500 more were expected to be evacuated by the end of Friday and another 4,000 on Saturday.
More than 80,000 people have left Fort McMurray in the heart of Canada' oil sands, where the fire has torched 1,600 homes and other buildings. The mass evacuation forced as much as a quarter of Canada's oil output offlineand is expected to impact a country already hurt by a dramatic fall in the price of oil.
The Alberta provincial government, which declared a state of emergency, said Friday the size of the blaze had grown to 101,000 hectares (249,571 acres) or about 1,000 square kilometers (386 square miles). No deaths or injuries were reported.
Chad Morrison, Alberta's manager of wildfire prevention, said there was a "high potential that the fire could double in size" by the end of Saturday. He expected the fire to expand into a more remote forested area northeast and away from Fort McMurray. Extremely dry conditions and a hot temperature of 27 Celsius (81 Fahrenheit) was expected Saturday along with strong winds, he said.
Morrison said no amount of resources would put this fire out, and what was needed was rain.
"We have not seen rain in this area for the last two months of significance," Morrison said. "This fire will continue to burn for a very long time until we see some significant rain."
Environment Canada forecast a 40 percent chance of showers in the area on Sunday. Morrison said cooler conditions were expected Sunday and Monday.
About 1,200 vehicles had passed through Fort McMurray by late Friday afternoon despite a one-hour interruption due to heavy smoke, authorities said.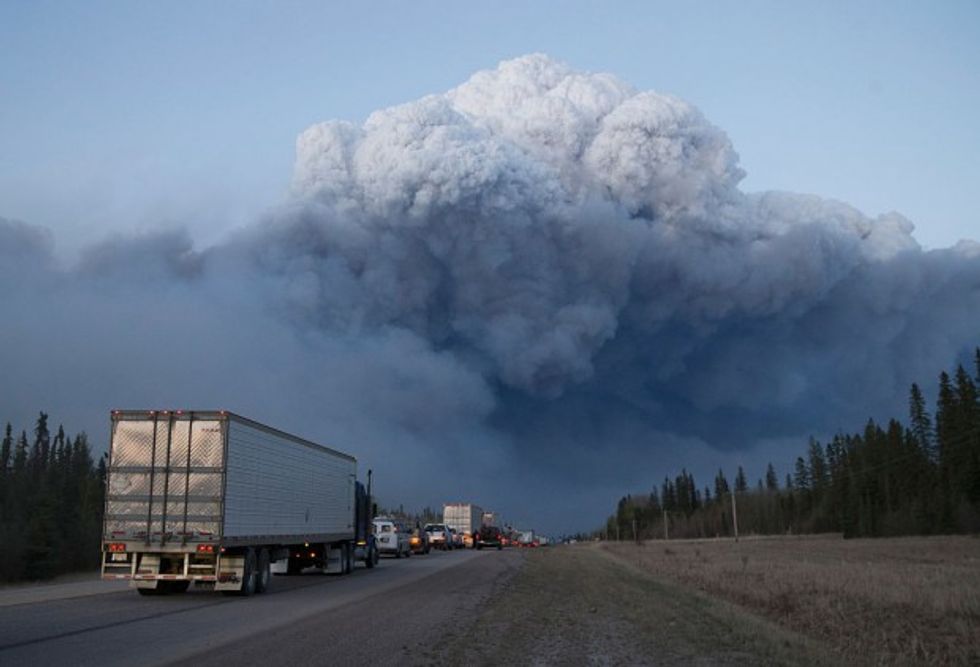 FORT MCMURRAY, AB - MAY 05: Drivers wait for clearance to take firefighting supplies into town on May 05, 2016 outside of Fort McMurray, Alberta. Wildfires, which are still burning out of control, have forced the evacuation of more than 80,000 residents from the town. (Photo by Scott Olson/Getty Images)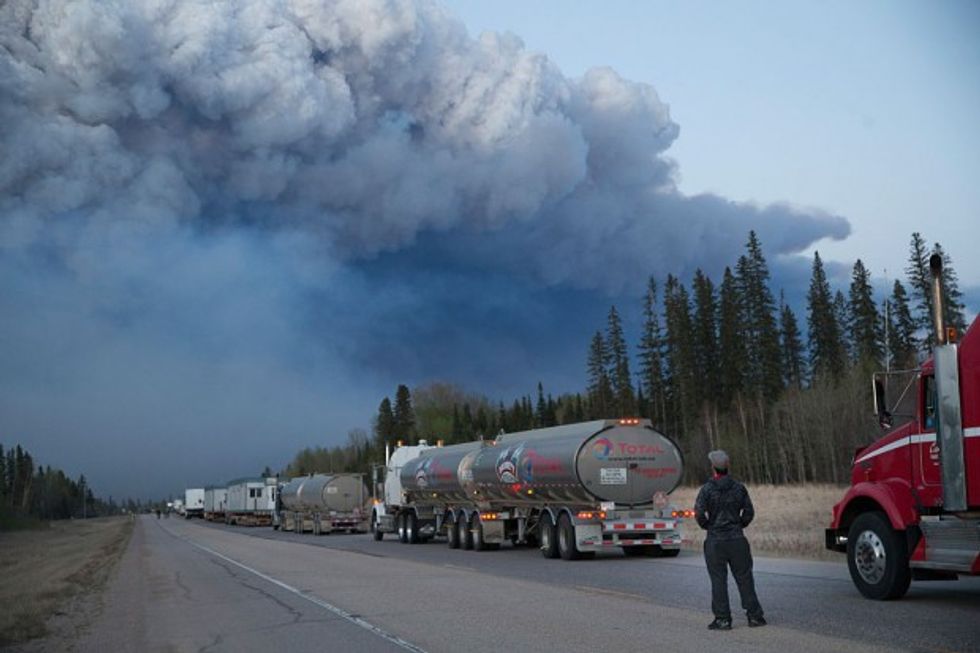 FORT MCMURRAY, AB - MAY 05: Drivers wait for clearance to take firefighting supplies into town on May 05, 2016 outside of Fort McMurray, Alberta. Wildfires, which are still burning out of control, have forced the evacuation of more than 80,000 residents from the town. (Photo by Scott Olson/Getty Images)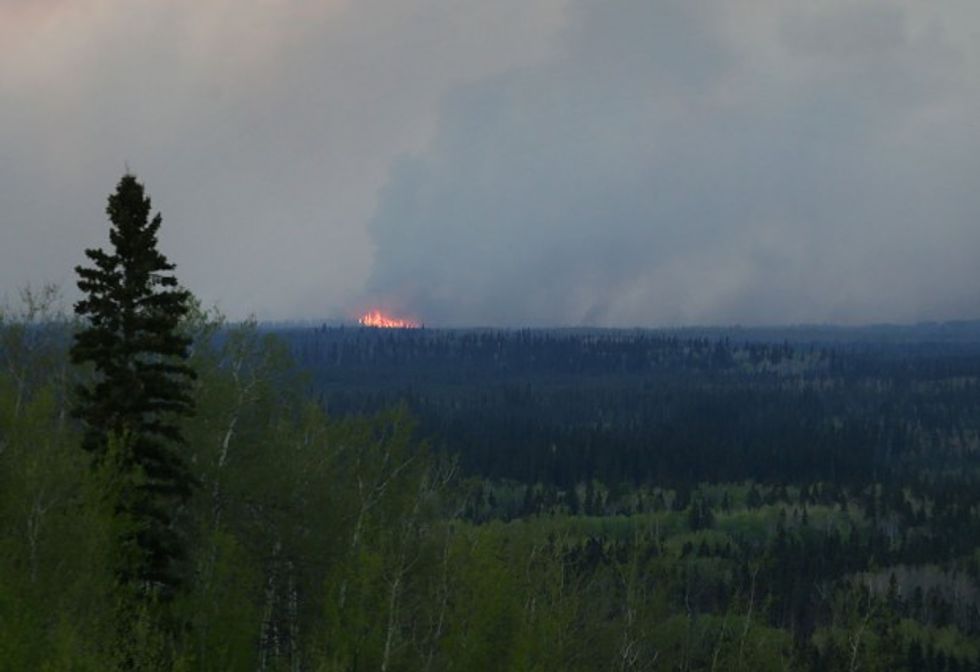 Raging fires can be seen in the distance at Fort McMurray, Alberta, on May 5, 2016. The Province of Alberta has issued a State of Emergency as more than 85,000 hectares have been engulfed by the wildfires. / AFP / Cole Burston/ (Photo credit should read COLE BURSTON//AFP/Getty Images)

Jim Dunstan was in the convoy with his wife, Tracy, and two young sons. "It was shocking to see the damaged cars all burned on the side of the road. It made you feel lucky to get out of there," he said.
In Edmonton, between 4,500 and 5,000 evacuees arrived at the airport on at least 45 flights Friday, airport spokesman Chris Chodan said. In total, more than 300 flights have arrived with evacuees since Tuesday, he said.
A group that arrived late Friday afternoon was greeted by volunteers who handed out bottled water and helped direct people where to go next.
Among them was Chad Robertson, a fuel truck driver who was evacuated from Husky Energy's Sunrise project, northeast of Fort McMurray. He said that when the fire started, even though the flames were relatively far away, "everyone started panicking."
Robertson said he had plans to go to a friend's house in Edmonton before heading home to Nova Scotia.
Scott Burrell, from Kelowna, British Columbia, was waiting with others in an airport terminal that had been repurposed for evacuees who were resting and waiting for flights. He said he was working for a scaffolding company at a plant called Fort Hills when the fire broke out Tuesday.
"We were working overtime and I just saw what looked like a massive cloud in the sky, but I knew it was fire," he said. "The very next day was my day to go home. Ends up we weren't going home that day."
Burrell and others were evacuated by plane Friday, after spending three days with families who arrived at the work camp because they were evacuated from their towns. He said he and other workers rationed food to help the families who were coming in, and some offered up their living spaces.
Burrell planned to catch a flight back to British Columbia.
About 25,000 evacuees moved north in the hours after Tuesday's mandatory evacuation, where oil sands work camps that usually house employees were used to house evacuees. But the bulk of the more than 80,000 evacuees fled south to Edmonton and elsewhere, and officials are moving everyone south where it is safer and they can get better support services. The convoy was stopped for an hour because of smoke.
Police were escorting 50 vehicles at a time, south through the city itself on Highway 63 at a distance of about 20 kilometers (12.4 miles) south and then releasing the convoy. At that point another convoy of 50 cars begins.
All intersections along the convoy route have been blocked off and evacuees are not being allowed back to check on their homes in Fort McMurray. The city is surrounded by wilderness, and there are essentially only two ways out via road.
Fanned by high winds, scorching heat and low humidity, the fire grew from 75 square kilometers (29 square miles) Tuesday to 100 square kilometers (39 square miles) on Wednesday, but by Thursday it was almost nine times that - at 850 square kilometers (330 square miles). That's an area roughly the size of Calgary, Alberta's largest city.
The fire was so large that smoke from the fair is blanketing parts of the neighboring province of Saskatchewan where Environment Canada has issued special air quality statements for several areas.
The region has the third-largest reserves of oil in the world behind Saudi Arabia and Venezuela.
Greg Pardy, an analyst with RBC Capital Markets, said that as much as 1 million barrels a day of oil may be offline, based on oil company announcements. That's just over a third of Canada's total oil sands output, Pardy noted.
---