© 2023 Blaze Media LLC. All rights reserved.
Palin Slams Ryan in CNN Interview and Explains Why She's Probably Not Vice President Material
"His political career is over ... because he has so disrespected the will of the people."
Sarah Palin appeared on CNN's "State of the Union" with Jake Tapper Sunday morning to discuss the presidential race and House Speaker Paul Ryan as he prepares for the Wisconsin primary.
The former Alaska governor told Tapper that she plans on supporting Ryan's opponent Paul Nehlen in the August race, though she admitted that she has yet to discuss the matter with Nehlen.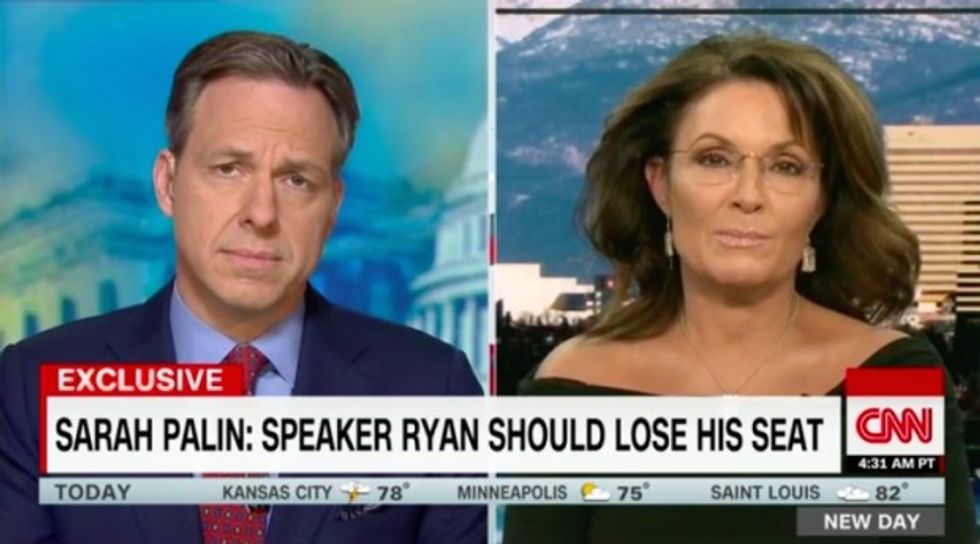 Image source: CNN
"I will do whatever I can for Paul Nehlen," she said.
Her decision comes in light of House speaker Ryan's announcement last week that he was not yet ready to support the GOP's presumptive nominee, Donald Trump. Palin publicly endorsed Trump back in January.
"I think Paul Ryan is soon to be 'Cantored,' as in Eric Cantor," Palin said, referring to the former Republican House majority leader who lost to Dave Brat in a 2014 Virginia primary.
"His political career is over but for a miracle because he has so disrespected the will of the people," Palin said. "And as the leader of the GOP, the convention, certainly he is to remain neutral. And for him to already come out and say who he will not support is not a wise decision of his."
Ryan's decision to not endorse Trump for the time being came as several Republican leaders announced that they would skip the July convention in an effort to voice their disapproval of Trump, highlighting the widening chasm between the "#NeverTrump" Republicans and those who have supported the candidate, if only in the hope of ousting Democrat Hillary Clinton.
When Tapper questioned Palin on possibility of her becoming Trump's vice president, she essentially admitted that she wasn't the best candidate for the job.
"I am a realist, and I realize that there are a whole lot of other people out there who would say, 'Anything but Palin,'" Palin said. "I wouldn't want to be a burden on the ticket, and I recognize that in many many many eyes, I would be that burden."
"I just want the guy to win," she continued, "I want America to win, and I don't know if I'd be the person to help him win."
Watch:
Sarah Palin on being Donald Trump's VP: I don't want to be a burden https://t.co/peFwtPCwKy #PalinOnCNN https://t.co/5ORCgJL8fm

— CNN Politics (@CNNPolitics) May 8, 2016
Want to leave a tip?
We answer to you. Help keep our content free of advertisers and big tech censorship by leaving a tip today.
more stories
Sign up for the Blaze newsletter
By signing up, you agree to our
Privacy Policy
and
Terms of Use
, and agree to receive content that may sometimes include advertisements. You may opt out at any time.