The Boston Red Sox beat the Oakland Athletics 13-5 Tuesday night at Fenway Park. But the big winner was World War II vet Ben Sofka.
How awesome is this pic.twitter.com/ohFWL7rS4h

— Maureen Mullen (@MaureenaMullen) May 10, 2016
Celebrating his 100th birthday, Sofka was sitting in the front row on the first base side of the field when Oakland's Billy Burns hit a foul ball in the area.
The ball girl scooped up the slow roller and instantly trotted over to Sofka and handed him a souvenir.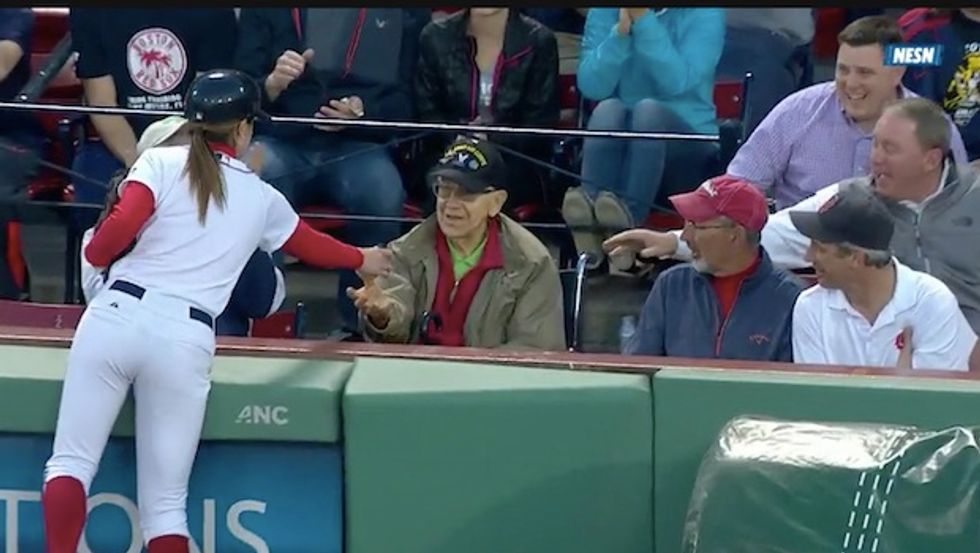 Image source: MLB.com
The ball girl's move did not go unnoticed, "Look who has the ball, our hero of the night," exclaimed the television announcer.
"Now that is a great birthday."
Watch the Red Sox ball girl deliver a special birthday present:
Your browser does not support iframes.
—
Follow the author of this story on Twitter and Facebook: