A tough challenger is waiting for Hillary Clinton in Kentucky — and it's not Democratic rival Sen. Bernie Sanders (Vt.).
Ahead of Clinton's scheduled campaign stops in the Bluegrass State, Kentucky Republican Sen. Rand Paul released a series of webvideos aimed at the former secretary of state's stance on coal — focusing especially on reminding voters of when she proclaimed during a March CNN town hall that she would "put a lot of coal miners and coal companies out of business."
Clinton has since clarified her remarks — but not in time to save herself in Tuesday's primary in West Virginia, another blue-collar state that relies heavily on the coal industry, where she lost handily to Sanders, 51-36.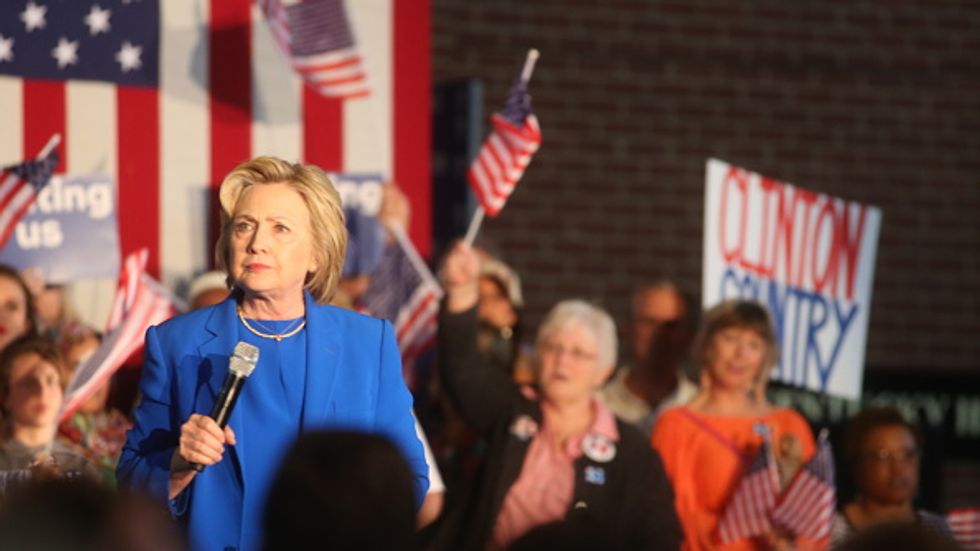 Hillary Clinton speaks at a campaign event at Slugger Field in Louisville, Kentucky. (Getty Images/Emily Molli)
"I don't know how to explain it other than what I said was totally out of context for what I meant, because I have been talking about helping coal country for a very long time," Clinton told an emotional former coal employee at one of her West Virginia events. "It was a misstatement because what I was saying is the way things are going now, they will continue to lose jobs. It didn't mean that we were going to do it. What I said is that is going to happen unless we take action to help and prevent it."
The full statement during the town hall does indicate that Clinton was trying to make a larger point as she said "we don't want to forget those people" who worked in the coal mines for generations.
"Now we've got to move away from coal and all the other fossil fuels, but I don't want to move away from the people who did the best they could to produce the energy that we relied on," she said at that town hall.
But her answer doesn't seem to be enough for many voters in Kentucky who still have her initial line reverberating in their heads. And her answer — aligned with her policy positions — isn't exactly enough for Paul either.
"Kentuckians have lost jobs because of the Obama-Clinton war on coal. I doubt they're excited about Clinton coming to Kentucky to rub our faces in her climate extremism," Paul says in one of the four web videos released since March. "President Obama promised to bankrupt coal and now Hillary promises to drive the stake into the heart of the final remaining jobs left in the coal industry."
"Hillary needs to apologize," the libertarian-leaning senator continued. "No time like the present. I'm calling on you, Hillary."
.@HillaryClinton brags about destroying coal country. Just when I thought she couldn't be anymore unqualified... pic.twitter.com/i8IYv7P92u

— Dr. Rand Paul (@RandPaul) March 14, 2016
Paul, who faces his own re-election this fall, said Wednesday that despite multiple campaign stops throughout the state — and a few upcoming campaign stops scheduled for her husband, former President Bill Clinton — she has not heeded his call and apologized.
"As I travel across the commonwealth to meet with Kentuckians, especially in eastern and western Kentucky's coal producing counties, the sadly common refrain is that people here are worried about the future of their jobs," Paul told TheBlaze exclusively. "Coal companies desperately want relief from the overbearing and stifling government regulation being imposed on their industry. Coal miners and their families want the EPA to stop reaching their hands of regulatory overreach into Kentucky to take away their jobs."
"The devastation that the Obama-Clinton war on coal has caused here is absolutely terrible," he continued. "I think you'd be hard pressed to find a coal miner in Kentucky who was happy to hear Hillary's brazen comments."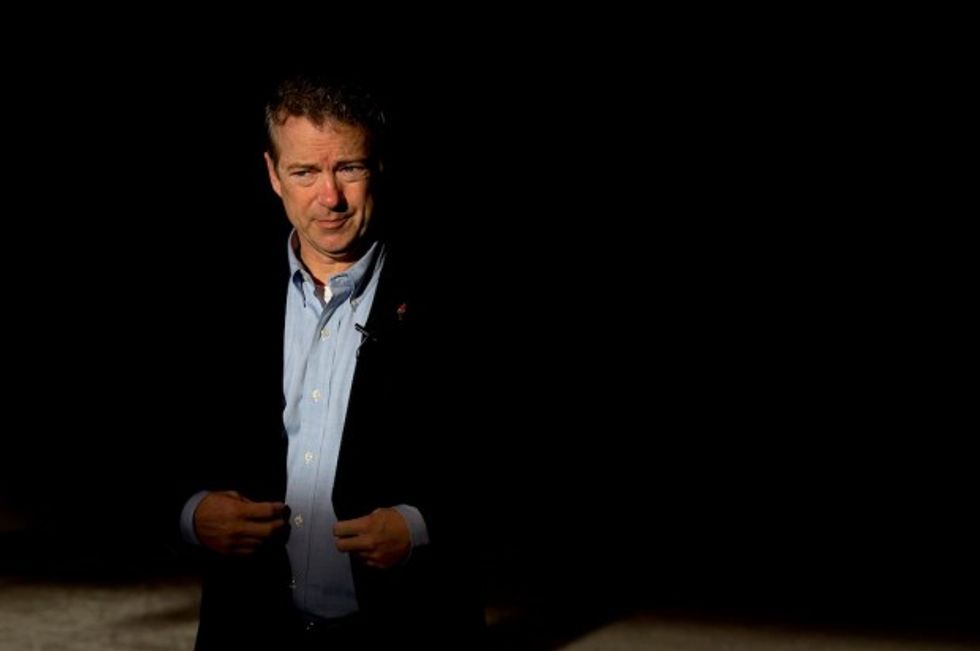 Kentucky Sen. Rand Paul attends a campaign rally. (AP Photo/Jae C. Hong)
Kentucky Coal Association President Bill Bissett agreed.
Bissett told TheBlaze that while his organization is nonpartisan, Clinton's comments regarding jobs in the coal industry were disconcerting.
"We watch what people say about our industry, about their position on coal to be used for electricity, and when she made her statement ... it wasn't just what she said, it was how she said it so gleefully," Bissett said. "That's people's livelihoods and families here, so that's why it was very insulting."
Both Bissett and Paul noted the extreme job loss Kentucky has seen in recent years especially in fields that rely on the coal industry. Bissett pointed out that eastern Kentucky mined 91 million tons of coal in 2008 but only 21 million tons last year.
Kentucky has lost more than 1,500 coal jobs just in the past three months, Paul said, in addition to the 10,000 jobs lost in the state since President Barack Obama first took office.
"There are so many coal-dependent industries in Kentucky and across the nation," Paul said. "The EPA's regulatory war isn't just on coal, it's on jobs."
Despite Clinton returning to the airwaves with a reported $175,000 ad buy in Kentucky, multiple sources in Kentucky told TheBlaze that her March comment will come back to haunt her and her supporters in the state.
"When you look at the state of Kentucky and you see a high number of registered Democrats in the coal field, those are not Democrats who are going to vote for somebody who says they're going to put coal miners out of businesses," one source involved in Kentucky politics told TheBlaze. "Don't let registration numbers pull you astray there."
One Kentucky father, who spoke to TheBlaze about his coal mining job on the condition of anonymity at his employer's request, joked that the name Clinton was now synonymous with job loss at his family's dinner table and many others' in his line of work.
Bissett said that his organization has not heard from the Clinton campaign and said he didn't expect to — especially after Kentucky's Democratic presidential primary on May 17.
"Given her anti-coal positions, given the tremendous unpopularity of this current president, I just don't see her coming back to Kentucky," he speculated, adding that he saw Kentucky and West Virginia as red states with a multitude of Donald Trump supporters.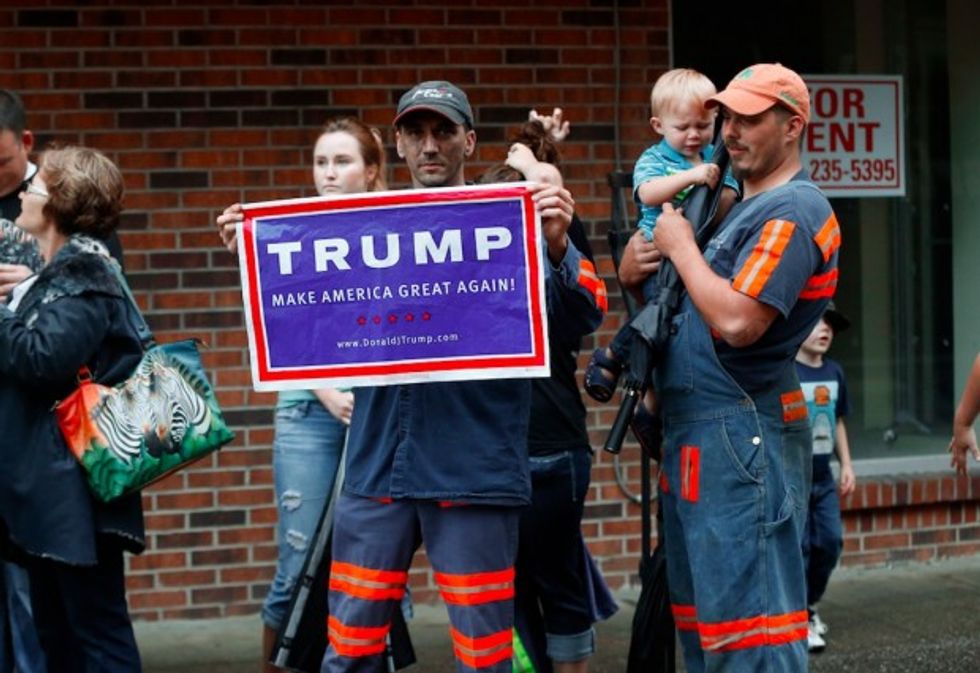 Coal miner Chris Steele holds a sign supporting Donald Trump outside a Hillary Clinton event in Williamson, West Virginia. (AP Photo/Paul Sancya)
If West Virginia is any indicator of how Clinton will fare in Kentucky — things aren't looking good. Clinton lost to Sanders by nearly 16 points Tuesday night after drawing many angry, coal-loving protesters along with her on the trail in the Mountain State. Just eight years ago, she won the West Virginia Democratic primary by a wide margin in her unsuccessful primary campaign against then-Sen. Barack Obama.
A Public Policy Polling survey in March — conducted before Clinton's controversial comments and the most recent polling currently available in the state — showed the former secretary of state held a narrow five-point lead over Sanders in Kentucky with 19 percent of Democratic primary voters still undecided.
While Clinton is the Democratic front-runner and in many instances the presumptive nominee, Sanders' win in West Virginia did have significance: Clinton's public persona and trustworthiness still remains a problem.
Sanders' platform calls on Americans to eschew fossil fuels, "leave the vast majority of global reserves of coal, natural gas and oil in the ground" and "ban mountaintop removal coal mining and invest in Appalachian communities,"
"Across the Appalachian Mountain Range, coal companies are blowing up entire mountaintops to get at the thin coal seams below," Sanders' campaign website states. "The communities in the region are paying for this destructive practice in their health, their culture and their natural heritage. Bernie is in staunch opposition to this dirty and damaging practice and believes we must invest in Appalachian communities to help them transition to a clean, prosperous and healthy future."
But with just that one simple line uttered in Ohio in March, Clinton conjured up a plethora of nightmares of pink slips in Appalachia — and Kentuckians aren't likely to forget that come Tuesday.
"The future of Kentucky coal is also dependent on other leaders we elect, whether our future president intends to ignore Kentucky and continue to unilaterally legislate through executive order, as well as who is appointed to the Supreme Court," Paul said. "If we have a president like Hillary Clinton, we have a much tougher fight ahead of us."
—
Follow Kaitlyn Schallhorn (@K_Schallhorn) on Twitter